When carrying out construction work, experts choose bitumen mastic for the roof themselves, the price of which depends on the manufacturer, volume and characteristics of the building material. The article considers how the quality of bitumen mastic influences the pricing policy, what determines the cost of this building material and how the optimal price-quality ratio is determined.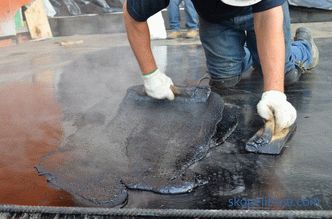 Kinds of bitumen mastics and what their price depends on
When carrying out overhaul roof, liquid bitumen is necessarily used for the roof, the price of which is included in the cost of construction works and is determined depending on the type, as it is divided into bitumen, tar, bitumen with polymer admixtures and bitumen with the addition of rubber impregnations.
In order to improve the result, additional materials are often used, such as asbestos or its dust, mineral wool, various powders, for example, from brick, quartz, talc or limestone, and mineral fuel, whose main objective is to improve heat resistance and density.
The need for additional reinforcement affects the price, since mastics that do not require the use of additional materials are sold at a higher price, an example would be bitumen-polymer cold universal mastic number 32.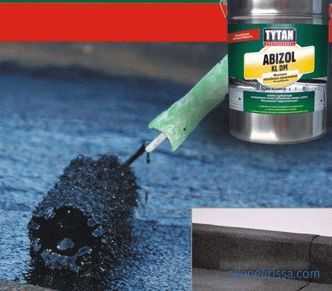 Additional properties that they possess can also increase the cost of building material, for example:
Possibility of additional finishing from thermal and mechanical or other damages, in particular chemical;

Not the need to conduct additional sealing or if the bitumen mastic does not provide a sufficient level of tightness;

Improved properties , for example, an anti-corrosion effect.
Quite often, polymers and rubber fillers are added to improve the quality, but this does not always significantly increase the price. The price of rubber-bitumen mastic for the roof can be up to 1300 rubles. per piece when bulk ordering, for example, the manufacturer Aquamast offers mastic with rubber filling - 18 l in volume or 18 kg equivalent.
At the same time, the manufacturer Thermomast offers bitumen mastic for the roof, the price of which is up to 1000 rubles. apiece - with improved waterproofing effect and frost-resistant properties. Volume 24 liters or 20 kg equivalent.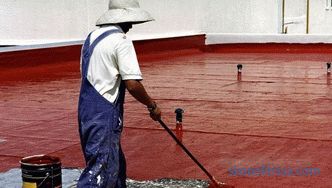 The cost of the mastic, depending on its purpose
is divided. 4 types of roofing mastic depending on use:
For fixing roofing materials, for example, rolls, or waterproofing, as well as additional protection of painted surfaces, adhesive mastics are used. They, as a rule, have a low price. For example, this type of building material is produced by BPH Fixer and sells it at a cost of up to 1. 500 rubles for a 12 kg bucket.

Building materials used for roofing insulation works are usually more expensive. For example, such mastic with polymer impurity is produced by the company "Liquid Roof", which sells mastic for the roof, the price of which for wholesale purchases is about 500 rubles. per kilogram. This material is great for patches and carrying out a complete reconstruction of the roof covering.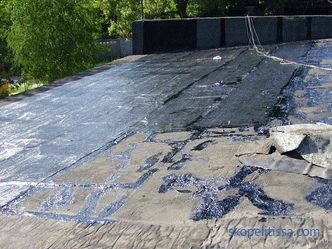 On our site you can find contacts of construction companies that offer services for designing and repairing roofing . Directly to communicate with representatives, you can visit the exhibition of houses "Low-rise Country".
If it is necessary to carry out vapor barrier , then materials are used not only with a waterproofing layer, but also with rubber impurities. For example, you can buy bituminous mastic for MBI roofing or rubber-bit number 33 Petromast.

To ensure the anticorrosive effect, materials using folgoisol are used. For example, the price of mastic of bitumen-polymer aquaast Antikor varies within 500 rubles. per liter.
What else should be considered when choosing
Price is also determined depending on the type of its diluent. Thinners are divided into three types:
Based on water ;

Containing a solvent organic origin;

Containing pure organic matter in liquid form.
If you need to use a more expensive solvent, the cost may decrease, so when choosing a building material, you must take into account not only its cost, but also the cost of related materials. It is better to entrust this to professionals, as they will be able not only to select a quality product at an optimal price, but also to choose mastic and solvent, which will provide high-quality coating.
For example, the cost of Icopal water-emulsion mastic is approximately 1. 500 rub. However, it does not require the use of solvents. A universal bitumen mastic MBI, the cost of which varies from 500 to 1. 000 rubles. requires the use of expensive solvent. However, on the market you can buy roofing mastic, which is already sold in finished form, for example, bituminous-polymer mastic for roofing and waterproofing of the Orgkrovlya manufacturer. Its price is from 250 rubles. per kg
From the video you can find out where and for what the bitumen mastic is used:
It might be interesting! In the article on the following link read about the project of a house with a wavy roof .
Conclusion
Bitumen mastic for roofing is a versatile material that is used in various works, both repair and installation from scratch. The main thing is to choose a suitable composition, because the requirements can vary even for houses located in the neighborhood.