The article will talk about how you can perform gardening of the suburban area, how to choose a style, make a plan-project, where to start its implementation. Detailed description - a step-by-step guide, photos and videos of finished works will allow you to understand which elements to use to accomplish your goals.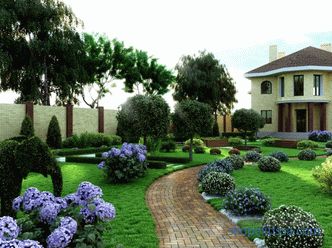 Anyone who decides to buy a villa, dreams of a beautiful corner of nature in which you can relax your soul and body, relax after work and enjoy the silence of nature. For many, the country house is a meeting place with friends. To stay in it as comfortable as possible, you need to take care not only of the construction of a comfortable house, but also of the improvement of the local area. Gardening a garden plot is its main part. It is carried out in several stages.
Stage One - Choosing a Style
It is very important to pre-determine your wishes and understand what you want to see on the site in front of the house: picturesque strict lines, or an abundance of flowers. There are a large number of styles that can be taken as a basis and used for landscaping ready-made techniques.
Classic (regular) should be chosen if the country site has a large area (at least 15 acres), if you like strict orderliness in everything: including in the selection of plants. This direction is inherent in the rigor of the composition, which is formed on the principle of strict symmetry, excessive theatricality and pomp.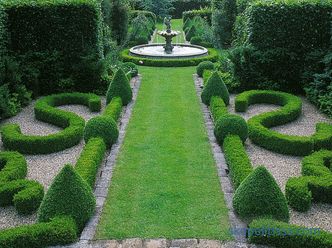 A garden made in the classical style will have clear geometric lines, monochrome color. It must contain a unifying center (ground floor or fountain), exactly trimmed bushes and trees, a perfectly smooth lawn, patterned flower gardens. In this case, the gardening of the dacha will take place according to previously prepared schemes. By means of them accurate geometrical figures will be formed. For such a garden need constant care.
Landscape style is best suited to those who own medium-sized plots (10 acres) and do not tolerate man-made gardens. In it, all elements of landscape design are arranged naturally and freely, as it would be in the wild. Its creation does not require large financial expenditures, complex care, such a concept is ideal for owners of forest areas in whose territory there is already a mature ecosystem.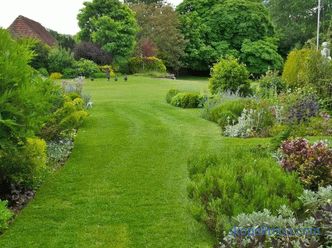 You can get an idea of ​​the Dutch style of landscape design by looking at pictures of artists living in this country. When gardening, you need to make a beautiful lawn, form a hedge, abandon planting tall trees in favor of branchy shrubs, plant mixborders of brightly blossoming flowers along the paths, arrange funny statuettes around the site and make flowerbeds in carts.
Rustic style, cheerful, unassuming and natural, ideal for lovers of orchards and vegetable gardens. The atmosphere of the direction is formed with the help of old wheelbarrows, in which flower beds are arranged, wooden wheels, arranged near paths, garden figures of dwarfs or domestic animals. This style is suitable for cottages with a small area (6-8 acres).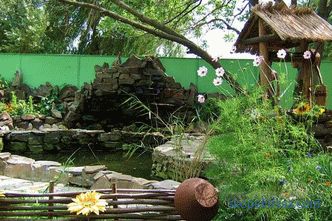 The Chinese style dates back thousands of years. Throughout this time, gardeners sharpened their art and formed the basic principles of direction. They are based on the theory of the flow of male and female energy. They are distributed smoothly, gently skirting obstacles, so in landscaping there can be no artificially created contours: symmetries, parallels, sharp corners.
The implementation of the described direction should obey strict rules: only those elements are used that allow one to form one common picture. A garden is a territory that can heal the body and spirit. Stones are objects of worship, water is present both at rest and in motion. If it is not possible to construct reservoirs, dry streams can replace them. In a secluded place must be a tea gazebo. The path to it is usually made in the spirit of an overgrown mountainous landscape. Plants are not just planted in their place, with the help of them a picturesque painting is created, which is viewed from the windows of the house.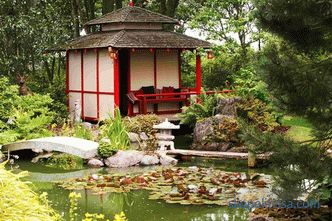 The Japanese Garden brings peace and comfort. Each element of landscaping is simple in execution, but it carries a certain symbolic load. Being in a Japanese garden, I want to reflect on the eternal and admire the beautiful nature. Polished stone boulders, wooden bridges, neatly trimmed shrubs and dwarf trees are often used for decoration. Best of all, landscaping, made in the Japanese style, is suitable for owners of plots of 6-8 acres.
Oriental style - mosaic patterns of paths, small fountains, bright flower beds, gazebos with domed roofs. The main requirement for design is the abundance of sunlight.
Gardening in a cottage, made in an exotic style, is best suited for travel lovers. To create it, it is necessary to use the tier space filling technique and exotic plants. The use of stone and dark wood is welcome. The easiest way to recreate a corner of the picturesque jungle, where there is a river on the site or some man-made reservoir.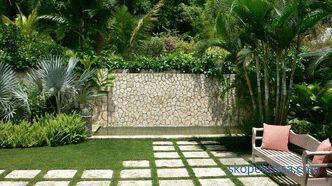 On our site you can find contacts of construction companies that specialize in landscape works of any complexity. Directly to communicate with representatives, you can visit the exhibition of houses "Low-rise Country".
Alpine style is the most popular direction in our time. Its implementation involves the creation of a mountainous terrain on the site. This can be done with the help of the construction of a large alpine hill, a stream running along a stone bed, paths of slate or granite. When choosing plants, preference is given to evergreen tuyam, fir, spruce. They are supported in support of the boxwood and mosses.
Mediterranean, Scandinavia, modern, high-tech, country, Mauritania - different landscaping styles can be chosen as the basis for gardening. It is he who will tell you what plants you need to purchase for the indicated purposes and how to place them on the garden plot.
Stage two - good planning
After the basic idea landscaping will be determined, you can begin to plan the upcoming work. To begin with, experts recommend creating a sketch of the future garden. To do this:
measure and mark on the sheet of paper the boundaries of the area;

mark the location of the cardinal points on the plan;

mark the location of the main buildings (residential building, barns, gazebos, summer kitchens, baths, toilets);

mark all recreation areas (barbecue area, playground, sports corner), as well as a vegetable garden;

to tie them all with paths and pads;

to draw trees that are already on the plot, and which are planned leave;

to draw ground and underground communications and the line ale ctr.
After that, it is necessary to study the terrain feature on the spot, determine the condition of the soil, the level of groundwater. Armed with such knowledge, it will be easier, keeping in mind the chosen style of the future garden, to make a zoning of future plantings.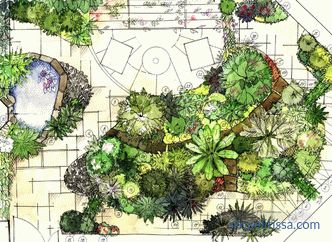 Stage three - landscaping work
After planning is completed, you need to proceed to clearing the plot. At this stage, it is important to dismantle all unnecessary buildings, trim or uproot unnecessary trees, transplant shrubs, remove roots and debris from the soil, build the necessary communications (water supply, electrical wiring, irrigation system).
Then you can start laying tracks and pads. They have not only functional purpose. By means of them creation of landscape drawing is made. They should connect all functional zones with each other, mark their borders with a dotted line. If you frame the tracks and grounds with borders, you can make a very beautiful decoration. Curbs will prevent the spread of paving, they will prevent water flow from one area to another.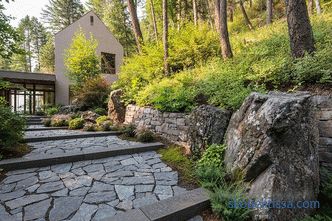 It might be interesting! In the article on The following link read about the landscape design of the townhouse.
There are several options for arranging the indicated elements:
hard coating (paths and platforms are formed using tile materials, stones, bricks or concrete);

soft cover (paths and pads are formed using gravel or rubble);

grass cover (paths and plots are planted with grass mixtures, shoots which are resistant to trampling);

combined coatings (different types of coatings are used in their creation).
It is worth choosing an option taking into account the general stylistic concept. For example, when choosing a classic style, it is better to use paving stones or natural stone to form tracks and platforms. For country style and Japanese style is characterized by the use of soft coatings. The combination of grass and concrete is a characteristic modern decor.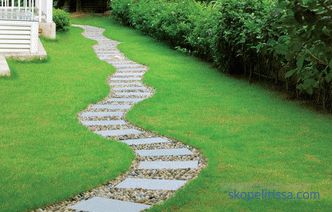 The final stage is planting
When the paths and platforms will be laid there will be a general outline, which will allow us to finally understand where to plant what. For landscaping local area, you can use different elements of landscape design.The most common are the following.
Grass lawn
It is today an integral part of any country housing. It is used to create a common background or a separate link. The presence of a lawn improves the microclimate, thanks to it, the humidity of the air increases, a coolness is formed, the noise level is reduced. Very nice to go out barefoot and walk on the soft grass. There are several types of lawn (regular, parterny, sports, shady, special). The choice of type depends on the specific task.
If a classic regular park breaks up near the house, you can't do without parterny green lawns. They look like perfectly smooth emerald green lakes that look luxurious and respectable. You cannot walk on such grass, you can only admire it. When the playground becomes the central part of the plot, it is necessary to choose a sports lawn to cover it. It is resistant to trampling and very unpretentious in care.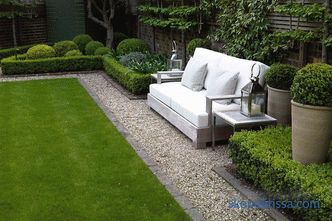 It might be interesting! In the article on the following link read about landscape design area with a slope.
An ordinary lawn grown from grass mixture, which includes several types of grass, is ideal for decorating a small area. It possesses decorative parterre lawns and sports endurance. You can grow it yourself, you can buy ready-made rolls. They are convenient in that they help to instantly create coverage and not wait for the grass to grow. But this option of landscaping is much more expensive.
Any kind of lawn will have to be looked after: cut when the grass grows to a height of 10 cm, mowed grass to collect and clean, water the lawn, feed the soil twice a year.
In the form of a landscape designer reveals all the secrets of proper lawn care:
Vertical gardening
After it is done lawn, you need to take care of decorating the fence and outbuildings. Very much part of their appearance fits poorly with the chosen style. Correct the situation allow planting plants that, growing, are able to close large areas with their foliage. Near the fences, experts recommend planting glad evergreen trees (pine needles, fir, pine, thuja). If you choose those whose crown is amenable to artistic haircut, you can create a beautiful hedge that can very beautifully decorate any part.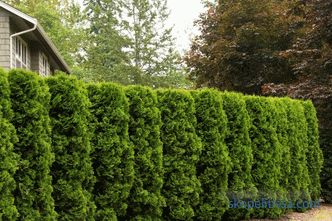 If it is not possible to carefully monitor the garden, experts recommend planting climbing vines near the designated objects ( hops or ivy). Very good growing girlish grapes, Chinese lemongrass, honeysuckle. They need to constantly raise and set the right direction for growth. For this, the most commonly used mesh, grilles, arches, any visible support in the form of lampposts or drainpipes.
The cascades of flowers look very nice. They can be formed by planting petunias or begonias. Using pots of different sizes, placed on each other in the form of a pyramid, it is easy to create very decorative ornaments that will invariably attract attention and very effectively decorate any part.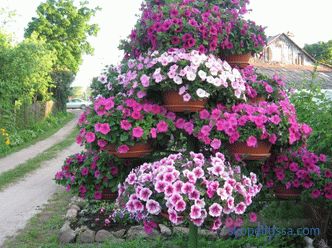 It might be interesting! In the article on the following link read about planning plot of 8 acres - schemes and options.
Planting trees and shrubs is also part of vertical gardening. Here a lot depends on personal preferences. Some people want to grow fruit crops, others exotic. If you wish, you can combine plants, but you should always take into account the state of the soil and the climate, the illuminance of the site and the predominance of winds, terrain and compatibility of plants (crown diameter, crown density, seasonality).
If you want to create a garden that requires minimal care, experts recommend giving preference to conifers. Both in winter and summer they are pleased with juicy greens, they do not create much garbage. In a pair of them you can plant hawthorn and lilac, heathers and hydrangeas, cotoneaster and juniper.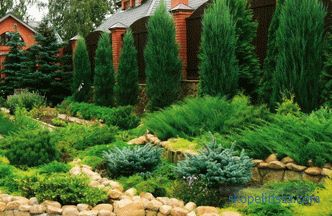 Another element of vertical gardening is a hedge. With the help of it, it is possible to form boundaries inside the plot, to draw out green rooms. The choice of plants to create such elements depends on the purpose of gardening. If you want to plant a high fence, as already mentioned above, it is better to use western thuja, juniper or Siberian fir. You can make a medium-sized hedge by planting a cotoneaster or barberry. For undersized hedges, spirea or Japanese henomeles is selected.
The video tells how to plant Japanese henomeles to form a hedge:
And, finally, flower beds.Without them, can not do. They allow you to bring into the already formed landscape design bright rich colors, to place the necessary accents, to emphasize the chosen style. For these purposes, regular flowerbeds or modular compositions can be used, landscape groups, with the help of which the natural beauty of nature is emphasized. Choosing flowers for flower beds, you need to take into account their flowering time, as well as decide on its shape.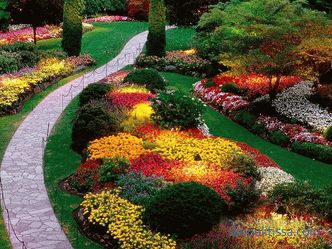 If there is a desire to just plant flowers and create a landscape group, you just need to form a small hill from the ground , and at the edges to support it with a flexible border tape, which is sold in any hardware store. If you completely dig it into the ground, no technical elements will be visible. The tape will well restrain the soil from sprawling after watering, the flowerbed itself will look neat and natural.
The video shows how you can make unusual flower beds:
It might be interesting! In the article at the following link read about the winter garden - it is Ponte or practicality for a country house.
You can mark the edges with stones, wooden pegs or bars. You can take an old log, gouge a base in it, use a chainsaw to remove the core, fill the space with soil and plant flowers. It will be very beautiful and original. From logs with flowers you can construct a train. Under the beds is easy to fit the old car, used tires. Vertical flowerbeds, pots hanging from the ceiling of a summer terrace look very impressive. When choosing flowers for planting, you need to remember that there will be less fussing with perennials. For annuals will have to more carefully care.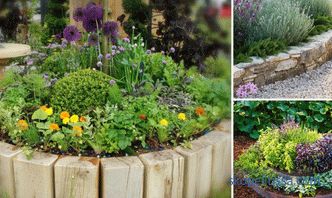 Alpine slide
This type of landscaping should be discussed in more detail. This name combines several decorative elements that can be used in gardening of the local area. These are rock gardens, rockeries, rock gardens, free compositions and retaining walls. With proper design, they always look very impressive and significantly change the appearance of the garden. With the help of them, you can hide the sites that require reclamation after the completion of construction work, strengthen the sprawling slopes, give the site an irregular shape and decorated appearance. Very often, alpine slides are built where the soil is completely unsuitable for planting.
The video tells how to choose stones for creating an alpine slide:
When creating the described elements, you need to remember that the final result should fit into the chosen stylistic concept as well as possible. To make it look organic, experts recommend concentrating on the selection of stones. Here everything is important, shape, color, texture, size. They need to be compared with other elements of the garden and filled with perennial and onion plants.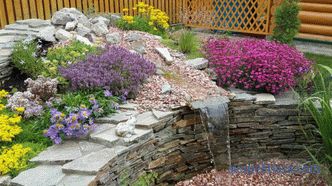 The frost beds and crocuses, the Alpine poppy and the Carpathian bell look very decorative on the Alpine hills. The naturalness of the picture will give a low-growing thuja and barberry.
Garden constructions and elements of small architecture
Similar elements are also part of the landscaping of the site. These include large and small gazebos, with and without windows, belvederes, arches twined with plants, pergolas. There are a huge number of options for their construction, their decoration, but most often for the designated purposes are used curly beautifully flowering vines, which turn garden buildings into objects of extraordinarily sensual beauty.
The video shows how charming cottage landscaping compositions are actually created:
It might be interesting! In the article on The following link read about the fabulous tree house.
Summary on the topic
There is nothing impossible, if necessary, and with the help of practical advice, by studying the photos and videos published in the article, you can create the garden of your dreams. In order to accomplish the gardening of the dacha, you will have to be patient and let go of your imagination. Works need to start in early spring, you first have to make a clear schedule of planting and strictly follow it. If you do not have time for all this, you can contact the specialized companies and order them turnkey landscaping.