Fachwerk is a subspecies of frame houses. There are many directions of this style, but the general principle of technology always remains the same - the frame of the house is assembled from thick beams, and then the space between the beams is filled with wall material. Outwardly, half-timbered houses have two features - beams, which form various patterns on the walls and a clear division into floors - the upper ones slightly protrude above the lower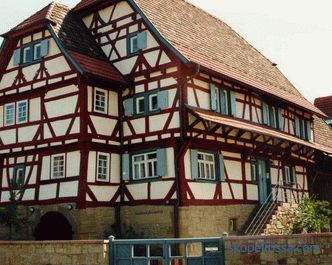 Classic half-timbered house
A bit of history
It is believed that for the first time frame construction was used for the construction of entire neighborhoods in German cities. The name itself - Fachwerk - came from German and means "cellular construction".
For the construction of a masterpiece of European architecture, block frames of wooden beams were used, the voids in which were filled with brick or wood, but more often were mud-brick. For several hundred years these reliable structures have been in many countries of the world, ranging from European countries and ending with Japan.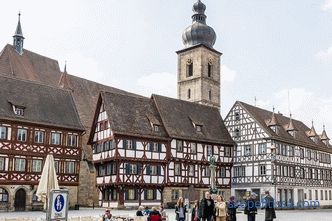 Some quarters in Germany are built up with half-timbered houses, in which have been changed for several generations of tenants
Modern half-timbered
In a modern half-timbered house you hardly recognize the medieval prototype, although the principle of construction remains the same. The materials have changed a little, and the design has changed dramatically.
Today, construction companies are developing projects from laminated veneer lumber, polished wood. Almost always in a frame house there are many windows or even a wall-panorama, which is a one-piece glass unit.
The half-timber frame is usually assembled from pine beams. They are firmly fastened with metal clips or spikes and in finished form are a fairly strong foundation of the house. The foundation for half-timbered buildings, as a rule, is shallow-depth. It maintains a light supporting frame, which is attached with anchors to the base. Such frame-frame technology requires a smaller amount of wood, but allows you to build a durable building in the shortest possible time.
Modern insulating materials eliminate the appearance of dampness and freezing of walls in the house. This means that half-timbered houses can be built even in a harsh climate and not be afraid of frost and temperature changes. Moreover, the frame structure can be adapted to withstand hurricanes and high humidity.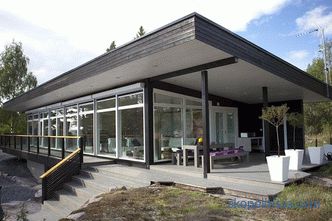 A modern half-timbered house built by PEURA - with a flat roof and panoramic windows
Features of a half-timbered frame :
used prepared timber (usually pine), which is impregnated with protective substances and coated with varnish;

places of attachment of frame elements to each other imperceptible neither from the outside nor from the inside;

the frame structure is much lighter than brick or solid wooden, but at the same time strong enough;

the assembly of blocks does not take a lot of time.
The frame cells are filled with various insulating materials that are hidden under the plywood boards. Depending on the needs of the customer, additional sound and waterproofing can be added to the walls. Exterior and interior decoration gives the facade of the house a unique appearance. Technical possibilities for design are unlimited.
More light!
As already mentioned, in half-timbered houses it is popular to design a large number of windows. Even on cloudy days it will be light inside. It is also possible to completely glaze one of the walls, which makes the house futuristic and weightless. If in a brick house an attempt to install such large windows would lead to freezing of walls in cold weather and large heating checks, then in a frame house it would only be possible to observe the winter landscapes in all their beauty.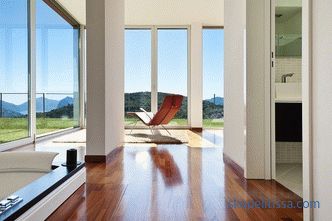 From the inside, a panoramic glazed half-timbered house looks very light
Why half-timbered houses are so popular
There are a number of reasons in which more and more families in recent years have chosen half-timbered houses as a technology:
despite the fact that the supporting part of the house is made of wood, it does not shrink;

the block structure is assembled fairly quickly, and in three to four months you can completely finish the house;

good thermal insulation saves on heating;

based on the frame You can embody the most unusual design.
These are not all the benefits of technology. Clients are attracted by the ecological construction, aesthetics, durability. In the style of half-timbered houses you can hardly find two identical architectural projects. Construction companies offer a typical recognizable architecture, but on its basis it is possible to build a wide variety of houses and cottages.
You can clearly see the classic half-timbered houses and their interior in the video:
It can be interesting! More video material on the half-timbered houses can be found on the video channel of the construction company EcoComplect - partner of the exhibition of houses "Low-Rise Country"
What we offer
At the exhibition country Construction "Low-rise country" exhibits several such projects. For example, the stylish house "Bergen" from the construction company "EcoComplect", which is a good example of how to make one of the walls completely transparent due to the possibilities of the frame structure.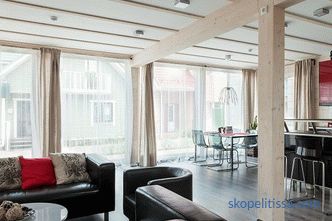 Modern half-timbered house at the exhibition "Low-Rise Country"