Wooden chaise longue is one of the attributes of country comfort, which makes the rest in the countryside more comfortable. What types of outdoor furniture are presented in stores and what to look for when choosing - described in this article. You will also learn about the prices for sun loungers in Moscow, which differ quite strongly depending on the functions, model and material of manufacture.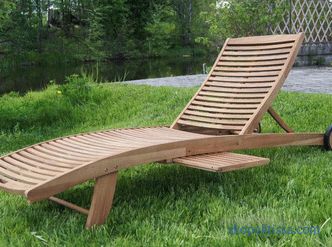 Chaise models
The word "chaise" is translated as a long chair. The seat is large enough to accommodate almost the entire body. The chaise lounge is often equipped with a back capable of changing position and comfortable armrests.
Nowadays, the concepts of "lounger" and "chaise longue" are practically mixed. Sunbed in the broad sense, it is an easy bed that can be carried. Compared to the chaise, it has more dimensions and less height. The backrest is also often adjustable.
The prices for wooden loungers depend on the manufacturer, quality of the material and functionality. The original design also plays an important role. To date, the following designs are mainly represented in stores:
Folding
Such products are purchased with a lack of storage space or for traveling by car. They are easy to fold and change the position of the headrest, backrest, seats and armrests. Such models are compact and transportable, but there is a risk of breakage due to the mobility of parts. Comfortable wooden chaise lounge can be bought for 4 thousand rubles.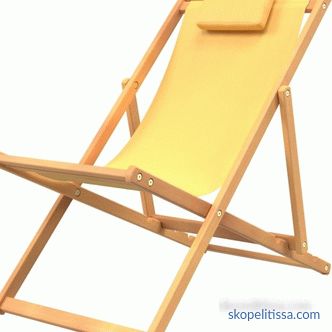 Monolithic models of wood
All design elements connected so that they can not move. Such products are distinguished by increased strength and long service life. In addition, they are able to withstand a large load. The downside is that monolithic products are quite heavy, and in them, as a rule, there is no backrest adjustment.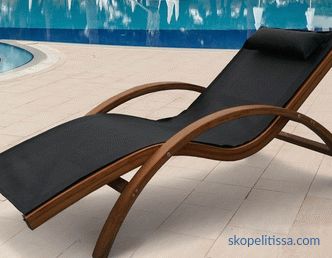 Dual designs
Dual variants designed for families with children or couples. There is a lot of space to put a number of children or your other half.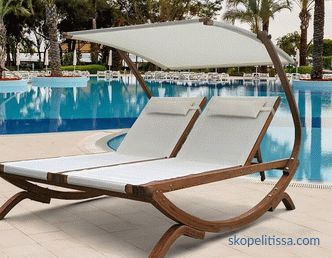 What to consider when choosing a deck chair
When purchasing chaise lounge, you must first ask where it will be located and how often it will have to be transferred. First, choose the material from which it is made, and then the specific model. For example, for frequent trips in a car, a compact chair-chaise lounge is suitable, and as an addition to the design of the summer cottage, choose stationary and spectacular models.
When choosing a wooden deck chair for your dacha, besides financial possibilities, you should be guided by a number of criteria:
Practicality
This quality is paramount for any outdoor furniture. It must be resistant to the environment. We must consider how easy it is to clean the material from which the furniture is made.
Availability of various positions
As a rule, the possibility of transformation is provided for in the lounge chairs. It is necessary to think in advance what is important is the criterion when buying or not.
Compactness
If the product needs to be moved or transported frequently, its small size will be a decisive factor in the purchase.
On our site you can familiarize yourself with the most 77> popular in Moscow suburbs for the construction of a country house . In filters you can set the desired direction, the presence of gas, water, electricity and other communications.
Convenience
When buying, you need to evaluate how convenient the product design and all accessories attached to it are. It is better to choose models that can take the load off the back. Such a vacation on a wooden lounge chair will be complete and healthy.
It is better to purchase from companies that specialize in the production of garden furniture. These are companies such as:
Forester ;

GoGarden ;

Green glade ;

GREENELL ;

Alder ;

Camping .
Advantages of wooden deck chairs
Wooden deck chairs have several advantages due to which they do not lose their popularity:
environmental friendliness and safety for health;

they will perfectly fit into any natural composition ;

set design options .
Any model is made of wood, from the simplest chairs to loungers that repeat the curves of the body. Wooden loungers are heavy, so they are often supplied with wheels.In most models, the backrest is adjustable in several positions.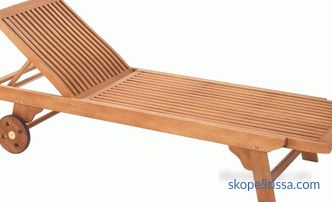 The most popular wood for outdoor furniture today:
beech ;

cedar ;

Scandinavian pine ;

tick ;

larch ;

eucalyptus .
Oak, maple and birch are less exotic. Products from these breeds are also quite practical. But the rattan loungers, wicker and wicker models do not differ in durability, but the price for them is quite high. They are acquired because of the spectacular appearance.
On our website you can find contacts of construction companies that offer construction services for small architectural forms . Directly to communicate with representatives, you can visit the exhibition of houses "Low-rise Country".
Accessories for loungers
The most basic requirement for a deck chair is convenience. For this, it is often supplied with various accessories. Accordingly, the more additions, the more expensive the model. These include:
pillow for the head;

for the legs;

armrests ;

sun-protection canopies ;

holders for books, phone or tablet.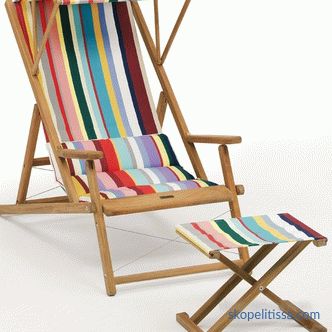 Prices of loungers in Moscow
Prices for chaise lounges in Moscow depend on many parameters. A significant role is played by the material of the product. Plastic models are cheaper than wooden ones, such ones can be purchased for 1 thousand rubles, but they will last at most a couple of seasons.
It is possible to buy a wooden chaise longue for giving cheaply in many shops of Moscow. The average price for simple wooden models ranges from 2-3 thousand rubles. An interesting design or well-known manufacturer significantly increases the cost of the product.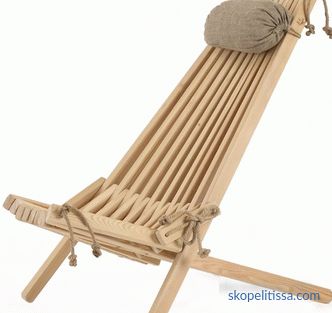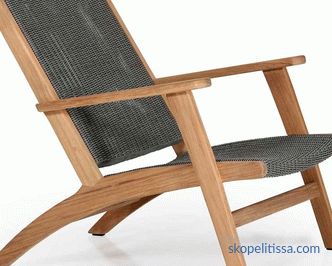 A functional lounger to give on average will cost a little more than a chaise longue. Prices for them range from 4-5 thousand rubles.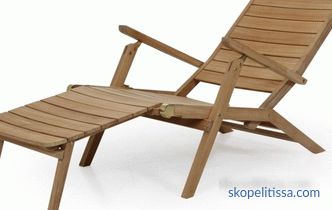 Use of rare woods or exclusive collection also raise the price. There is practically no upper limit, and wooden deck chairs made of teak for 130 thousand rubles can be found on sale.
In the video you can see what kind of wooden deck chairs are:
It might be interesting! In the article follow this link read about the top 10 stairs in the Art Nouveau style: complicated in the simple .
Conclusion
A good chaise-longue is a comfortable rest, therefore you should approach it as responsibly as possible so that the sunbaths leave only good impressions.