One-story houses with a veranda come into fashion. Therefore, those who want to acquire real estate, it makes sense to look at a similar project. Usually a one-story house with a terrace looks no less rich than two- or even three-storey mansions, so those who do not want to constantly climb the stairs can choose it as their habitat.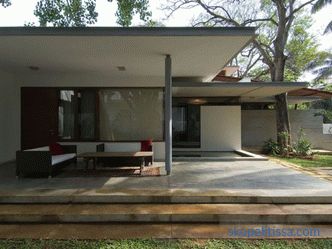 Features of one-story houses
Why one-story house:
Rooms on the same level look no less interesting.
It creates a feeling of a huge house due to the large area of ​​the rooms, which intersect in one plane.
The house is suitable for those who, for reasons of health, are not able to constantly move up the stairs.
A great place for country rest, where people of different generations can spend time.
It fits into landscape design and looks great on any terrain.
Does not overload the site.
It is easier to build a house, especially on difficult soils.
Typically, projects of one-story houses with a terrace include a lot of rooms: a bedroom and a kitchen, a nursery and utility rooms. You can make a terrace as a summer kitchen or dining room, place a recreation area or a summer playground there.
If you plan such a house correctly, it will not require frequent repairs and investment.
Ease of construction. When constructing a structure, it is not necessary to use a crane and other equipment; it is not necessary to carry out work at height. It will be cheaper.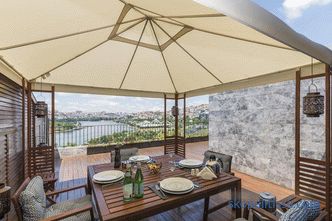 The disadvantages of houses with a terrace are as follows: a playground without glazing can only be used in the warm season. The structure is not suitable for a small area, as it is stretched along it. In addition, the soil is necessarily analyzed and the foundation ventilation is created.
Projects of one-story houses with a terrace
Typically, projects of one-story wooden houses with a terrace may differ in some details, so be sure to specify how many people will live in the house, what age and interests they will have so that experts can choose the best option built.
You can select ready-made projects of one-story houses or order your own version. The second will cost a little more, but it will fully meet the requirements of the customer.
Varieties of terraces and their advantages
Terraces are open and closed. Each option has its advantages and disadvantages. It is worth choosing based on the personal needs and desires of family members.
Outdoor terrace
Outdoor areas can be used mainly in the warm season, as in the winter snow will fall on them. However, this site looks just gorgeous, especially if you choose high-quality wood for decoration. The most commonly used shipboard. It does not rot, serves for many years and, impregnated with a special compound, looks just great.
On our website you can find contacts of construction companies that offer the service of designing houses. Directly to communicate with representatives, you can visit the exhibition of houses "Low-rise Country".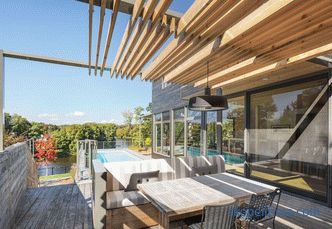 There are other notable benefits:
It is possible to create a really beautiful smooth floor, on which it is easy to arrange dances or a place for children to play.
Any summer furniture is installed on the terrace.
Openings can be closed with shutters during bad weather or rain, and on sunny days it is easy to install umbrellas. It all looks very beautiful, and the terrace becomes a great place for summer holidays for family members.
Unlike a gazebo or just playing on the grass, the flooring is much nicer than the feet, and the terrace area is larger.
In addition, it can lead to other objects of the dacha: a pool, a barbecue or the same gazebo.
Indoor terrace
Indoor playgrounds are no less practical. They allow you to relax on them at any time of the year, in addition, such a place is quite romantic in the evening, because it unites with nature. However, this terrace has disadvantages: it significantly reduces the illumination of the house on the side from which it adjoins it. If you want to use the terrace all year round, you will have to take care of high-quality double-glazed windows, which is quite expensive.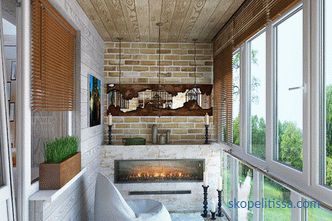 The outdoor area is built faster, it can be much larger than the closed option, and cheaper. If the house is large enough and does not require additional space for recreation, then the open option has more advantages.
Interesting solutions for the device of a terrace
It is necessary to equip the space to the needs and hobbies of those who will live in the house permanently or rest in it. There are a few ideas that will appeal to many:
The terrace can be used not only as a recreation area or a children's playground. It is great for a barbecue area, but in this case you will have to build it from special materials with fire insulation, the floor is laid out of stone or brick, and the hood is drawn.
You can create a recreation area, move the living room there, if the terrace is insulated. This will allow you to enjoy the view of the garden or the forest, depending on where the room goes.
Some customers create a winter garden. This allows you to stay in the comfort zone all 365 days a year, because the green is everywhere and everywhere. In this case, the panoramic windows look beautiful, which allow you to give the terrace volume and give the maximum amount of light and sunlight.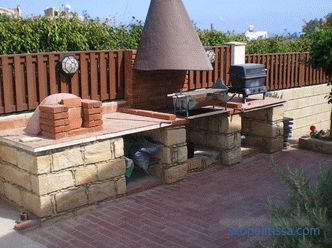 That could be interesting! In the article next link read about the fence for the terrace.
Even more interesting ideas for arranging the terrace of a one-story house can be found in this selection:
Materials for construction
When choosing materials you need to take into account the fact that the terrace is constantly under UV rays. Dust will settle on it, and also it will experience loads from temperature differences, precipitation.
Choice of raw materials for the floor
The main material for the construction of the floor can be:
brick,
stone,
tiled tile,
shipboard.
They must be cleaned of dust and dirt, and the board, before installation, must be treated with special solutions from rotting, bark beetle beetles and fire fighting substances. Lucky, stain and impregnation cope with their responsibilities at 100%, so the coating will last a long time.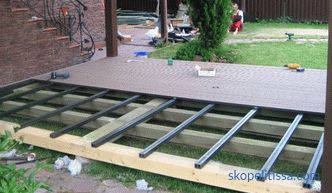 What the
columns are made of For the posts used :
metal,
wooden bars,
brick,
concrete,
stone.
It is necessary to choose matching materials for the house and the terrace. This will allow the structure to look harmonious. For example, decorative plaster and brick, wood and stone look interesting.
The structure should be as a whole, so be sure to choose materials that are not only in harmony with each other, but also look natural against the background of the house. The wooden terrace is no worse than concrete, but it looks more harmonious with nature. Therefore, if the house is located in a forest or garden area, then the tree looks more beautiful.
Build yourself or order
If you want to get a gorgeous terrace, it is better to order it from the experts. They have extensive experience working with any materials and will do everything much faster and better. This is especially true of closed terraces. Often, the recreation area is a single unit with the house, so in this case one cannot do without the help of masters.
The only way to create a structure by yourself is a kind of wooden platform that is not so difficult to build.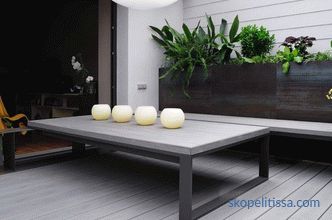 It might be interesting! In the article on the following link read about the house with a terrace.
So with or without a terrace?
The presence of the terrace will allow the owner of the house to do without the construction of a gazebo, as well as give a landscaped area in the fresh air. In addition, this house looks more noble, in the European style, which means that despite the lower cost of construction, even elegant. Even a very small house can be equipped with a terrace, combined with a porch, so do not give up the opportunity to improve the layout of the building due to such an interesting design. It does not require a large consumption of materials, but it will give maximum comfort and will become a favorite vacation spot for the whole family.