The article will talk about which mini home on wheels is best to choose for traveling around the country, existing models, their features, what technical elements to pay attention to when buying a trailer or a full trailer. Photos and videos will reveal the features of individual copies.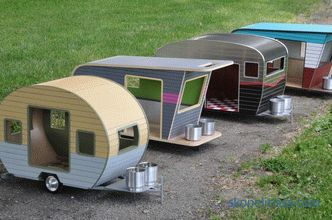 Vacation time for many begins with booking air tickets, hotels and guest houses, with a large pile of documents . All this takes time off. You can save it if you go on a trip by buying a folding or sliding mini house on wheels. It can be done in different ways: as a separate trailer or caravan. In Europe and in America, this kind of recreation is very popular. Therefore, everywhere in these countries there are special areas where you can stop and comfortably settle down for the night.
In our country, this type of transport is just beginning to win the hearts of fans to travel. Our compatriots prefer to buy compact models - trailers. Manufacturers offer a wide range of similar products. His study helps to choose the right model for themselves.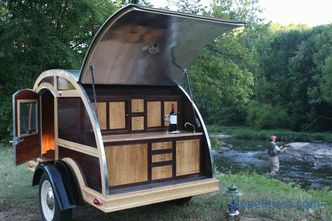 Species of mini mobile homes
Residential trailer - a full-fledged house, in which there is a minimal set of furniture and household appliances. It necessarily has a bathroom, kitchen and beds. The size of the trailer can be very compact and large. All varieties are divided into two large groups:
The first are less than by the size of the second. They can carry a small amount of cargo. Compared to the standard motorhome , single-axle models are significantly cheaper . They are easier to maintain , using them you can travel around the country at any time of the year. Choosing this option to give, you need to remember that its transportation will increase fuel consumption by 40%. It is possible to attach the trailer only to those vehicles whose engine capacity is at least 1.8 liters.
When driving in a trailer, do not transport people. Passengers in it are able to upset the balance and centering of the mini-house, it can be dangerous for those who are driving and for those who are traveling nearby. There were cases when the trailers turned over due to the fact that the passengers inside them began to move during the trip.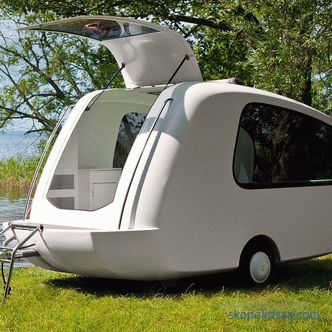 If you want to purchase a compact sliding house on wheels, experts recommend paying attention to the trailer tent . In stationary use, it has a cap-shaped construction. It significantly increases the internal area, which can be used to organize a comfortable recreation area.
There are commercially available models that can be assembled and moved apart at the touch of a button. Such a mechanism is extremely practical. With such a trailer, you can go anywhere, while not depriving yourself of the usual benefits of civilization. The trailer is expanded in automatic mode, the internal living area at the same time increases approximately twice. This happens due to the sections moving forward on each side. The owners can use sleeping places, a comfortable toilet and shower, a kitchen and a compact dining group. There are places for storage, and a battery with a generator and a spare gas cylinder for the stove. The process of extending the trailer and its assembly takes less than a minute.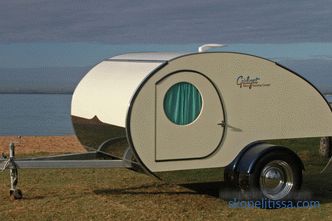 There are miniature trailers for sale that can be used in tandem with a motorcycle or scooter. They are inexpensive, but the inner living space is very small. Such models are designed for relatively small movement. In them it will be very convenient to have a rest, having settled down on keypening.
Lovers can enjoy the fresh air of the hybrid trailer - a compact folding mobile home, in which tents are put forward in a stationary state, in which you can organize sleeping places.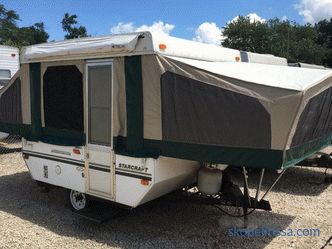 Our site contains 183 villages with the best land plots in the Moscow region in all directions. You can independently choose for yourself the best option, using the filters and set the desired distance from the Moscow Ring Road, the availability of communications and infrastructure, area, cost per hundred square meters. Or use the application form for selection and representatives of the exhibition "Low-Rise Country" will make an offer based on your wishes.
When there is a desire to travel without a trailer, you should pay attention to other types of mini houses. One of them is alcoven. Its prototype is a serial truck. The series of such mini houses has one characteristic feature - there is a characteristic projection above the driver's cabin.It accommodates a bed, which can comfortably accommodate two adults. The height of the internal space due to the superstructure is three meters. Due to this, the living space becomes more spacious.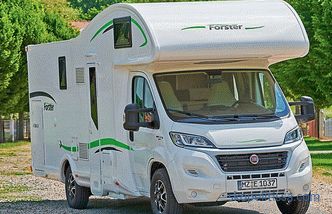 Integrated kempmpers do not have a superstructure above the driver's cabin, but they have a more residential compartment spacious. It integrates with the cab and has a separate chassis. Inside it is possible to arrange from four to five beds.
Residential modules can also be classified as mini mobile homes. Their internal space is 4x4 m. They are installed on the empty chassis of the car itself: the car body is mounted. Most for the designated purposes are suitable cars such as "pickup." Each model is an exclusive design. It is always made to order for a strictly individual project.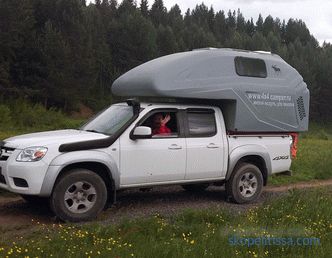 On our website you can find contacts of construction companies that own a full cycle of their own production, have services without prepayment , provide a loan or an installment plan for the construction of , and also take into account the funds of maternity capital . Directly to communicate with representatives, you can visit the exhibition of houses "Low-rise Country".
Features of choice
Having studied the proposed range, it is easy to formulate your own preferences. If there are any doubts, experts advise to adhere to the following rules.
It is important at the initial stage to decide how you plan to use the house on wheels. When rest involves a long stay in a stationary position, it is better to choose a biaxial model. Its internal layout is larger than that of uniaxial ones; inside it is possible to sit comfortably enough and enjoy the surrounding nature. When most of the rest has to be carried out on wheels, one should prefer short single-axle trailers. With them it will be easier to maneuver along the road and move around in urban areas.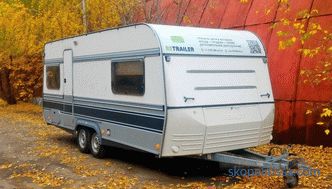 It could be interesting! In the article on The following link read about turnkey garden houses.
When a large company consisting of eight people is sent on leave, experts recommend to prefer to biaxial trailers, which have the letter "K" (kinder) in their marking. Inside there are children's beds, which can easily accommodate an adult whose weight does not exceed 70 kg.
When choosing a trailer design, you need to rely on your own taste preferences. There are no restrictions here. Where technical parameters of a product are more important. It is necessary to pay attention to the heating and air conditioning system.
Two systems of heating are installed on the trailers: one - water, the other air. The first is able to work in conditions where the air temperature drops to -45 degrees. The second fails at a temperature of -15. In mini houses, the second heating variant is most often used. It heats the interior very quickly. The manufacturer itself calculates the power of the heating system.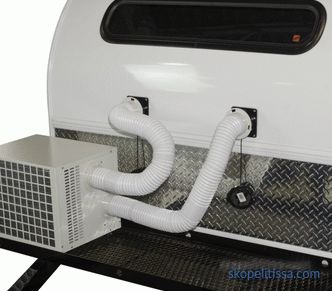 In the mini caravan there should be at least two air conditioners: one works in the car from engine, the other must be powered from an external source (for example from solar panels). It is installed in a residential area instead of a hatch or under one of their soft sofas. The cost of floor and ceiling air conditioners is the same.
In the video, using the example of the Elddis model (2013 release), it tells about the possibilities that a compact residential mini mobile home can have:
It may be interesting! In the article on the following link read about small and mini houses for a comfortable life.
Generalization on the topic
Automobile tourism (caravanning) is still gaining popularity in our country. In America and in Europe, it is very developed: a well-developed camping system operates throughout the country. In Russia, there are very few specialized campsites; motor homes are mainly acquired by those who are used to hiking and living in nature. With the advent of such vehicles, the rest becomes more comfortable, so interest in mini houses on wheels is constantly growing. Such companies as "Dethleffs", "Knaus", "Hobby" specialize in their release. And even the company "Gazelle" today offers customers a practical model "alcoven." Its cost is 45 thousand dollars, in terms of comfort the domestic mini house is not inferior to its foreign competitors.