Any construction, especially if it is located in a residential area, is a source of inconvenience and danger to others. Special equipment works in the construction zone, electrical equipment is concentrated, material values ​​are stored. In order to protect people from injuries, and the construction site - from schedule failures, a scheme for protecting a construction site from a profiled sheet, grid or other suitable material is being developed and implemented.
A temporary fence is mandatory mounted during construction, regardless of the duration of the work. The package of documents "Organization of construction production" regulates the standards of temporary fencing of construction sites, as well as the rules for their operation.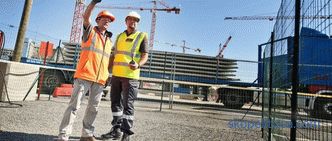 Temporary fencing should be installed near all potentially dangerous objects, which include:
construction sites (scaffolding, domestic campuses);

building dismantling places;

objects under repair (bridges, road bed);

temporary earthworks (trenches, pits, open manholes);

emergency areas (debris, landslides, dips).
Also, mass events requiring maintenance of order (concerts, sporting events, rallies), parking areas, avalanche areas of the ski slopes are temporarily fenced off.
Purpose and advantages of temporary fences
Accordingly, the main purpose of the fences is:
Restricting access to potentially dangerous territory to outsiders.

Preservation of property and materials.

Protection of external territory from construction debris.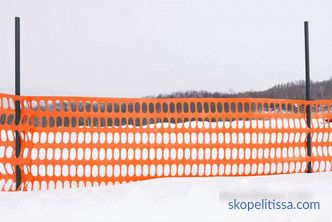 The type of temporary fence is selected taking into account the features of its further operation. Regardless of the design and temporary nature of use, such construction fences have several advantages:
Mobility. Such fences are easily installed and dismantled due to their low weight and sophisticated design.

Durability and long service life.

Reusable.

Cost. Significantly less than that of stationary analogues (the foundation is not settled down).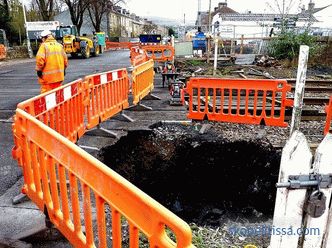 Basic requirements for temporary fences
Construction fence allows you to quickly identify the boundaries of the site; installation is allowed if the construction is made in accordance with the following norms:
The height of protective and security fences (including fences with a visor) - 2 m; standard protective fences (without visor) - 1.6 m, fencing of work sites - 1.2 m.

Protective visors are made with a rise of 20 ° to the road.

The length of the spans (rectangular sections) is limited to 1.2, 1.6 or 2 meters.

For pedestrians from the outside of the fence a lane width of 1.2-1.5 m is allocated.

There are gates (sufficient for the passage of construction equipment ) and the gate. The safety margin of the fence controls the entire life; it must withstand wind and rain.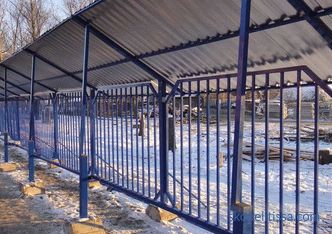 Design, not complying with the requirements may itself become a source of danger. There are cases of falling insufficiently fixed building fence. It happened that a strong gust of wind tore off a weakly fixed section. The structural elements traumatized the nearby passers-by and damaged the passing cars. The damage inflicted sometimes turned out to be significant - the weight of a running meter of a metal profile fence amounts to tens of kilograms. Responsibility for state of emergency lays down on the construction organization which established a fence.
On our website you can find contacts of construction companies that offer the service of building fences and fences. Directly to communicate with representatives, you can visit the exhibition of houses "Low-rise Country".
Types and features of the construction of temporary fencing of a construction site:
In the conditions of modern construction, advantage belongs to lightweight, reusable mobile structures. Many materials possess such properties, including various versions of metal fences. Temporary fencing of construction sites is classified in several ways:
By construction
Panel (used as a continuous, and rarefied, for example, net canvas).

Racks.

Combined options of fences.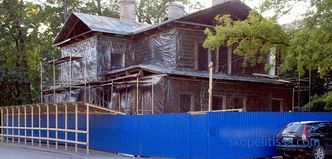 Fences are completed with additional elements; as necessary, it can be struts, struts, canopies, railings, sidewalks.
By function
Signal (emergency). The fenced area is highlighted visually (for example, a bright grid). Marking of structures begins with the number 1.

Protective. Protection of others from injury (mesh covering the facade, limits the scattering of waste, delays the tool, slipped from scaffolding). Marking begins with the number 2.

Security and alarm (security). Protection of the territory from unauthorized persons. There are both at construction sites and in manufacturing plants, they are only solid. Marking begins with the number 3.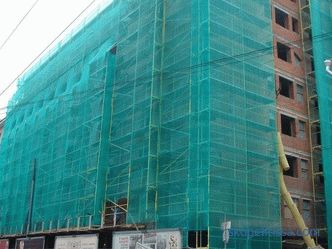 Some common signal type fences are
1A H (1) and 1A H (2)
Both types of fences consist of frames of the same size (length 2000, width 2000 (or 2400) mm). They are installed on the supporting concrete block (length 600, width 250, height 150 mm). The frame is welded from rolled profiles.
The difference is in the material that fills the frame. At the fence 1АН (1) it is a metal sheet with fine perforation; 1А Н (2) - perforated metal siding. The use of different materials determines the difference in price. The average cost of 1A H (1) starts from 3600 rubles. / pm, 1A H (2) - 4200 rubles. / pm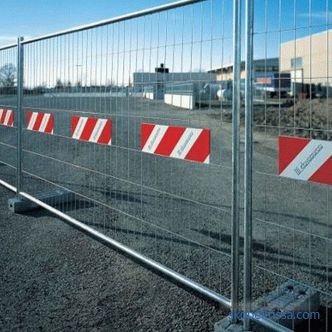 This can be interesting ! In the article on the following link read about the fence for flower beds.
1Б Н (2) and 1Б Н (3)
The basis of these barriers is a frame construction with a support in the form of a concrete block, similar to 1A sizes. A possible filling of 1B H (2) is a perforated metal sheet or a metal sheet with small perforations without coloring. To fill the frame 1B N (3), a perforated metal sheet is used, painted with enamels for metal.
The use of different materials affects the price difference. The average cost of 1B N (2) -3450 rubles. / pm, 1B N (3) - 3550 rubles. / pm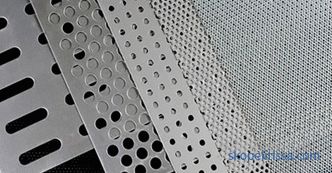 Classification by material
Any material can be used as a fence if it meets the requirements. The builders have already developed certain preferences, and the material is chosen depending on the proximity of the object under construction and the budget allocated to the fence.
Plastic temporary fence for construction
This polymer product is a convenient option for many reasons:
low cost;

simple installation (without the involvement of the working team or special equipment) and further maintenance;

visible from a distance;

durability and weather resistance conditions (temperature extremes, rotting, corrosion) means a long service life.
Temporary fences made of professional sheet
Such products (together with mesh welded panels) are more common than other metal fences. Professional sheets fasten on support with the bearing framework. Features:
average price and simple assembly;

lightness, durability and reusability.
Temporary wooden fences
A wooden fence of a construction site is often needed in a city; in conditions of narrow sidewalks and heavy traffic in the streets, a reliable construction with a visor is welcomed.
Such a fence can be reused, especially if the wood was impregnated with a protective compound before use. Features:
just mounted and disassembled;

the best material to create structures with sidewalks and canopies for repeated use (can be moved along the perimeter);

second-rate wood is allowed;

is sufficiently rigid;

requires protection from damp and bugs.
Concrete slabs
For fencing work sites are used less and less. They are needed if large-scale dangerous construction is planned (dam, bridge, subway tunnel). Features:
high cost;

installed using special equipment;

quenching the noise of construction mechanisms ;

suitable for long-term projects, re-applied;

unreliable protection against penetration (easy to climb).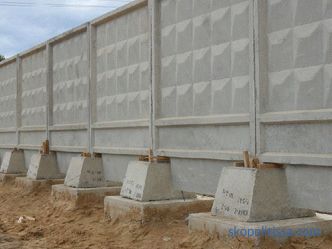 Slate Fences
Such fences are not used often, due to the large weight and fragility of the material. The list of advantages includes a budget price, fire safety and simple installation. In addition, slate is not afraid of rain and ultraviolet radiation.
Fences from a chain-link grid
A grid is a universal design that is quickly and simply mounted on a frame made of shaped pipes or a corner. It is appreciated for its reusability, ease of movement and low cost.
Installation sequence
Construction fencing is established by the classic fence algorithm:
The initial stage. A scheme is drawn up and the length and type of the fence is determined.

Territory preparation. The perimeter of the construction site is cleaned and leveled.

Installation. If the territory will be fenced for a long time (a year or more), it is not permanent, portable fences that are set, but permanent. The supports are not concreted, but fixed in the ground. Installation will be completed quickly if the site is enclosed with a fence of corrugated sheets (or welded mesh).
An example of a long-term video fence:
How to choose a quality fence: tips and nuances
A quality fence of the construction zone is an absolutely necessary condition for the start of construction. Construction fences - fences from any materials, are selected depending on such characteristics and parameters:
Location of construction works (lively city center, sleeping area, suburb, rural area).

Object parameters (private or multi-storey building, stadium, school, shopping center).

External conditions (features of the site, terms of work, availability of traffic around the perimeter of the construction site).

Special features of works (reconstruction, construction from scratch, restoration).

Estimates.
As a rule, builders prefer a deaf fence from a professional sheet. To make the construction resistant to wind, it is weighted with concrete and PVC blocks or fixed in the ground with reinforcing pins. If the fence passes close to the engineering networks, it is erected on foundation blocks.
A few more reasons to install a building fence - on video:
Average prices for some types of fences
Portable fencing economy (painted or primed) - 800-1200-1500 rubles.

Inventory fences made of welded steel 3D, depending on the size, - 1500-2600-3500 rubles.

Reinforced ROUND fence - 4000-4200-4400 rub. / PM

Deaf (made of galvanized corrugated flooring) - from 4000 rubles. / pm

Front safety net for scaffolding - from 8 rub. / m², from 4500 rubles. / roll (100 m).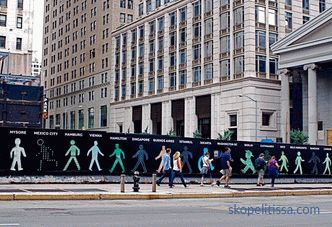 It can be interesting! In the article on the following link read about fences and flower fences.
As a result - which fence to choose
The ideal fence should be durable, easy to install and mobile. Its functions include ensuring the security and protection of building materials, tools and equipment from theft. The price of the design also influences the final selection. Unfortunately, none of the materials can satisfy all conditions. Knowledge of the subtleties of use and the ability to prioritize will help choose the best option.