The article discusses the advantages and disadvantages of a 7/9 house project with a mansard, with what materials it is best to build such structures, how to best plan the interior space. Photos and videos of finished works will clearly demonstrate the positive and negative sides of the described choice.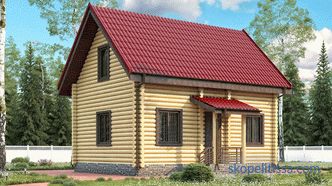 The houses of the size described are intended for year-round living. They are ideal for families of four. In this case, each family member will be able to get a separate room, while leaving one free - a guest. Usually this option of a residential building is chosen when the owners own a small land plot, or a territory that has an uncomfortable shape. The owners in this situation have the opportunity to acquire a full-fledged housing and save a place on earth to build a bathhouse and gazebos.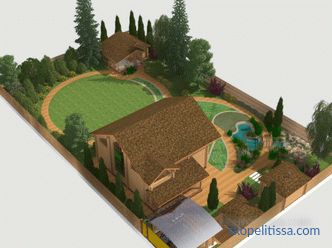 The choice of the described project provides a number of advantages:
First, it helps to save money . For the construction of a small house there is no need to build a large foundation of . Savings will be felt when the owners choose a house project from bar 7 to 9 with an attic and at the same time refuse from the basement . frame housing will be inexpensive. But if you build a house of brick , you will not be able to save on the foundation.

Secondly, the area of ​​a compact house with an attic will allow you to get living space and a half times larger area of a single-story house . In addition, the construction of such a cottage will provide additional space for other technical buildings. This option is suitable for those who love the bath or wish to have a large summer arbor with a stove complex on their plot.

Thirdly, any one-story house with an attic looks more respectable than a normal residential building. The image in this case does not play height, but design of the facade , roof form , additional windows , open balcony .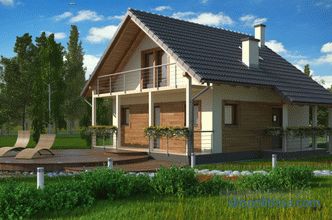 The layout of the house 7 by 9 with an attic is more flexible. The bedrooms go to the second floor, on the first floor there is more space for organizing the space that can be actively used by the family. The opportunity to live in the attic gives emotional comfort to many. From its windows a beautiful view of the surroundings. If the house is in a picturesque place, this feeling will increase even more.
Existing cons
Attic - this is not a full room. It has almost no walls at all, and there is only a ceiling, and even that has a too steep slope. Making such a space will be difficult, it will be impossible to put the usual furniture.
Additional financial expenses will require posting the necessary engineering communications. It will be necessary to carefully consider the heating, conduct water to the attic and make it drain. In the attic is always a little light. It will be able to compensate for the installation of additional windows and the organization of a complex system of artificial lighting. The room must be ventilated. Installation of forced ventilation will also affect the project estimate.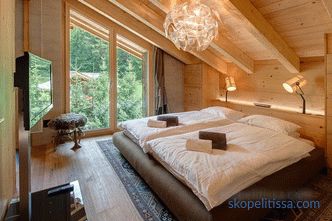 To be able to get to the attic, you need to install a staircase. Even the most modest in size, it will take at least 18 square meters from the lower room. And this is a full room. Stairs - a potential threat to very young children, it is difficult for older people to use it. This should be considered when choosing a project for building your own house. On the other hand, the space under the stairs can be used to advantage by organizing a convenient storage system or an office there.
The presence of an open balcony is a dubious bonus. Very often on commercials show how nice it is to drink coffee and enjoy the pleasant views around. In fact, it is very difficult to constantly walk up the stairs and carry something out on the balcony from the kitchen located on the first floor. If the house has a fireplace, if a summer terrace is attached to the kitchen, the balcony will be useless. They practically do not use.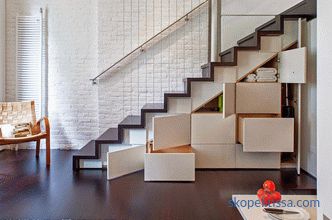 Variety of projects
You can build a house with an attic of different materials. A brick dwelling is the strongest option, but it requires the construction of a solid foundation, so its construction is the most expensive.
A house from the blocks
Anyone who wants to save a lot has to choose projects of houses 9 by 7 with an attic of blocks. Foam blocks - cellular concrete. It possesses high operational properties. The walls, built of it, perfectly retain heat, extinguishes street noise.The described materials have a low coefficient of shrinkage and water absorption. They do not burn in fire.
When choosing this construction option, you need to remember about the disadvantages of housing from foam blocks. With them, you can build only low-rise buildings. When building houses from gas or foam blocks, it is necessary to carefully consider the insulation, otherwise all the technical properties of the materials described will go to "no."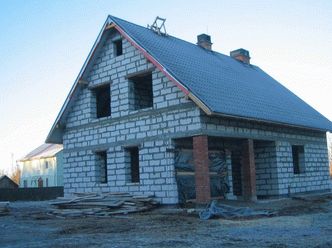 On our site you can familiarize yourself with the most popular 3,184 house projects from the best construction companies with flawless reputation in the market. A wide choice, reasonable price from 51050 rubles, flexible conditions and quality guarantee allow you to choose the right option for any budget and realize all the wishes of the client. Directly to communicate with representatives, you can visit the exhibition of houses "Low-rise Country".
Wooden house project
Traditionally described projects are developed taking into account the use of wood as the main material. If you choose an oak or larch for the purposes indicated, if you then take care of the house properly and treat it with antiseptic impregnations in time, it will last forever. The weight of the wooden house allows you to lay a strip foundation. It is quite enough, and this is a huge savings.
Today the bar for housing construction is processed using factory technologies, manufactured to exact dimensions, delivered to the construction site with a complete set, ready for installation. This helps to significantly reduce time and labor costs, pre-order windows and doors and build a house in the shortest possible time.
A tree has a structure within which air exchange is constantly taking place. It "breathes", absorbs excess moisture, and then gives it away when air is too dry. Such properties contribute to the formation of a very comfortable microclimate. No dangerous chemical elements are emitted from the surface of the tree, such conditions are very suitable for allergies.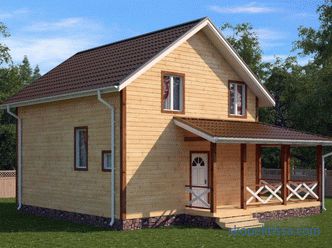 Wood has a low thermal conductivity, a wall assembled from a log with a diameter of 20 cm to indications of heatsaving can be compared to a brick wall, 32 cm thick, covered with a layer of plaster. This technical feature allows for the heating of the house to use the system of average power and save money on heating homes in the cold. In the summer in a wooden house a few degrees cooler than outside.
If during the construction of a wooden house all the requirements were met, it is not necessary to warm it additionally, there is no need to carry out additional finishing of the facade. The log itself looks very aesthetically pleasing and neat, so you can save money here.
If necessary, a tree house can be disassembled and transported to a new place. The total estimate of the construction of the described object will be less than the cost of building a house of bricks. When choosing such a variant of the construction of a residential object, measuring 7 by 9 with an attic, it is important to study in detail the disadvantages of such a construction option.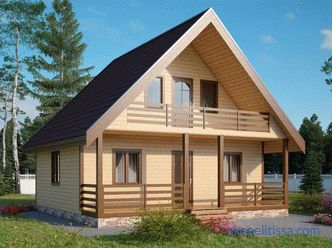 On our site you can find contacts of construction companies that own a full cycle of their own production, offer the service of design and turnkey construction of country houses of any size and area, technology and materials with a guarantee of up to 13.5 years. Directly to communicate with representatives, you can visit the exhibition of houses "Low-rise Country".
Any wooden house must undergo a shrinkage process. It usually takes three years, if a well-dried timber was chosen for the construction of housing, the shrinking time is reduced to three months. After assembly, the tree is able to move not only down but also up. Therefore, the first three years, experts do not recommend to perform any interior finishing work, and even more so, to lay tile on the floor or walls.
It is imperative to think that the tree is fire safe, if a fire occurs, such a house will burn down completely. To prevent this, periodically, once every two, three years, you have to completely house and outside, and from the inside to handle special impregnation. In addition, the house must do electrical wiring with double insulation, put all the wires in special metal sleeves. It is important when installing electricity to use sockets with the back wall. It exclude contact of contact with a wooden surface. It is necessary to put a lightning conductor on a wooden house, if there is a fireplace or an oven inside, to constantly monitor the condition of the heating equipment.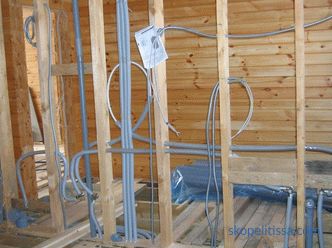 A tree is rotten, it can be destroyed by insects, so the house will need to be carefully monitored once five years to handle antiseptic solutions.They have low toxicity, do not affect human health, and help to significantly prolong the operational periods of wooden buildings.
The video shows a blockhouse of 7x9 m with a loft and an attached terrace:
This may be interesting! In the article on the following link read about the design project of a country house: features and nuances in the choice of interior design.
Frame houses
Such buildings are very popular today. Using this technology of building a house of 7 to 9 with an attic, you can acquire housing as soon as possible and at the lowest price. But this will have to produce a very complex calculation system, taking into account the variety of materials used. Build quality will largely depend on their quality. When erecting frame houses, it is necessary to pay attention to all butt joints; one should not allow the sinking of fillers and blowing walls.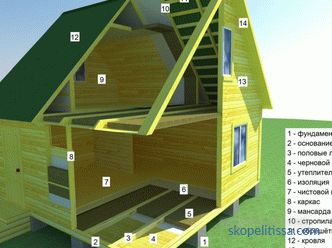 It is very difficult to perfectly fit all parts of the skin. This procedure is very laborious, it becomes much more complicated if small shield elements are used. But, if everything is done correctly, the house will be energy efficient. It will be warm and comfortable in winter, cool in summer.
It may be interesting! In the article on the following link read about projects of a 6x6 house with a mansard: examples of layouts and facades.
The construction of the second floor
The floor itself may have a different floor plan of a 7 by 9 m house with an attic. It all depends on which version of the construction the customer chooses. It is possible to make the second floor as a semi-loft room. His walls will be reduced by half, while the ceiling will have a smaller angle of inclination.
The second floor attic of the attic is completely absent, there is only a split ceiling above a person's head. In general, with this option, the second floor has a minimum usable area. But if you competently approach the design of such a room, you can live quite comfortably on the second floor. Most often it organizes bedrooms.
The video shows a few ideas on how to organize and decorate a bedroom in the attic:
This could be interesting! In the article on the following link read about whom to entrust the most intimate part of the construction of a country house - interior design, so as not to be painfully painful.
Features of the layout
House 7 by 9 is small in size, it is very compact, but if necessary all functional zones can be placed and organized inside it. The project itself can be supplemented and make a bay window or balcony, attach a garage or a summer terrace.
The area of ​​the house with an attic is 90-100 square meters. On the ground floor there is usually an entrance hall (next to it is a small storage room), a boiler room and a bathroom. The remaining space is combined and divided into a living room, kitchen and dining area. If a bay window is added, the area increases. In the bay window organized recreation area.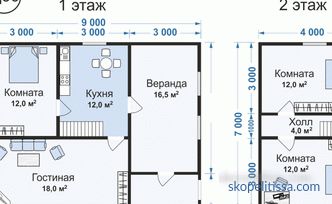 On the second floor, you can organize a small hall with a staircase and two full bedrooms and children).
The area of ​​the house with a semi-loft is 120 square meters. On them on the first floor you can put the hallway, dressing room, bathroom, make the living room, combined with the kitchen and separately organize a study or guest bedroom. On the second floor will fit three bedrooms, a small bathroom. From the hall with the stairs, experts usually recommend making an exit to the open balcony.
The video provides an overview of the project and layout of a frame house with an attic of 7x9 m:
Which project to choose - standard or custom
Two types of project can be used to build a 7 by 9 house: standard and original . The model is convenient in that it allows you to end up with housing that is most adapted to the climatic conditions of a specific region of our country, taking into account the parameters of existing soils. The customer is able to count on free adjustment of individual points.
It is much more profitable to order a project in the firm that will build the house. Then it will cost for free. There is an opportunity to order the project in the original design style, to express your wishes and ask to implement in practice a non-standard layout. This whim will cost much more.
It may be interesting! In the article on the following link, read about how high I sit and look away: a house with transparent walls on the rocky shores in Norway.
Conclusion - briefly about the main thing
A house measuring 7 by 9, although by modern standards is considered small, but it is quite suitable for year-round living.
Attic allows you to get extra meters of living space, due to which on the ground floor you can increase the living room and kitchen.
Attic is a rather peculiar room, but there are many options for its design and arrangement.
Blocks, wood or frame - you can choose any material for construction.
A little more attention

Many people say that only little house.

Write in the comments what you think about this topic? There is no sense in ordering a big house, because the output will be a soulless box, or the main thing is to get right to the point, and then you will get a cozy family mansion from a big house?