If you ask a random person to list popular materials for building a house, wood and bricks are more likely to be the first options. It has been so for many centuries, but in the last fifty years a lot has changed. Thanks to the development of building technologies, building materials with new properties appeared; one of them was called polystyrene concrete.
Initially, the material was not distributed (due to the high cost of raw materials). In the late 60s, it was possible to improve the technological process and reduce the cost price. Since then, polystyrene concrete blocks (PSB blocks) have become a popular material, especially in demand in country low-rise construction. Today, the largest consumers of this inexpensive and practical building material are Germany, France, the United States and Canada.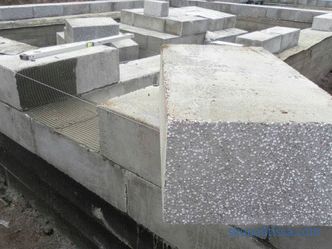 Ready blocks from polystyrene concrete
Polystyrene concrete: familiarity with the material
Polystyrene concrete composite (complex in composition) material belonging to the class of lightweight concrete. Lightweight concrete has a reduced density, which allows to solve several construction problems:
to reduce the weight of the building;

to increase its thermal insulation characteristics;

reduce the cost of construction (by reducing labor costs and increasing the labor productivity of builders).
For the manufacture of polystyrene concrete use:
portland cement (a type of cement);

water;

polystyrene, aggregate in the form of granules of various fractions with thermal insulating properties (polystyrene is a polymer with a wide range of uses);

quartz sand;

plasticizers are various additives (for example, resin) that improve plasticity of the mixture; thanks to this, the blocks do not crack during hardening and drying.
Polymer granules (very similar to foam plastic balls) create a lightweight structure of polystyrene concrete. Low density of foam and gas concrete is provided by air pores resulting from a chemical reaction.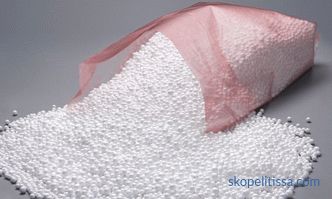 Polystyrene granules
Production methods
Polystyrene concrete products are produced in two ways:
Handicraft (foundry). Popular with homemade craftsmen due to the availability of components and uncomplicated technology. The process resembles the production of non-autoclaved aerated concrete - the necessary components are mixed, the mixture is poured into molds and aged there until curing (3-7 days). Casting technology is unprofitable in production (many labor-intensive operations for the preparation and maintenance of forms).

Vibration pressing (vibroforming). In industrial production, the mixture is kneaded more concentrated (more cement, less water). It is loaded into molds and sent to a vibropress, where it is held to a semi-dry state. When demolding, blocks with a clear geometry are obtained, which are then sent for final drying.
Polystyrene concrete with different densities is obtained by changing the ratio of components and the type of polystyrene granules (the larger the diameter of the polymer balls, the lower the specific gravity and strength of the material).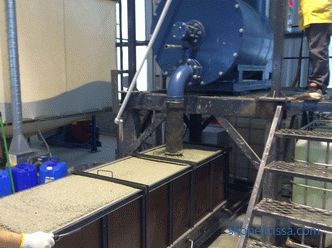 Filling polystyrene concrete in the forms
Cons of improvised blocks
The presence of the concrete mixer and forms allows you to set up home production of PSB blocks. Several remarks arise to such products:
Self-made production reduces the construction budget, but stretches time.

It is not known what parameters the blocks will have, since the production process is poorly controlled.

Homemade products will have a low density.

Inaccurate dosing will result in blocks that differ in quality.

Products will have poor geometry, which will increase material consumption during laying.
The quality of the blocks will inevitably affect the quality of the construction and durability of the house.
Pros and cons of polystyrene concrete blocks
When thinking about building a country house, many owners consider polystyrene concrete blocks as a building material, the pros and cons of which are determined by the granular structure of the material. The advantages include:
Efficiency. Material impresses with its cheapness.

Low thermal conductivity. Good thermal insulation properties make it possible not to equip additional insulation of walls with mineral wool or foam plastic.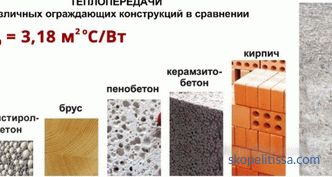 The advantage of the thermal efficiency of polystyrene concrete
On our site you can find building contacts companies that offer home insulation service. Directly to communicate with representatives, you can visit the exhibition of houses "Low-rise Country".
Low density and weight (compared to classic concrete). The load on the foundation is reduced (it can be made less massive), as well as the cost of transportation and laying.

Low water absorption (water is absorbed only by the surface) and, accordingly, low thermal conductivity, even in conditions of high humidity.

Decent sound insulation.

Processing. The PSB blocks are well machinable (they are sawn and cut down without effort), which is valuable when laying communications.

Frost resistance. GOST establishes a minimum figure of 25 freeze-thaw cycles for structural materials used in the erection of external walls. The frost resistance of the insulation material is not standardized. In regions with cold winters, walls can be protected by warming or plastering them.

Environmental friendliness. Polystyrene used in the production of polystyrene concrete is made from a decorative ceiling baguette, toys and well-known yogurt cups. Harmful additives can get into the material during garage production.
One of the drawbacks of the polystyrene concrete block is poor adhesion to plaster
How any material, polystyrene concrete has drawbacks:
Low compressive strength (used for erecting buildings no more than two floors high). Windows and doors may loosen over time.

Low vapor permeability. A wall of polystyrene concrete will not breathe, which will inevitably affect the indoor microclimate. For the removal of moisture need forced ventilation and air conditioning.

Flammability. The concrete frame of the blocks is not combustible, unlike the filler. Polystyrene under the action of fire decomposes, which leads to a decrease in strength and heat-shielding properties of the material.

Fasteners. In order for the swivel bracket (and with it the TV) to be firmly held in the wall of polystyrene concrete blocks, anchors and dowels are needed, specially designed for mounting in lightweight concrete.
About the advantages and disadvantages of PSB blocks in the following video:
Shrinkage. Mostly; is 1 mm / meter, which is 3 times higher than that of foam and aerated concrete.

Low adhesion (level of adhesion with finishing materials). This problem is characteristic of all light concretes. Adhesion is enhanced by treating the surface with a conventional primer or concrete contact (acrylic primer).
It can be interesting! In the article on the following link read about the insulation of the foundation with expanded polystyrene foam.
Varieties
Construction standards (according to GOST R51253-99) provided for products from polystyrene concrete of the following categories:
Constructional, marking D450-600.

Constructional and heat insulating, marks from D350 to D450.

Heat insulating, D150-350.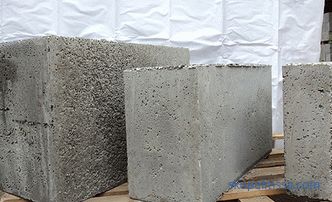 Types of PSB products
Building PSB blocks are also classified by size and method of use:
Polystyrene concrete blocks for mounting external walls (structural) have a density of D500-D600 (500-600 kg / m 3 ). Industrial production of products with the parameters 188x300x588 and 300x380x588 mm.

The blocks used for the organization of internal partitions (thermal insulation) have a density of D400 and dimensions of 92x300x588 and 92x600x588 mm.

Reinforced jumpers (for protection of openings) with a density of D400 may have a length from 1200 to 3000 mm and various sections (140x235, 140x295, 180x235, 180x295 mm).

Facing (decorative) products have a molded front surface, density from D300 and various sizes. The facade, lined with such blocks, does not need additional finishing (you can paint it if you wish).
Applications
The areas of use of PSB blocks depend on the density of the material: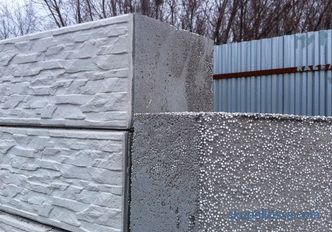 Facing PSB blocks
In monolithic construction (as thermal insulation). The material is used both in the form of blocks and in liquid form. The mixture is prepared directly at the facility and is used for floor screed, with insulation of roofs, pouring of floors, filling of frames. It is also used as a fire protection coating.

As a finishing material. Produced masonry PSB blocks with a decorative face (with veneer) and finishing panels for facing the facade.

As thermal insulation (insulation). Insulation boards of low density are produced.

During the construction of chimneys and ventilation ducts.
About the crash test of polystyrene concrete and aerated concrete in the following video:
A little about quality
There are no problems with building a house from polystyrene concrete blocks - this is a common building material. To determine the quality of products, it is necessary to remember:
Quality products are provided with a certificate that lists the characteristics of the material.

The choice of product brand depends on the type of construction (residential building or farm building). The standard size of a conventional PSB block is 188x300x588, a large one is 320x300x588 mm.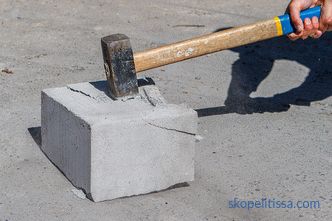 Poor-quality polystyrene concrete blocks are broken with one blow
Durable PSB unit withstands a fall from a height of 3-4 m or several blows with a sledgehammer.

The granules on the cut of the material are clearly different, have the same size and are evenly spaced, adjacent to each other.

The material must not have voids.
It might be interesting! In the article on the following link, read about how to build a house from polystyrene concrete.
Construction of a PSB cottage of blocks
A polystyrene concrete house with an area of ​​100-120 m 2 can be erected in two floors in approximately 3 months. The process goes through the following steps:
Foundation. The overall weight of the building is small, so the foundation is made less massive. Filling the walls of the basement with liquid polystyrene concrete allows you to make it truly dry and warm.

Walling. The design is growing fast, but the blocks require careful installation; over each row fit reinforcement mesh, which increases the rigidity of the structure. In order not to form cold bridges, the thickness of the glue in the seams is minimal.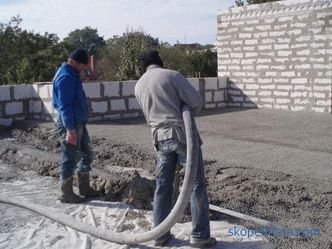 Fill the interfloor overlap
Floor and ceiling. They are made from PSB blocks or poured with a liquid solution. Before screed floor equip water distribution around the house.

Roof and communications. Mounted in accordance with the project.

Exterior finish. It is carried out taking into account features of polystyrene concrete. Decorative facade PSB blocks with a textured front surface or plaster are popular.
About sawing polystyrene concrete in the following video:
Cost products from polystyrene concrete
In general, the cost of PSB blocks is 10-15% higher than that of foam and gas-concrete analogues. First of all, it determines the size and grade of the material (structural or thermal insulation) of the polystyrene concrete blocks. Products with a decorative finish costing 20-30% more expensive than building products.
For a block of 595x375x295 mm in size, the average price in the Moscow region (for 1 m 3 , excluding delivery costs, depending on the brand) is:
D-250 - 3000-3200 rub.

D-300 - 3300-3400 rub.

D-350 - 3450-3550 rub.

D-400 - 3650-3750 rubles.

D-450 - 3800-3850 rubles.

D-500 - 3750-3950 rubles.

D-600 - 4250-4300 rub.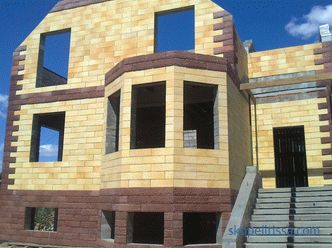 Walls of PSB blocks with cladding
It can be interesting! In the article on the following link read about houses from heatblocks.
Conclusion
There are no building materials without flaws. Each is only strong part of the properties; the rest can be safely defined in the minuses. Vendors PSB products often feel free to deceive customers by distorting information about the properties of the blocks. The result is improper use, violation of construction technology, resulting in frustration and a waste of money.
When choosing polystyrene concrete as a material for building a country house, one should carefully study its characteristics, characteristics of its use and operation. Polystyrene concrete has some advantages over other building materials; it is important to understand and use them for their intended purpose.