From this article you will learn how to organize an enclosure for a dog: what materials you can make a design, what requirements it must meet. We will talk about the types of enclosures, the features of choice for dogs of different breeds and sizes, explain what you need to pay attention to when designing and how to equip the space so that the pet is safe, while being as comfortable as possible to be inside.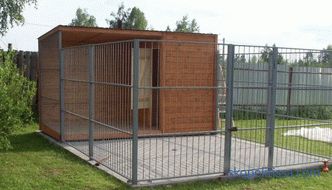 The varieties of the enclosures
The main classification allows to divide the constructions according to the place of application :
Street enclosures . They are used for permanent or temporary keeping of large and medium breeds, mainly long-haired. Structures for permanent use make capital, with solid walls and small grid or grid inserts. As a rule, such constructions are additionally heated to make it comfortable in winter. As for seasonal buildings, such outdoor dog enclosures are more often used in the summer, for example, in the area where the family and pet come for the summer. Regardless of the frequency of use, care must be taken to have a walking place, the size of which depends on temperament and the size of the dog.

Home aviaries . They are necessary for the safe keeping of puppies, creating your own corner for the dog, delimiting the territory of a house or apartment when a small child appears. The simplest designs are made in the form of a folding fence, and products in the form of a cage ensure maximum safety. Inside is a pet bed or booth, but if there are puppies inside, there will also need to place a tray.

Important parts of the design
Virtually any enclosure consists of the following elements:
Base . It is obligatory for street constructions, since it provides maximum reliability, besides, it allows raising the aviary above the soil surface, which is important for the most effective ventilation and protection from moisture. Most often, a column foundation is made for the enclosure, but for a brick or block structure, a more durable structure is needed, therefore a monolithic ribbon is arranged for it.

Walls . It is necessary that at least 2 of 4 be deaf, so that the animals kept inside are not uncomfortable. They can be made of brick, half block, classic block, made of wood, plywood. 1 or 2 walls should have mesh inserts or be made fully mesh.

Gender . It should be made of non-slip materials, carefully insulated and waterproofed.

Roof . Most often it is made shedding, materials - professional sheet, soft roof, metal tile.

Input . If the aviary is intended for large breed dogs, it is worthwhile to install a full door, preferably a metal one.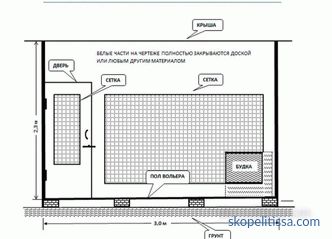 On our site you can find contacts of construction companies that offer the service installation of various small forms for a turnkey country house. Directly to communicate with representatives, you can visit the exhibition of houses "Low-rise Country".
Calculation of size
When determining the dimensions of a structure, the following nuances should be taken into account:
Breed of an animal . For example, cages for large dogs, whose height is 60-65 cm, should have an area of ​​at least 10 square meters, for pets 50-60 cm in height - from 8, and for animals less than 50 cm tall, a structure from 6 squares is suitable. Temperament is also taken into account: for example, for mastiffs, despite the large size, an open-air cage suitable for 10-12 meters will be suitable, while for lighter, but active and restless huskies, you need a room with a range of 15 squares.

Number of dogs . If you plan to keep inside only one animal, you can build an enclosure of the minimum area. If there are two individuals there or, for example, the owner of a bitch plans further breeding, it is necessary to increase the size of the structure at least 1.5 times.

Seasonality . For a summer aviary, it is enough to equip a walking area of ​​6-10 meters and space for recreation, and the year-round building needs to be warmed, and this room requires about 1.5-2 meters to be added to the overall size.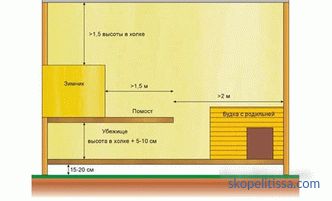 Basic design requirements
Regardless of the variety, the aviary must meet the following requirements:
Safety . Inside there should not be sharp objects, cracks through which the dog can get out, badly fixed objects.

Zoning .If the structure is made for one animal, it is not necessary to separate the internal space, while the enclosure for two dogs and more is better to separate the partitions. This is especially true for those who are building a structure, for example, for the maintenance of homeless animals, since conflicts may arise between them, including over territory.

Reliability . It is important to use high-quality materials resistant to mechanical stress and climatic phenomena.

Availability of necessary equipment . Inside it is imperative to arrange a booth or an enclosed space for rest, feeders, bowls of water on a carefully fixed frame, beds.

Convenience of care . The door to the aviary should be the height of a person so that when cleaning there is no need to bend down to get inside.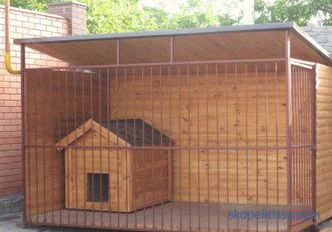 On our site you can find contacts construction companies that offer the service of installation of fences and fences turnkey. Directly to communicate with representatives, you can visit the exhibition of houses "Low-rise Country".
Choice of project
Competent design of the building provides for the calculation of dimensions, and the choice of materials, and the definition of the layout. The most popular projects of enclosures for dogs:
Summer facilities . As a rule, it has a spacious place for walking, a rest booth, a shelter for bad weather. 2 walls are made of lattice, and another 2 - deaf, for example, with a lining of wooden boards or plywood.

Aviary for year-round use . It provides not only a place for walking, but also a spacious room (at least 2-4 square meters, depending on the breed of dog) with a heated floor, walls and a roof. In regions with a particularly harsh winter, this room requires additional heating.

Design with a maternity ward and room for keeping puppies . This option is optimal if the owner keeps the bitch that he plans to breed.

Building on several dogs . In such an open-air cage a common place for walking can be provided, and the houses for each individual are divided. If the contained dogs are prone to aggression, the project provides for separation and walking zones.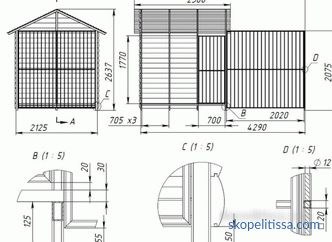 Interesting projects of dogs enclosures in the video :
It might be interesting! In the article on the following link read about dog kennels - types and stages of construction.
Materials for construction
Before building a structure, it is necessary to decide on the materials of manufacture. The choice depends not only on financial possibilities, but also on a specific part of the structure:
Ground . Most often, it is made of cement-sand mixture and is enhanced with reinforcement.

Gender . It can be made of concrete or wood; in the first case, it will be necessary to equip the flooring, because the concrete floor is harmful to the joints and claws of animals. In the second case, a polished floor board is used. In any case, the wooden parts of the structure are treated with flame retardant components, antifungal substances, they can be coated with a special varnish that is safe for the pet and protects the tree from moisture.

Walls and partitions . Deaf surfaces are most often made of wood (board, lining), sandwich panels, and for the external walls a trellis profile or a net for an open-air cage can be used: dogs will be able to see the controlled area, while there will be no risk that they will be able to get out.

Roof . It is best of all if soft roofing is used: it is a light material, which is relatively inexpensive and does not create excessive noise during rain and hail, which is dangerous for the pet.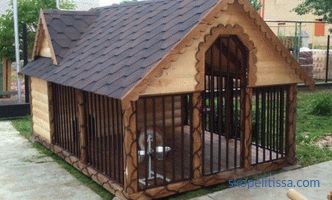 Important! If the aviary will contain large aggressive dog, it is undesirable to equip the structure with the fastening of the mesh or the grid on the welding. When you try to rush on a stray animal, it can tear welding points and deform the fence.
Construction nuances
The construction process includes the following steps:
Creating the foundation . It can be columnar or tape, a strong burial is optional.

Mounting frame . It is made of wooden beams or metal tubes, depending on the technology.

Creating a floor . If it is concrete, the mixture is poured into the formwork, after solidification, the flooring is installed. In the case of a wooden structure, a draft floor is first constructed from a 5 mm board, then an outer covering is laid.

Walling .The material is attached to the frame with screws, welding or other means.

Roof construction . It can be single-pitch, gable or asymmetric, in any case, the truss structure is first made from the bar, then the material for insulation and waterproofing is mounted, an external covering is installed on top.

Connecting communications . Depending on the project and conditions of maintenance, installation of drains, electrical wiring, heating devices may be required.

Door installation .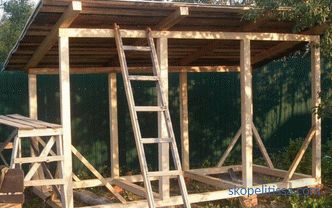 Interior arrangement of the aviary
It is important not only to build a solid and safe construction, but also to provide everything necessary for a harmonious life for the dog inside the enclosure. The minimum set:
Bed . It can be made of cloth, straw, dried grass, mattress is also suitable.

Shelter . A booth is required: dog enclosures must have a room that is used both during bad weather and to ensure the greatest psychological comfort of the pet.

Bowls . They should be placed at such a height so that the dog can eat and drink comfortably, for this you can use a separate stand or wall mount.
You can learn more about how to equip the mount of the feeders in a dog aviary, by watching the video at the link:
In addition , if the aviary is used for active dogs (husky, Doberman, etc.), it is desirable to equip it with constructions for physical activities - benches, jumping structures and other elements that allow the animal to throw out energy and maintain good physical shape.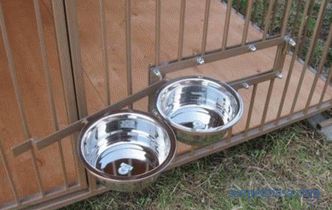 It can be interesting! In the article follow the link read about the cascade house in Bailer Hill.
Conclusion
The cage should be strong, safe, and as comfortable as possible for the pet. The size of the structure depends on the breed and temperament of the animal, the most commonly used materials are wood, mesh, metal gratings. Depending on the climate and frequency of use, it may be necessary to warm the building.