A variety of fences are used to arrange paths in the garden. A popular material for their manufacture is plastic. One of the varieties is a border maze. From this article you will learn what it is and at what price it can be purchased.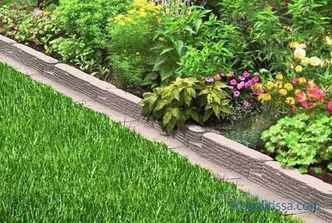 Plastic fences - affordable and beautiful
The plot of land on which Plants are planted, divided into specific zones. Some are relegated to flowerbeds, others to paths. To distinguish them from the total mass of greenery, edging material is used. It can be concrete, metal, wood, brick, stone. One of the most accessible is plastic, in particular, the garden border maze. Any plastic fence has many advantages:
its easy to install and dismantle;

it is perfect for places with non-standard geometry;

has a low weight;

it is sufficiently strong and durable material;

requires minimum maintenance;

costs much cheaper other materials.
For example, a labyrinth garden curb can be bought in Moscow for 550-800 rubles. Because fences are used where plants are planted, they can be exposed to various chemicals. After all, the beds or flower beds are periodically sprayed with them. Curbs made of plastic from this will not be damaged. If they remain some bloom, it can be easily washed off with water.
Temperature changes are also not terrible for them. The only negative is that plastic refers to synthetic materials. It is not environmentally friendly, but harmless to humans and plants. If you compare it with a stone or concrete, it gives way to strength. However, given all the advantages, plastic borders are used very often.
Varieties of plastic fencing
To understand how best to equip your site, give the tracks a neat look, beautifully shade flower beds, you need to know what PVC fences are. They are divided into three types:
With the finished form . It can be different: rounded, smooth, with bends. The main difference is the placement of the finished fragments in the right order.

Tape . This is a flexible plastic rolled into rolls. Suitable for fixing tracks or other areas that have a lot of turns and non-standard bends. The main part of the tape fits into the ground, therefore it is not suitable as a decorative ornament. But it keeps its shape well, preventing the grass from spreading.

With blocks (sections) . This is a set of certain repetitive forms, established with the help of special fasteners. This view can be compared with the designer, from the details of which you need to assemble a holistic form. It looks attractive, suitable for decorating the site. This includes the labyrinth master garden curb.
On our site you can see the most popular projects of modular homes from the best construction companies with an impeccable reputation in the market. Order a free draft on the site of the project and get the turnkey value, use the filters to set the necessary parameters of a country house. Directly to communicate with representatives, you can visit the exhibition of houses "Low-rise Country".
Labyrinth - easy movement
The border for a lawn is a labyrinth made in the form of blocks that look like a natural flat stone. When sections are installed one after another, it turns out a kind of ancient masonry. In each block there are grooves-protrusions with the help of which adjacent sections are held together. Additionally, there are special stakes sticking into the ground. The decorative labyrinth border is completely on the surface of the earth. If you need to move it or change the contour, it is very easy to do.
The plastic the sections are made of is of high quality. It withstands both strong sunshine and exposure to low temperatures. Due to its versatility, the curb has a wide purpose. They can be separated not only paths or flower beds, but also playgrounds, gazebos, zones in greenhouses. Garden maze fence can be bought in the form of a set, which includes:
8 blocks height of 8 centimeters (total length - 3 meters);

plastic fasteners in the form of nails.
section. On our site you can to find contacts of construction companies with a full production cycle, which provide all basic and related services related to the organization of life outside the city, including landscape works: landscaping the site, planting plants, ponds, slides, mountaineering, rockeries, etc. Directly You can talk with representatives by visiting the low-rise country exhibition.
Accordingly, it is necessary to calculate how many such packages will be needed to fence the planned territory. And if the cost of one set is in the range of 800 rubles, then to complete the full process, an amount more is required. All parts of the set are painted in gray color, which harmoniously fits into the natural landscape.
A distinctive feature of the labyrinth is the presence of a platform provided for a lawn mower to pass through it. Thanks to this, with its help, the grass next to the border is completely mown. In other constructions it is sometimes necessary to additionally resort to trimmer.
The video provides guidelines for installing a plastic sidewalk curb with a visual demonstration:
It may be interesting ! In the article on the following link read about curb tape for garden beds: pros and cons, choice and application, prices, photos.
Conclusion
Borders made of plastic - a great option for registration of paths and flower beds on the land plot. They have so many advantages over other materials that the choice of many falls on them. A universal type of plastic fencing is a labyrinth border. Stylish, inexpensive, easy to install, resistant to the effects of different weather - it will decorate any site.