The hot southern sun, endless vineyards and fields fragrant with lavender, Beaujolais wine festivals - all this is alluring and romantic Provence. This French province is very popular among tourists, primarily for its unique flavor.
Therefore, having returned home, many would like to recreate a part of it in their home. The interior of Provence is best suited for a country house or cottage, as it is a rustic style with elements of vintage. But, of course, if you liked such ideas, they can be applied to the urban townhouse.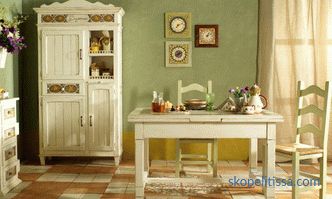 The main features of Provence style in the interior
Features of Provence style
Design of a Provence country house is not so complicated. It is enough to use the basic, most recognizable elements of this style, to adhere to some rules - and you get a piece of France in central Russia.
The characteristic features of the Provencal style:
Materials
This is natural wood, ceramics and bricks, natural stone. As a budget alternative, modern, artificial materials that imitate wood, brick and stone can be used to finish the house in Provence style. The mosaic tile will be very pertinent.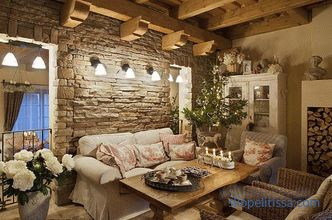 Natural stone on the wall and wood on the ceiling - features of Provence style in the room
Color range
Used those shades that can be observed in the natural landscapes of the French province. White and all its tones are considered basic:
vanilla;

ivory;

milk ;

butter cream.
It is supplemented with all shades of gray and lavender, pistachio and olive, sand, terracotta. For contrast, it is permissible to use wine red, purple, deep sea green or green needles.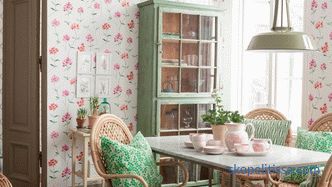 Provence-style kitchen
A lot of light
Natural light, sun and heat, creating exactly that charming the atmosphere of the south of France, must penetrate through numerous windows and balconies. Typical French floor windows are welcome.
There is no need to cover them: instead of heavy curtains, light tulle of light shades or blinds are used, which will protect you from the scorching Mediterranean sun at noon.
There should be a lot of artificial light too. First of all, it is a variety of floor lamps and wall sconces. If the chandelier, then a large and rare in the living room.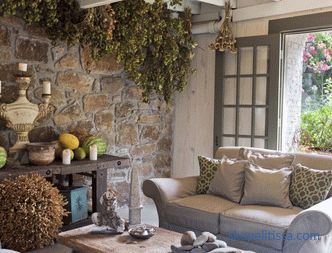 Furniture and decor in Provence style
How to furnish
According to the style and appearance of the interior should look as if not one generation has been using them regularly. But just look! The furniture must be solid, the effect of antiquity and wear is created artificially.
Decor
A real interior of a Provence-style country house cannot be imagined without a lot of ceramic decorative dishes, plates, jugs and other knick-knacks. Be sure to need knitted and embroidered napkins, towels, capes and bedspreads made from natural fabrics.
And we must not forget about flowers. Floristic compositions in floor vases, hanging pots, flowers in flowerpots, panels with applications of dried flowers and plants, and also pots in the kitchen with aromatic herbs, which Provence is so famous for - all this must be in the chosen style.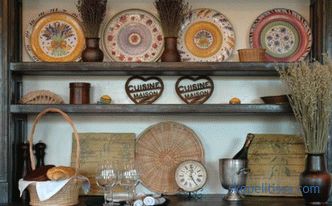 The variety of decor that is characteristic of Provence style
Making the exterior and interior of the house
In southern France, home in the villages, they are built from natural stone or, in extreme cases, bricks, the roofs are tiled, and the platbands are made of pine, oak and alder wood. Facing the facades is not accepted - it is better to let the masonry be visible.
Mandatory attributes of a provencal country house are a terrace or veranda and balconies. Plant decorative grapes, roses and other climbing plants near the walls. in a few years you will have a real French country house, immersed in greenery and flowers. Windows can be decorated with wood shutters. They play the role of blinds in sunny weather and summer heat.
Another distinctive feature is a very low foundation. A veranda or porch starts immediately from the courtyard, without steps or fits. It should give the impression that this is a continuation of the palisade behind the partition. The walls can be sheathed with wood panels and everywhere arrange more flowerpots with flowers.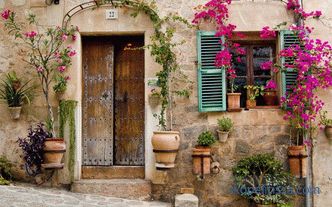 Provence-style house
On our site you can find contacts of construction companies that offer the service of designing houses. Directly to communicate with representatives, you can visit the exhibition of houses "Low-rise Country".
Registration of floors, walls, doors, frames
If you want to maintain a full-fledged Provence in the design of your house, and not just follow the general features and rules, finishing the interior surfaces, doors and windows is very important.
Paul. Ideally, for living quarters - not varnished and not painted natural board of light brown or brown color. Protein, black or mahogany is rare. Please note that parquet is practically not used in Provence. Then it is better to lay a high-quality laminate that imitates a natural brown board. For household premises and bathrooms used large-sized tiles, natural stone, as an alternative - granite.
Walls. It is best to plaster them (texture, granular compositions can be used) and paint them with matt paint of pastel shades. In the kitchen, mosaic inserts on a working apron look spectacular. Elements of a bricklaying will be suitable for a drawing room and bedrooms. As for the wallpaper, you can use them, but then they should be paper, with the effect of antiquity, as if burned out in the sun and slightly worn. Drawing - floral and vegetable, you can with a thin strip. This wall design option is perfect for a girl's bedroom in a romantic style or a nursery. Wooden panels look good in the living room up to the middle of the wall to match the floor and wall panels of a contrasting color.
See all the secrets of Provence style in the video:
Ceiling. Wooden beams are noticeable in a real Provencal house under the ceiling. If you are building a country house from scratch, you can easily use this technique - you need to warn builders about your idea in advance. If you finish in the Provence style an already ready summer cottage, then the ceiling, like the walls, is simply plastered and painted. But here it is better not to experiment with color, let it remain white.
The entrance doors and window frames must be made of wood only. The main doors of the house are massive, with wrought iron elements, on large hinges. But interior can be lighter, with stained glass or glass inserts. It is better to choose a double swing construction - do not forget that through the doors, as well as through the windows, as much light as possible should penetrate the house.
Advice from the designer. What materials are absolutely not suitable for this style, so it is plastic and chrome. Try not to use glossy paints and discard fashionable stretch ceilings, vinyl and non-woven wallpapers today.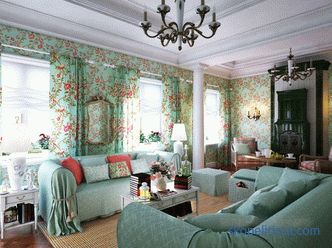 Photos of the living room in Provence style in the interior of a country house
Furniture and interior items in Provence
Provence in the interior of a country house - this is, above all, rare, but very beautiful, elegant furniture in a particular rustic style. Let us consider in more detail what can and cannot be placed in the rooms of your French house.
Allowed:
Simple, old-fashioned furniture from unvarnished wood of any shades, with carving and without sharp corners.

Light wicker rattan furniture.

Beds, canapes, chairs and armchairs with wrought-iron backs or armrests. Do not rub the iron to shine - let it remain dull. You can create such an effect artificially - this is called a patina.

Pillows, capes and bedspreads on furniture made from natural fabrics, plain, striped, with floral patterns, embroidery, lace.

A variety of dressers, cupboards, slides and chests in vintage style. A renovated grandmother's dowry from the attic is quite suitable.
See the decoration of the city apartment in Provence style:
You cannot use:
Modern headsets with crisp geometric shapes.

Vanguard multifunctional furniture.

Interior items of glass, chrome steel, and plastic.

Furniture of flashy, ultra-bright colors.
It is important not only to choose the right furniture, but also to correctly arrange it. Provence does not accept symmetry. The setting should be completely homely and relaxed, a bit careless. This is a great solution for the "forget", always throwing unfolded blankets, opened books, a cup of tea or mulled wine on the sofa.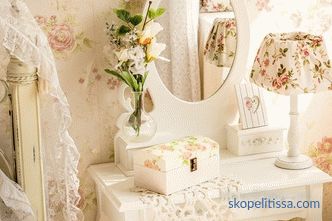 A bedroom in Provence style
It can be interesting! In the article on the following link read about the style minimalism.
The choice of curtains and curtains, other textiles
Textiles in the interior of French southern country music is a very important point. Provence residents do not like curtains, they are usually limited to light curtains. Tulle, organza, batiste, chiffon, can be used with embroidery or printed pattern.
If, however, you cannot do without thicker curtains, choose the simplest styles without a large number of draperies, "ties" and other weighting decor. Recommended fabrics are chintz, linen, taffeta, cotton. Curtains can be "to the floor", as a rule, they close the entire window opening, and in the daytime they are draped with tapes-pickups. Color should not match the color of the walls and ceiling. If you really need the curtains on the windows, then let them be in a contrasting color - pistachio, olive, apricot or terracotta, with small or large floral pattern.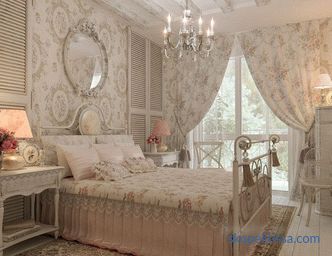 Textiles and curtains - Provence decor
Colors and a combination of
Colors and shades already mentioned above. All of them should be light, pastel, as if powdered with dust or burned out in the sun. It is not necessary to combine many different shades in the same room. It is better to use white or milk as a base and complement it with different shades of brown, olive or gray-blue.
A very beautiful interior of the house in Provence style is created if you use white and purple as the base colors for decoration. Let the walls be painted in a light shade, the same need to pick up furniture. And in various tones of lavender - from powdery lilac to rich purple - you can decorate textiles and decorative elements.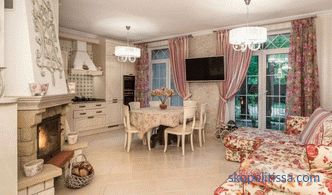 Kitchen combined with a living room in Provence style
Lighting
The question with natural lighting is clear. What lighting fixtures to choose for artificial lighting:
Floor lamps and table lamps. There are not many of them in this style. Choose appliances on elegant, carved legs, with textile shades with floral or striped prints and fringe. In the kitchen or on the terrace, lamps with wicker lampshades look very impressive. You can combine fabric and rattan. And even better - make the lamp yourself.

Chandeliers and sconces. Very beautiful, rich and in accordance with the style look heavy chandeliers for a few wrought iron bulbs. Usually they imitate candlesticks. The same wall lamp on one or two lamps can be hung on the walls.

Candle Holders. They can also be forged, porcelain, ceramic, in pot-stands - this decor will make any room more comfortable and colorful.
At the front door, on the balconies and on the terrace you can have a story in a wrought-iron sheath. What should not be categorically: spot and LED lighting.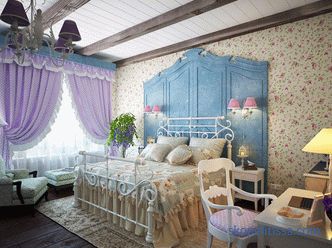 Provence Style in Lighting the Bedroom
It might be interesting! In the article on the following link read about arbor styles to give.
Bathroom in Provence Style
The highlight of the bathroom in this style is the presence of a window opening. Let the window be small and the view from it opens to the Russian fields, and not to the French vineyards. Anyway, it should be. Another important detail in the design of the bathroom is a tub with legs, installed not near the wall, but in the center. It is appropriate to put a ottoman or a small rattan chair, a wicker laundry basket next to it. Walls and floors are finished with matte or glossy tiles with floral patterns or in a marine theme.
Provence - this is the style that even in the bathroom involves a vase and a flowerpots with flowers. And here you can install a beautiful forged candlestick and a large mirror in an old, patinated frame. About what colors to choose, mentioned above.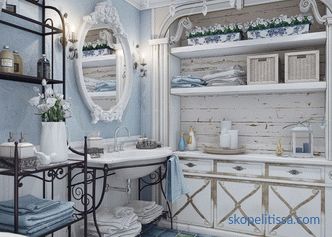 Provence-style bathroom
Photo examples of houses and rooms in Provence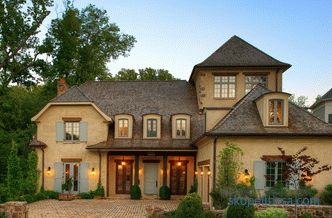 Tiles, shutters, high windows, plenty of greenery and a paved driveway to the house are all attributes of Provence style in the exterior of the house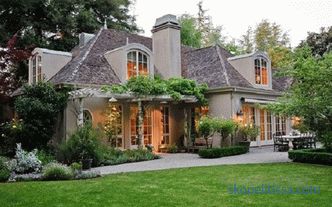 Provence-style house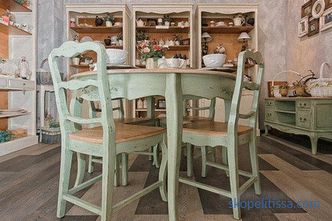 Provence-style kitchen at the cottage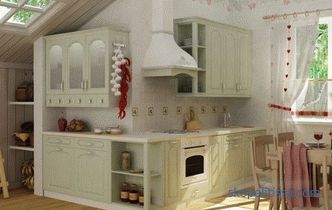 Provence-style kitchen
Very good, if you can make a fireplace in the kitchen or in the living room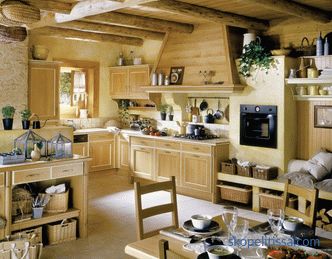 Provence-style kitchen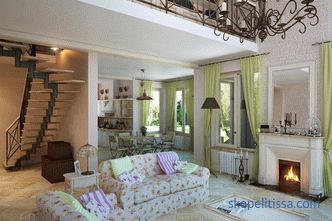 Interior of a modern Provence-style house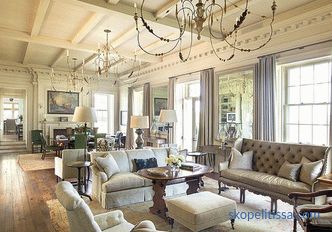 Int Entrance of a large house in Provence style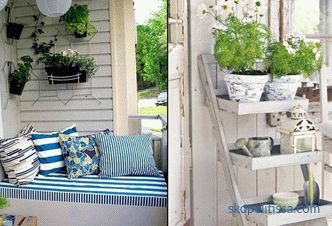 Provence style balcony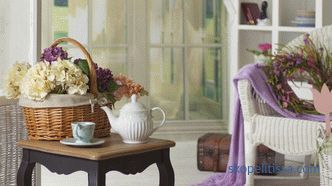 Decor and floral compositions are of great importance in the design of villas or houses in the style of Provence
This can be interesting! In the article on the following link read about houses in the loft style.
Conclusion
The greatest advantage of the Provence style is its eternity. You begin to make a dwelling in it immediately after construction, and continue all your life, complementing with new and new details.Another embroidered napkin in the kitchen, a ceramic cup brought from the journey, a black and white framed photo on the living room wall, a mosaic lamp or an orange tree presented in the tub on the veranda - the anniversary of the most attractive and charming Provence. be sure to go again next year.