Any barn to give is a pre-fabricated structure, which is almost always done without heating. It is used to store inventory, various things, keeping farm animals or is used as a workshop. In most cases it is a small building, in which only one room. Often, it is precisely this outbuilding that is first built on the site. Various materials can be used to build a barn, manufacturers offer ready-made solutions in the form of containers or prefabricated systems.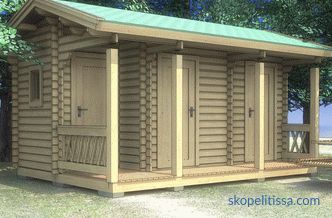 Place to be built
A place to build a shed should be determined at the planning stage of the entire site, with the designation of other buildings. This will help to choose the most optimal place, so that the yard remains free, and it is comfortable to navigate through it. Often the hozblok placed behind the house, near the house or on the border of two sites. In most cases, a territory is allocated for it, which is not suitable for the construction of other buildings there.
There are no specific rules regarding the location of the building, except for the distance from the site fencing. If you plan to store tools in the supply unit, do minor repairs, then it is better to place it a meter away from the fence. In the case of storage of organic fertilizers, raising animals, it should be located four meters from the fence. When keeping farm animals, the distance to the nearest home should be at least 12 m.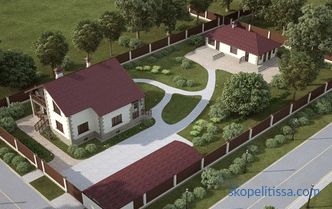 The size of the utility block
Before you order a barn to the country house, you need to decide on a future assignment that may affect its parameters. Experts recommend the following ratio of size and purpose:
inventory - 1.5 x1.5 m;

inventory, paint, fertilizer, and so on - 1.5x2 m;

pump, hose, lawn mower and other equipment - 2x3 m;

the content of small farm animals and poultry - size depends on the number of animals planned.
Shelves and hooks are hung on the walls for storing inventory and various materials. Quite often, sheds are built with a reserve, making their base area 3x6 m.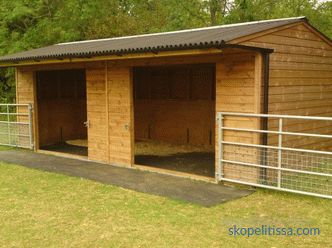 It can be interesting! In the article on the following link read about the shed frame with a lean-to roof.
Foundation for the construction of
The design of the hopper can be very light, but it still requires a solid foundation. If this is not done, then very soon the walls can look sideways. The type of foundation is selected depending on the materials used for the walls, their height and roof features. In most cases, the following types of foundation are made:
Block . It is used for the lightest options, for example, wood. For it, use concrete blocks mounted on a pillow of sand. They are placed around the perimeter with a step of 1-1.5 m. It differs by minimal time costs and small financial investments.

Monolithic of plates . It is considered a versatile option, suitable for loose soil. A pad is made of sand 15-20 cm, on top of 10 cm of cement solution, it can be reinforced with reinforcement. In this case, it is not necessary to equip the floor in the outbuilding itself.

Columnar . Widely used for frame buildings, simple and inexpensive. Cannot be used on difficult ground.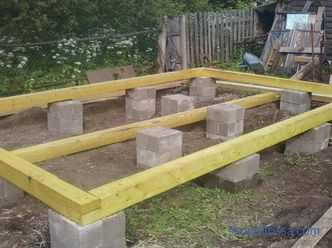 Pile can be used for the shed Equipped on all types of soil. Characteristic is the high price, mainly used if there are no other alternatives.

Band . The most laborious, but best suited for heavy buildings. It is made on a monolithic or precast technology of concrete or blocks.
When choosing a type of foundation, you should always consult with a specialist. This will avoid the rapid destruction of the building and create a high-quality and durable foundation with an installed utility block.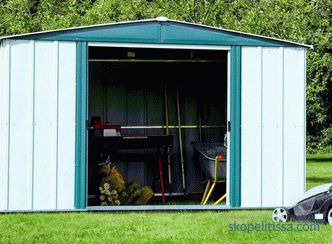 On our site you can find contacts of construction companies that offer a barn construction service. Directly to communicate with representatives, you can visit the exhibition of houses "Low-rise Country".
Materials and Structures
When choosing a project for a homeblock, you need to consider which option is best for you and what material will be used to build it.According to these parameters, the structures are conventionally divided into prefabricated, frame, brick and container.
Framework hozbloki
Most popular because they save time and money on construction, foundation and materials. The firm basis of a design from metal or a tree becomes, from above boards or sheets fasten, can be warmed inside.
The following can be used for paneling:
Wood, any board . Inexpensive material, but requires processing and painting, is considered short-lived. First the foundation is made, then the frame is mounted, the rafters for the roof are fixed. The framework is sheathed by a board or the croaker, the tongue allows to avoid emergence of cracks. When keeping animals in the winter time, it is worth using insulation and film. Wooden buildings are inexpensive, but they are flammable, rotting, short-lived, insects appear in them, requires constant protective treatment.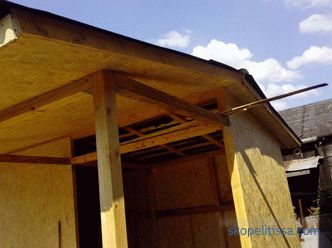 Slabs OSB . Durable material that practically does not rot. When building the frame, it is necessary to mount the supports as accurately as possible - the plates should fall on them. The cost is higher than that of boards, but maintenance and installation is much easier. As additional protection becomes covered by paint.

Metal . For the framework, any small diameter pipes are used, they are concrete, vertical girders are twisted or welded, then the lining is fixed in the form of corrugated board and similar materials. Periodic corrosion protection is required. The building is cold, but it can be warmed, it serves for a very long time, it can be quite easily disassembled if necessary.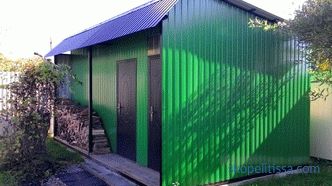 Polycarbonate . It is mainly used for greenhouses, but can be used in a barn, for a workshop or warehouse is not recommended. Installation of sheets on any type of frame with special screws and washers.

Slate . It is better to mount on a wooden frame. The sizes of sheets allow to build the hozblok very quickly. An economical option, but these sheds have an unattractive look, and the material itself is very fragile.

Opilkobeton . The monolithic technology is applied, the frame is assembled and the OSB is sheathed, the result is formwork. A mixture of sawdust and cement mortar is poured inside. The walls are strong, have good insulation performance. Suitable for keeping animals, arranging a workshop and so on.

Pallets / pallets . Alternative for timber, are inexpensive. They are put on the foundation, bolted, rafters are mounted, the frame is sheathed, for example, OSB.

It might be interesting! In the article on the following link, read about how and from what to build a barn.
Constructions from stone blocks
A project of a shed made of brick or similar materials necessarily takes into account the construction of a solid foundation. Subject to compliance with the technology, the construction will be durable, but the construction is expensive and long.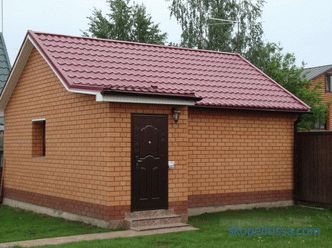 In this case, the following materials can be used:
Brick . It has a high price and labor, a lot of weight, which requires a strong foundation. But the building will have a good appearance, you can do without cladding. Hozblok will stand for many years, is not afraid of the influence of precipitation, fireproof, does not undergo mold, do not harm rodents, does not require constant reconstruction.

Foam blocks . With a limited budget allows you to get a durable barn. The blocks have a porous structure, large size, low weight, so the building is built fairly quickly. Advantages are the favorable price, resistance to rodents, moisture, fire, good insulation performance and a small load on the base. However, there is a possibility of shrinkage, and the blocks are not very attractive, therefore, facing works may be required if this is important.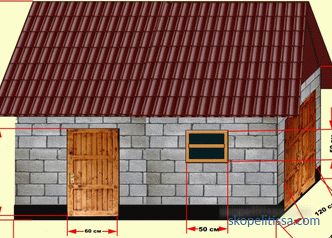 Gas units . Very similar to foam blocks. Well retain heat, resistant to fire, are lightweight, inexpensive. However, they can deteriorate due to moisture, and the level of water absorption is 35%, therefore waterproofing is required.

Arbol . Made from wood chips and concrete. They have good thermal insulation and vapor permeability. Lightweight, durable and large blocks facilitate construction and reduce foundation requirements. They are not afraid of rodents, mold, you can easily mount fasteners. But this material is not the best performance frost resistance, inaccurate geometry, and poor moisture resistance. Recommended veneering recommended.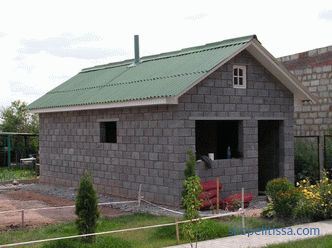 It may be interesting! In the article on the following link read about the foundation for the shed.
Container
The fastest and easiest option that is ready to use. The metal frame is sheathed with metal sheets, there is insulation in which communications are laid. Externally, it resembles an ordinary container, but inside it can be designed as a storage room or a complete structure with a bathroom, a shed, and so on. The most functional are often used as temporary or seasonal houses.
Basically they are delivered already assembled, only communications on the site are connected. Durable hozblok, does not require a lot of time for the arrangement, as the foundation used slab or column type. The cost is quite high, but can be rearranged or sold in case of uselessness.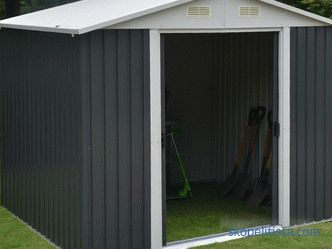 Prefabricated
A kind of frame, with identical by technology. Delivered as separate parts that are assembled as a constructor. To do this, the kit comes with instructions, so the question of how to build a barn, disappears by itself.
At the heart of the sandwich, SIP or plastic panel design. The frame is installed, after which the structural elements are attached to it, it takes very little time for all the work, it does not require insulation or external finishing. The cost of such models is higher than that of block or frame.
Models with plastic elements do not have insulation, are considered not the most durable and are not suitable for keeping birds or small animals.
The construction of the frame utility block with wood paneling in this video:
Roof arrangement
The construction of the shed includes the creation of a waterproof two- or shed roof. Sometimes other options are used, for example, hitherto, round, and hip, but they are installed very rarely.
The most profitable and widespread option is sloping, good natural ventilation is provided, no additional investment is required, saving materials. The slope should not be towards the door. Gable models are better only externally, ventilation is worse, but under the roof it is possible to arrange storage space for equipment or hayloft, a slope of at least 25 degrees.
The following materials are mainly used for roofing:
slate is the most cost-effective material, can be reused or used to buy, which gives additional savings, durable, not afraid of the influence of precipitation or sun rays, requires a good crate, fragile;

metal - inexpensive, good appearance, durable, large selection, but it is subject to scratches, corrosion;

professional sheet is soft, is realized in rolls, looks like metal tile, but costs less;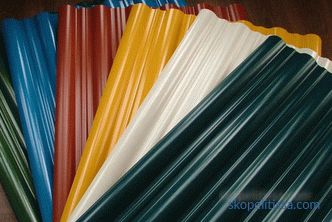 roofing material - is sold in rolls, soft, low price, easy to fit and fasten, ugly look, required to be laid in several layers;

ondulin - low weight, decent appearance, bends, because of what is often called soft slate, it is easy to fit and fasten, it is easily flammable;

flexible tile - high performance, aesthetic material, is quite expensive, therefore not recommended for use on hozblokah.
You can create any exterior decoration of the barn. It can organically fit into the design of the entire territory. In some cases, highlight and make the center of attention.
Another option for building a barn at a dacha in the video:
On our site you can familiarize yourself with the most popular projects of utility blocks, garages and other small forms, from construction companies represented at the exhibition of houses "Low-Rise Country".
Conclusion
Building a barn only at first glance seems like a simple occupation. In reality, certain knowledge and skills are important here. For any work with the hozblok best to contact the experts to get the best and durable result.