The area near a private house requires care. Neat flower gardens are broken on it and tracks are laid out. When choosing curbs for flowerbeds, it is necessary to take into account the compatibility of the fence with the design of the site and their functionality.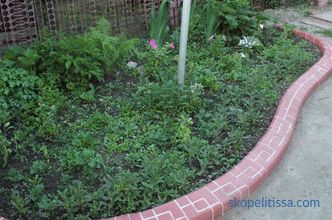 Why do we need a border
Border contrary to popular belief, is not only an aesthetic function. Its purpose can be much broader:
it serves as a limiter that does not allow plants planted in the flowerbed to grow beyond its limits;

combines scattered areas with plants in a single ensemble;

emphasizes style;

gives the plantings a neat and well-groomed appearance;

protects planted flowers from accidental treading;

divides the plot into zones;

protects plantations from domestic animals.
The objectives for which the border is selected will determine its size and material of manufacture. If the level of the flower bed is higher than the rest of the lawn, then a properly selected curb fence will help prevent the leaching of the ground by rain and watering.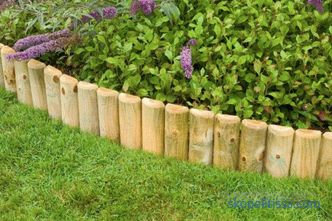 For plants that tend to grow, you need to choose not only attractive border, but also one that is installed in depth. Such an installation will act as an obstacle to the roots, and will not allow flowers to go beyond the boundaries of the allotted area.
Natural or artificial materials are used as border materials. Sometimes - their combination.
Selection of the height of the curb
The height of the barrier curb depends on the height of the cultivated plants. It should not cover all the beauty of flowers. But functional requirements for fencing must be taken into account.
For large flowers, shrubs and trees, you can put a fence up to 0.5 meters in height. Approximately the same height, from 40 cm, is needed to protect plantings from animals and small children. If the plants are planted very small, then we can restrict ourselves to a symbolic, flat shape, border, which will not hide the beauty of the plantations.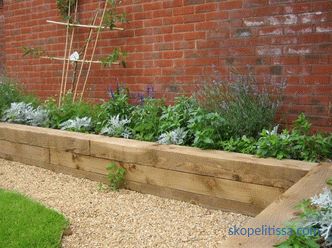 Very often the territory of the plot is broken several beds. In order for them to look like a single ensemble, it is necessary to select borders of the same shape and color. Therefore, it is recommended to select and order curbs at once for all beds.
In the case when the curb serves as a limiter for garden paths at the same time, its height should be at least 10 cm. Such a size of the limiter will prevent accidental trampling of plantations.
Traditionally, for a purely visual limitation of a flower bed, a curb about 6 cm tall is used. A wide selection of materials and forms allows you to choose the most suitable option. Consider each one of them.
On our website you can find contacts of construction companies that offer the service of landscape works of any complexity turnkey. Directly to communicate with representatives, you can visit the exhibition of houses "Low-rise Country".
Metal: durability
Metal borders are particularly well suited as fencing for areas where wrought elements are present in the design of the house and the surrounding area. It can be graceful forged bars on the windows, lights, railings on the stairs or an external fence.
Openwork patterns made of metal will not be an obstacle to viewing the beauty of the flower garden. The metal structures themselves, despite their apparent grace, are quite heavy.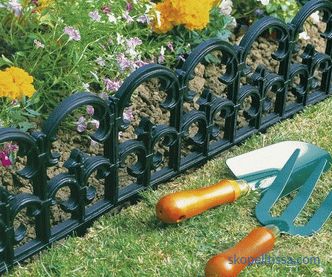 Fences are of the following types:
Welded fences differ from cast and forged ones in simpler forms. Elegant, equipped with curved elements and ornaments, fences are made by forging and casting. Such designs can serve as a basis for climbing plants. In addition to fences, you can install in the same style arches made of metal for weaving grapes.
Note ! The metal must be pre-treated with anti-corrosion agents.
Wood: environmental friendliness
Wood is an eco-friendly material that is often used to decorate a site. The wooden fence is beautiful, fits well into many styles. On sunny days, such a fence will not overheat, will still be pleasant to the touch, and will not cause burns to plants.
Of the material deficiencies, one can say that it is subject to weather extremes. In addition, the tree can crack, rot and crack.To avoid this, the wood must be specially treated.
The decorative border for flowerbeds made of wood can be of various heights and shapes. If desired, it can be painted in any color or by processing to emphasize the natural attractiveness of wood texture.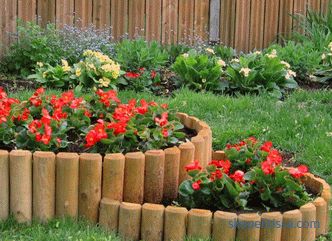 Eco-style of the site and house design is well complemented by these types of wooden fences:
A wooden garden border with hemp looks like a lightweight construction option. He does not hide the beauty of plants and goes well with eco-friendly styles.
Beautiful and unusual borders for flower beds can be made of different materials, examples in this video:
This can be interesting! In the article on the following link read about fences and fences for flower beds: from expensive delights to scrap materials.
Plastic: a democratic option
One of the most cost-effective options for a protective structure is plastic. It is not as presentable as metal or stone, but can serve as an alternative to them with a limited budget.
Plastic has its advantages:
a wide range of colors and shapes;

reasonable price;

easy installation;

resistant to temperature and humidity extremes.
Easy installation makes it easy to dismantle the fence and move it to another location. A large number of design options will help you choose the necessary, for example, imitating natural wood or natural stone. Such a fence will look neat and modern.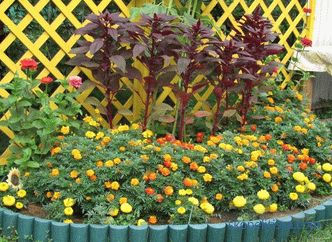 Garden borders for plastic beds are divided into 2 types:
Flexible plastic tape that will allow you to protect the territory of any, even very complex, form. These can be separate sections or a solid roll, which is convenient for fencing, for example, a long garden path.

Separately produced sections that are installed along the perimeter of the section.
Plastic tape curbs for flower beds are a flexible plastic sheet rolled into a roll. It can have a smooth monochromatic or textured surface.
When mounted, it is buried in such a way that flowers do not spread to adjacent areas. Often this option is suitable for fencing garden paths of irregular shape.
Tip! The tape fence can be emphasized with pebbles or decorative stones poured on the outside.
Pressed materials: reliability
A solid and reliable decorative border can be made of stones of various types. It can be: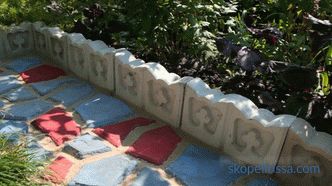 Fencing of slabs is convenient to use on uneven planes, with different heights of soil. Stone allows you to curb any height: from a purely symbolic fence in one row to several rows. The installation of such a structure is usually carried out taking into account all the features of the structure and using a mortar that holds the elements together.
Curbstone for flowerbeds has the following advantages:
attractive appearance;

strength;

drainage;

soil retention.
It may be interesting! In the article on the following link, read about which is better to buy fencing for flower beds.
Natural stone
Natural stone is beautiful in itself. Registration can include as several rows in height, and be a boulders of similar shape, enclosing a flower garden. Separately, it should be said about small stones, which are most suitable for enclosing low plants.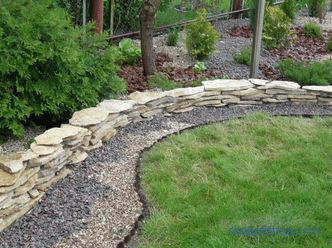 Advice! Of the same as on the curb , stones can even be lined garden path.
Brick: solidity
A frequent choice for enclosing a flower bed is brick. The masonry can be 2 or 3 rows high, or it can be just 1 brick.
For the thoroughness of this design, the bricks are mounted on a concrete base and use a fixing solution. The way of laying out such a border can be different, each of them looks original and interesting.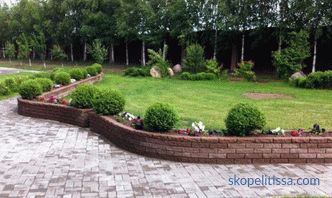 Imitation of natural stone
In the design of the plots of country houses such finishing material often looks no worse than wild stone. It can be used not only as a curb, but also for laying out paths between flowerbeds.
An interesting and very unusual option are stones glowing in the dark. This effect is obtained after treating the stones with special paints.
Paving slabs
Very often figured elements of paving slabs are used as fences of flower beds. This option is chosen most often in the case when the tracks and grounds on the site are lined with the same material.
Colorful paving slabs will look very original as a curb.
More curbs and fencing for flower beds will show the video below:
Large flowerpots: an alternative arrangement of seating colors
Besides traditionally breaking flower beds, other planting methods may be involved. Ready vases are large enough containers for growing flowers.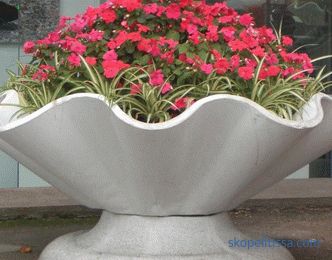 In essence, this is no longer a protective structure, but full bed with buried soil. Such flowerpots can be rearranged from place to place, installed on higher ground, combined with traditional flower beds.
It may be interesting! In the article on the following link read about the arrangement of flower beds and flower gardens in the local area.
Conclusion
Curbs for flower beds are represented by a wide variety of shapes, sizes and materials. Choose the appropriate option with all the necessary requirements for design and functionality.