Who today does not dream of a big country house? But before you decide on the realization of your dreams and begin to build a household, you should think carefully, for what purpose the future construction is planned. If you need a summer cottage for a seasonal stay, this is one thing, but building a house for permanent residence is a completely different building format. And the most exciting question: from which to build a house cheaply and efficiently. Let's try to figure out our article.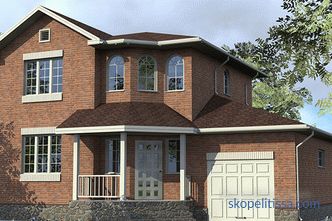 The first thing you need to decide when deciding to build your own house for permanent residence is building material, the choice of which depends on a huge number of related factors:
strength and durability;
microclimate inside residential premises;
thermal conductivity and noise insulation;
frost resistance ;
heat insulation and moisture resistance.
What materials for suburban construction does the modern market offer, and what is the best way to build a house for permanent residence?
Of course, you need to choose material for individual construction with all of the above parameters, but strength is considered to be the main criterion , since it is this that forms the structure of the building and affects the carrier function of the walls.
Choosing from which to build a house for permanent residence, all materials can be divided into four main groups:
brick and stone;
lightweight concrete materials;
wood;
chipboards.
Building a house for permanent residence of brick
Buildings built of brick are the most massive structures. They perfectly resist the effects of various natural factors and, at the same time, have an attractive appearance. However, in order to build a house of its own, from the very first sight of a popular material - a brick, you will have to incur no small financial costs.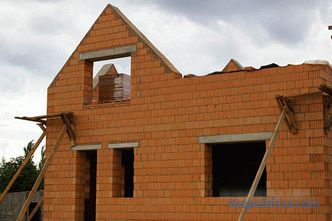 The main advantages of a brick house are the high strength of the material. And by its characteristics bearing capacity, the wall erected from this type of building materials, is almost not inferior to the concrete. Such characteristics are ideal for low-rise suburban construction, and for the construction of high-rise buildings. In addition, the house, laid out of brick, will not burn, rot and will not undergo shrinkage.
Only, in terms of energy efficiency, walls made of ceramic or silicate bricks are significantly lagging behind other building materials. In order to ensure sufficient energy efficiency for a private house, a brick wall should have a minimum thickness of 120 cm. It becomes clear that no one will build a "bunker" with similar walls for permanent year-round living, therefore today brick is increasingly being used as a facing material.
Another important disadvantage of building a house of bricks is the high cost of the material, so it is important to correctly calculate your financial capabilities, otherwise the construction may be delayed for a very long time.
Summarizing the above, we can say that the main advantages of bricks as a building material are:
the possibility of long-term operation of a built house;
high frost resistance;
exact geometry of products;
a good combination with any kind of masonry mortar;
high strength;
aesthetic appearance.
However, a brick has quite a few disadvantages :
Low moisture resistance of certain types of material. For example, a silicate brick absorbs water strongly; it can be clearly seen when it gets a dark shade during rain. This quality greatly affects indoor humidity. In this regard, silicate brick is not used for laying basement and basement premises, you should not use silicate brick and when building a house in regions with high humidity.
High thermal conductivity. To achieve positive characteristics, it is necessary to resort to additional costs for wall insulation or thickening.
High product weight. The brick has a large mass, which makes the structure heavier and creates an even greater load on the foundation. To solve this problem, we have to build a stronger and more solid foundation, and this also increases construction costs.
High material cost.
So, it turns out that the brick has significant drawbacks, so before you make it the main material in the construction of a private house, you should think carefully.
And also, on our website you can familiarize yourself with the most popular projects brick houses from construction companies represented at the exhibition Low-rise Country Houses.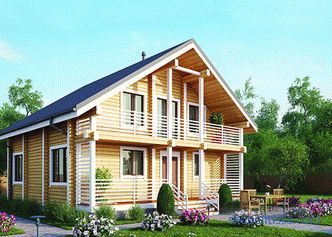 Building a house from concrete blocks
Today among construction materials brick significantly reduces its position, giving way to modern building blocks.
Affordable price is the main reason determining the choice of units. At the same time, building a house for permanent residence from the blocks is not only cheaper, but also much faster, since such a large-sized material can replace from 4 to 14 ordinary bricks in quantity.
Today the building materials market offers these types of blocks:
gas-blocks;
foam-blocks;
cinder blocks;
claydite blocks;
wood concrete;
shell rock blocks.
Let us dwell on each type in more detail.
Gas and foam blocks
Gas and foam blocks have the same technical characteristics and are well suited for the construction of low-rise buildings. The only difference is in the internal structure of the material.
Gas-blocks are made of a homogeneous mixture of sand, cement and lime with the addition of a special powder - a gas-forming agent in order to obtain small through channels inside the block.
Foam blocks, on the contrary, have closed pores inside the material. During production, such a structure is achieved by adding special substances - frothers to the concrete solution. It should be noted that such production allows to increase the quality of foam blocks, creating additional energy-saving opportunities for the material and significantly reducing its weight. Also, unlike a gas block, open channels of which carry moisture well, foam blocks do not need additional protection from moisture.
They produce blocks of various formats and thicknesses, which allows the developer to choose the material that is optimal for individual construction without extra costs for additional insulation. Good geometric data allow you to build houses that have a complex structure.
Also foam blocks and aerocrete do not need complicated finishing, this can be done with putty or decorative plaster.
In addition to all the listed advantages, a weighty argument in choosing this particular material for construction will be its low cost. The average price in the construction market 1 m 3 is about 3 thousand rubles.
Among the shortcomings of foam and gas blocks, you can highlight the following characteristics of these materials:
brittleness;
high water permeability (for gas blocks);
mandatory exterior and interior decoration of the house;
the presence of chemical elements in the composition.
On our site you can familiarize yourself with the most popular projects houses from gas blocks and foam blocks from construction companies represented at the exhibition Low-Rise Country houses.
Slag blocks and claydite-concrete blocks
Slag blocks also belong to inexpensive building materials, however, due to too high thermal conductivity of the erected walls, they require additional insulation. In addition, the cinder block is heavy. It is these shortcomings that can explain the fact that consumers give greater preference to claydite-concrete blocks.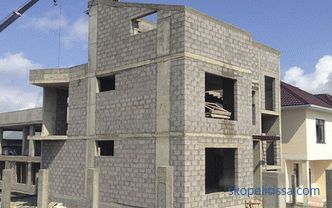 As the positive characteristics of the cinder block developers give out:
fire resistance;
low cost;
high thermal insulation;
resistance to mold and mildew;
high life expectancy of a built house.
The most basic disadvantages of a cinder block are:
material brittleness;
low moisture resistance;
low sound insulation ;
the need for internal and external decoration of the house.
Ceramsite concrete block products, at the same cost, are less heat-conducting, more durable and environmentally friendly material.
Blocks of expanded clay are material consisting of expanded clay gravel (the result of special clay firing) and cement mortar. Such raw materials have high strength and are designed for the construction of individual houses up to 3 floors. In this process of construction does not take much time. In addition, claydite concrete is quite warm and environmentally friendly building material, as it does not contain synthetic additives.
Good vapor permeability creates an optimal moisture balance in a residential area.
The prices for expanded clay blocks are quite acceptable, 1m 3 will cost approximately 3 thousand rubles.
And also, on our website you can familiarize yourself with the most popular projects houses from expanded clay blocks from construction companies represented at the exhibition of Low-Rise Country houses.
Arbolit
The constituent component of wood concrete blocks are wood chips and cement mortar with special additives. This composition allows you to get a warm and lightweight unit.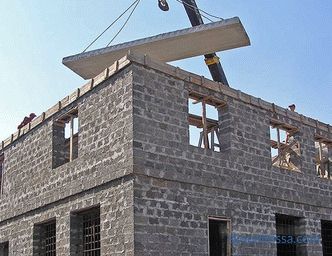 By its density, Arbolit allows to erect buildings of a small number of floors, while its elasticity can withstand including floor slabs.
This material breathes well, is very environmentally friendly, has excellent heat and sound insulation.
The disadvantages of arbolit include:
High moisture absorption. A house of arbolitovyh blocks requires additional protection from moisture, and this means that you have to spend money on insulating and specialized water-repellent finishing materials.
The uneven surface of the block leads to some difficulties in the construction of walls, and also causes a large consumption of concrete solution.
Also a considerable disadvantage of wood concrete is often considered to be a large amount of low-quality material on the construction market. In view of the fact that the production of blocks does not require specialized equipment, they are often produced by the artisanal method, using non-certified chemical additives and violations of production technology. All this causes a deterioration in the quality of the finished raw materials, so you need to buy arbolit only from trusted vendors and manufacturers.
Prices for the purchase of wood concrete start at 4 thousand rubles per 1 m 3 .
Even on our website you can familiarize yourself with the most popular projects of wood concrete houses from construction companies represented at the exhibition of Low-rise Country houses.
Shelf blocks
This type of material is the most expensive among the blocks and will cost at least 5 thousand rubles per 1 m 3 . At the same time, the technique of obtaining raw materials from the marine sedimentary massif additionally adds brittleness to the shell rock.
The advantages of shell rock blocks:
sound absorption;
good thermal insulation;
durability;
good vapor permeability;
environmental friendliness.
In addition, the shell rock has a number of exceptional properties defined by its nature. Thus, the material during its formation is impregnated with sea salt and absorbs a large amount of iodine. The presence of these substances in the composition of raw materials gives the house of it healing properties. Also, thanks to iodine, the walls of shell rock protect very well from radiation.
The disadvantages of shell rock can be considered:
The need to strengthen in the case of the construction of a house more than two floors with the help of special armor nets.
Lack of unified forms of blocks (it is practically impossible to find two blocks of shell rock of the same shape, practically).
The need for additional protection of the structure from moisture.
The material, due to its fragility, requires care during transportation and also unloading or unloading.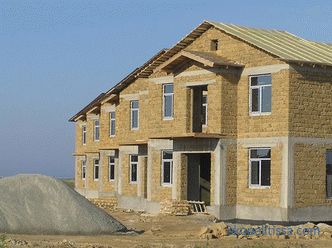 Construction of wooden houses for permanent residence
As for wood, there are two options for building materials:
log;
timber;
A house for permanent residence of wood exerts a minimum load on the foundation, which saves already at the very first stage of construction.
It is also important when choosing building materials that it is possible to build wooden houses regardless of the season and in any weather.
A house from a bar
A modern bar will allow you to build a neat individual house in any style. It has good geometric parameters, a rectangular or square section and smooth, very smooth sides. Houses from a bar give the minimum shrinkage, production of a felling does not demand use of special construction equipment, and esthetic data of material allow to do without external and internal finishing, and by that, to save on finishing works.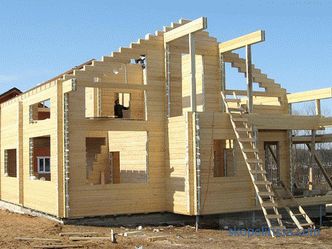 A bar has a large number of advantages:
environmental friendliness;
aesthetics;
quick construction of the building;
high level of sound insulation and good thermal conductivity;
strength and reliability of the structure;
the possibility of installation at any time of the year;
does not require the construction of a bulky, expensive foundation;
does not require decorative finishing;
positive healing properties of wood.
However, the bar has drawbacks:
The need for additional processing of the material .The main common drawback of wood products is its susceptibility to moisture and insects. In addition, over time, it has the properties to crack and rot, thereby losing the original aesthetic appearance, so the wood must be constantly treated with special substances.
High fire hazard of the material. Any wood is highly flammable, and because of this requires additional protection by treatment with fire-fighting compounds.
Requires additional costs for heat and waterproofing.
Long-term shrinkage. Despite a slight shrinkage, a private house will sink for six months. In the process of shrinkage in the walls may cause cracks.
On our site you can familiarize yourself with the most popular projects of houses from double timber, laminated veneer lumber and profiled timber from construction companies represented at the exhibition of Low-Rise Houses.
A log house
Log houses are classic wooden houses. In addition to the traditional Russian hut, modern construction technologies allow building a log cabin of any configuration, from a small Finnish house to a cozy cottage in the Art Nouveau style.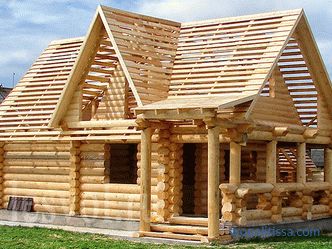 Modern construction logs have 100% naturalness and environmental friendliness, which provides excellent natural ventilation of the room.
As in the case of a bar, no cost for a massive foundation is required.
Durability, reliability and beautiful appearance are also the main characteristics of a log house.
A quick warming up of a house made of wood also serves as an advantage, because it significantly saves heating costs.
The availability and ease of the material make it possible to build a comfortable wooden house as soon as possible.
The minuses of a log, like any wooden material, include:
rotting susceptibility;
strong and long shrinkage;
fire hazard of the material;
additional costs for insulation and waterproofing of the structure.
Today the construction market offers two types of logs chopped or rounded.
Roundwood is a product of sawn timber production. It has a lower price, does not require additional finishing and looks quite attractive.
Chopped logs are more expensive due to their manual processing, but they have greater strength.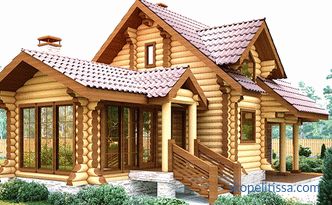 When deciding which particular building technology to choose, you should pay attention to two aspects:
When building a house from a bar and a log of production processing, there is absolutely no need to cut out the notches (bowls) for greater stability of the structure.
If, however, you choose to build a house from hand-cut logs, then you have to pay for the very expensive work of a professional logger (a specialist who cuts the bowls - special notches for connecting the logs to a log house).
The construction of a house from a log can hardly be called quite affordable. So, the cost of 1 m3 of rounded log ranges from 7 to 10 thousand rubles, and the chopped log is much higher.
Also, on our website you can get acquainted with the most popular projects houses from a hand-cut log and a rounded log from construction companies represented at the exhibition Low-rise Country.
Construction of a frame house for permanent residence
A new type of construction of houses for permanent residence is a frame technology. The frame of the building can be wooden or metal, but the wood frame still enjoys the most popularity.
The advantages of building walls according to this technology are as follows:
high thermal conductivity;
the building does not shrink;
lightness and speed of construction;
ease of interior decoration;
saving on the foundation;
environmental friendliness of materials.
An additional advantage of this technology is its low cost.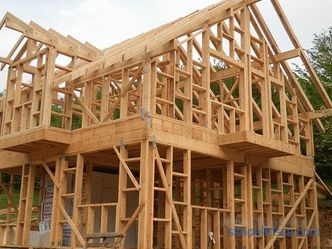 But despite this, the frame houses have drawbacks, the main one of which is low tightness
Due to the insufficient strength of the frame house, its reliability is reduced and the life of the building is reduced.
There is no air exchange in the room, so the frame house requires the installation of a ventilation system.
Also, the following are considered disadvantages of frame houses:
high fire risk;
very low sound insulation of rooms
poor resistance to fungal infections.
In addition, like any wooden buildings, the frame wooden houses are exposed to insects.

The price of 1m2 area , when building a house using this technology, will cost the developer 2,500 rubles.
It is better to build a house for year-round living individually. One thing is clear only that the modern market of building technologies offers dozens of options for this, so it is important to carefully study the modern types of materials for the construction of a private house.
Of course, an important indicator will be the question of financial capacity, but we should not forget about such criteria as durability, moisture resistance, heat and noise insulation, energy efficiency of the structure.
On our website you can familiarize yourself with the most popular projects of houses from double volume frame , according to classical frame technology and on technology SIP panels from construction companies represented at the exhibition Houses of Low-Rise Country.
Which house is better: Wooden, Brick or foam blocks?
Only knowing and comparing all the characteristics of different materials will allow you to accurately determine choosing material for your country house.