It is not enough to build a new house - the interior is no less important and crucial stage. It is the decoration that makes a standard dwelling a unique, warm and cozy home, so manufacturers are always in search of new materials.
Wall panels for interior decoration are on the market not so long ago, but they have already confidently occupied their niche and with time become more and more popular and in demand. The panels are chosen not only for a significant ease of repair, but also for a variety of colors and shapes, which allows you to create your own, original interior style.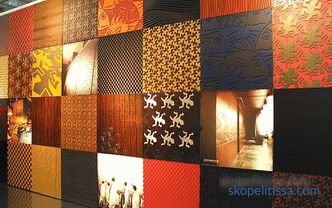 Types of wall panels for interior decoration
Facing the walls with panels helps to make repairs quickly, get a wonderful result and significantly save on the cost of repairs. After all, they can cover the absence of plaster, uneven corners and other possible construction flaws. With an abundance of choices, it is not easy to decide which materials to use. Let's see what types and why, today the most interesting, what to prefer.
Pinboard dials
These panels are used to decorate any room, except, perhaps, for children. The length of the slats varies from 2.4 to 3.6 m, the width from 12.5 to 30 cm, the thickness of the slats is 8-12 mm. They can be white or colored, imitate various wood species. Indispensable for rooms with a small area and a variety of angles. Rack panels easily close internal corners and external. For connection of laths among themselves thorns or grooves are used. To make joints inconspicuous, manufacturers offer a huge number of corners, plugs, baseboards and other products that make installation simple and neat, with minimal experience, you can do it yourself.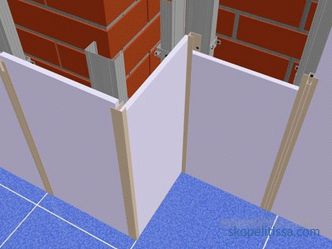 Rack wooden wall panels are called "lining" and are actively used. They can be covered with stain or varnish, or simply painted, creating an unusual interior. Often lining give the effect of aged wood. Recently, the popularity of "wall paneling" has slightly decreased, giving way to more modern materials, but summer cottages, summer kitchens and loggias are trimmed with this type of lining.
Leafy
This species is large. On the other hand, it allows you to quickly mount panels on a large area. Sheets 122x244 cm and 6 mm thick are made from multi-layer fibreboard with a variety of impregnation or PVC. Often imitate stone, wood and are attached to the wall with glue. They are lightweight, durable, crates for their installation, you can not do.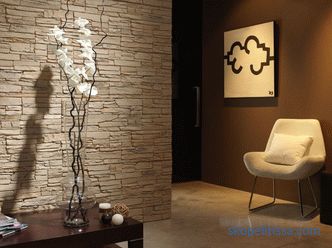 Tiled
Cladding tiled panels allow you to give the walls volume, to get relief images, with their help, you can create a completely unique interior. Castle joints make it possible to obtain large area wall coverings from small plates (90x90 cm, 30x30 cm). They imitate expensive woods or natural stone. Often they are decorated with such living rooms and fireplace areas.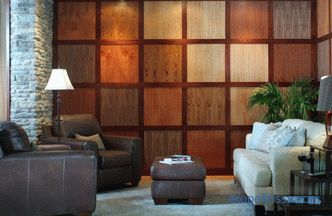 Of what materials are
Decorative wall panels are made of particleboard, fiberboard, MDF or PVC.
Today, new materials for their production appear almost every day. Stone crumble panels appeared, glass ones also find their admirers. What material to choose, you can decide only having the necessary information.
On our site you can find contacts of construction companies that offer the service of designing houses. Directly to communicate with representatives, you can visit the exhibition of houses "Low-rise Country".
Wood
For the manufacture of cladding, wood has been used for a very long time. Initially, such panels were made of an array, were expensive and inaccessible to most buyers. Today you can buy a combined wood panels, the cost of which is much lower. The front layer of such products is valuable types of wood applied to a pine or spruce base. The development of technologies allowed to produce such high quality finishing materials from waste wood industry (sawdust, wood chips). This made it possible, to trim the walls in the premises imitating expensive woods, very budget. Wall panels under the tree are appropriate in any interior. However, natural wood cladding has not lost its relevance and is able to favorably emphasize the status of the owner of the room.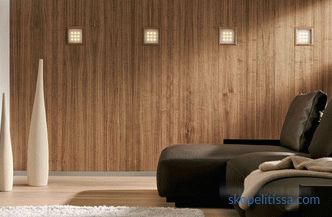 Particleboard and fiberboard
Cheap enough material. Chipboard and fibreboard, these well-known abbreviations can be deciphered, can add heat and sound insulation to the room, decorate it, but the high content of formaldehyde resins in the plates, unstable outer coating and rapid deformation from moisture and steam, greatly reduced the popularity of this material for finishes lately.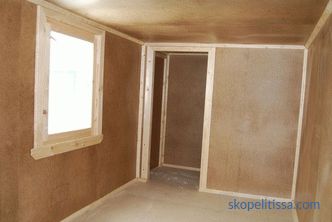 MDF
This is a more modern improved version of chipboard . Sometimes it is mistakenly called modified plywood. The first to start this material was Medium Density Fiberboard. The first three letters formed its name. Instead of formaldehyde resins, vegetable lignin is used in production. MDF panels are more durable, they better withstand high humidity. They have a very long service life and are easy to maintain and do not emit harmful compounds into the air.
Panels can be varnished, they are often veneered with fine wood, laminated or coated with water-repellent compounds. The material can withstand heavy loads; heavy objects, such as paintings or bookshelves, can be attached to them without fear. Today, such panels are used more often in the decoration of office space, in home decoration, I want something more refined and at the same time cozy.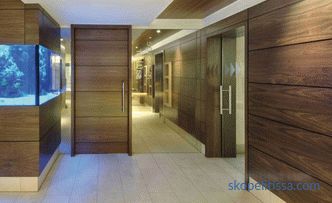 PVC panels
The cheapest way to finish a room. Any hardware store can offer a huge selection of such finishing materials. Bright, with different patterns, imitating wood and monophonic, they are not afraid of damp. They often trim kitchens and bathrooms. The quality of PVC panels offered to the consumer has significantly improved. Today they do not fade, in the manufacture of higher quality plastic is used. When choosing, it is better to give preference to Russian or European manufacturers.
The disadvantage is that the abundance of plastic in the house can increase the humidity in it, for finishing living rooms (living room, nursery, bedroom), it is better to use more eco-friendly and natural materials.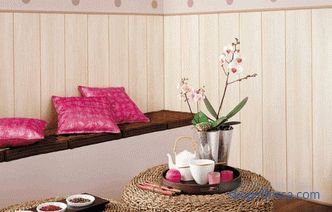 3D panels
This type of decoration is today at the peak of popularity . Volumetric mosaic created from different materials (wood, glass, plaster, plastic), allows you to give the room refinement. At the same time, materials for the manufacture of panels can be completely natural, they do not cause allergies, they are easy to wash and maintain their original appearance for a long time.
Your repair and in a few years will look fresh and neat. They look great in the bedroom and in the living room, they will create a voluminous fairy tale in the room of your child. Not deformed and not afraid of moisture. Easy to install, you can choose the finish in the appropriate price category. Perfectly fit into any room, with their help a variety of interior styles are created.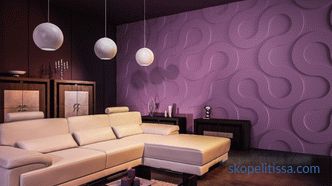 Advantages and disadvantages of finishing with wall panels
Wall decoration with wall panels has several advantages, you should pay attention to them when planning repairs:
can be easily and quickly mounted;
there is no need for costly leveling of walls, plaster, laborious drawing of corners, hide all the problems of walls ;
are durable and easy to operate;
provide full scope for fantasy and unexpected design solutions;
increase heat and sound insulation in the room ii
easy to clean;
under them perfectly hidden cables, which many in our homes.
There is only one drawback; when mounted on a crate, the area of ​​the room is reduced. If in large rooms it is not noticeable, then for rooms with a small area, it can be a problem.
It may be interesting! In the article on the following link read about the CIP panel.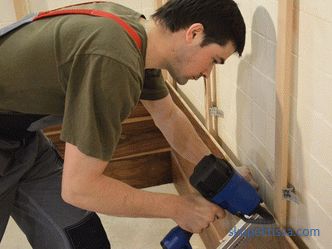 What to consider when choosing
The most important thing when choosing wall panels, they must comply with sanitary standards, not to be flammable.
Toxicity, flammability, level of smoke formation must be indicated on the label. The value from 1 to 4, the higher it is, the worse the quality of the goods.
When planning repairs, decide which panels you want to see in your home. Do they still have any function other than decorative, is it important for you the environmental friendliness of the material from which the panels are made and, finally, how much you are willing to pay for them.For example, glass decorative panels in the kitchen should not only decorate the room, but also protect the wall above the stove from grease and steam.
Example of stone veneer panels in the video:
For a nursery, choose natural materials. The room in which the baby spends most of the time should be safe.
Do not take the cheapest panel. Their service life is not one year, let them be beautiful and high-quality, so that the results of the repair are fun. When buying, be careful with the appearance, chips and cracks should not be. Choose materials from the same batch to avoid shading. Different types of wall panels for interior decoration, do not limit themselves in the selection.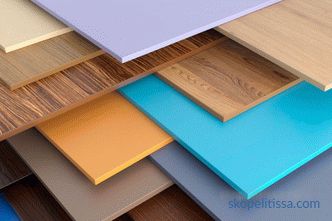 About mounting features
Next to what you need to pay attention - how to fix the panel to the wall. You can fix it with glue, or assemble the crate to which the individual parts will be mounted.
Lathing - a special construction made of wooden bars or metal profiles. Fastened to the wall on the dowel and is the basis for fixing the wall panels.
If the room is wet and cold, it is better to stay on aluminum profiles. The wooden structure in such conditions quickly falls into disrepair. For dry and warm rooms, the crate is made of wood.
Plastic and lath panels for interior wall cladding are attached to each other with the help of a tongue and groove joint.
A wooden crate is erected, panels are fastened to its slats using clamps (this is how special brackets are called). Sometimes for fixing using parquet nails or screws.
Fixing groove-groove panels. For joining the panels, special plastic or metal profiles are used, which, after installation, perform a decorative function.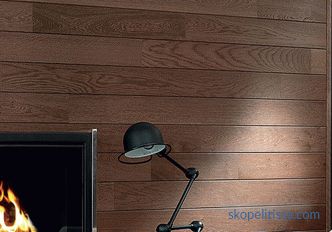 If the wall is flat and it is supposed to be revetted with soft panels of fabric or leather, glue can be used. Usually for mounting use "liquid nails". In the next repair, cleaning the walls in this case may require additional efforts. It will have to align. Glue can be mounted and light sheet wall panels for interior decoration.
Important! panels can be glued only on perfectly flat walls.
Beautiful wall panels in the video:
It might be interesting! In the article the following link read about home from sandwich panels.
Conclusion
Installation of wall panels eliminates many unpleasant moments. No need to get rid of old plaster or paint. To trim the walls and pay huge money for this work. The panels are mounted quickly, under them you can hide the various wires, which are many in modern apartments. This type of cladding greatly simplifies life, facilitates cleaning and adds beauty and originality to your home.