Architectural company Feldman Architecture developed two small mini-cottages as auxiliary buildings for a previously built home in Mill Valley, California.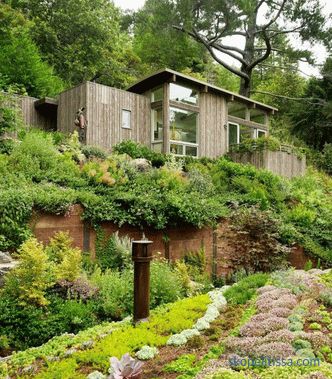 Mini-cottages perfectly fit into the surrounding landscape
The architects said that customers for whom the house was built in Mill Valley, wanted to add some ancillary facilities to an existing home on a hillside. The main purpose of the extensions was to get additional space for the artist's studio and a separate room for yoga, which could also be used as a guest house. But if these premises were attached directly to the house, it would not have been possible to provide the necessary amount of free space, so it was decided to build two separate mini-cottages.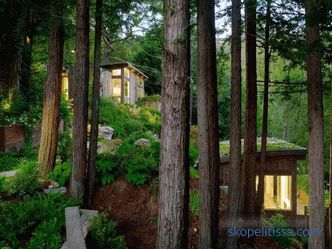 It was most convenient to build houses on different levels
The surrounding landscape dictated its conditions in the organization of additional space, but this turned out to be even hand, since each of the houses offers its own appearance.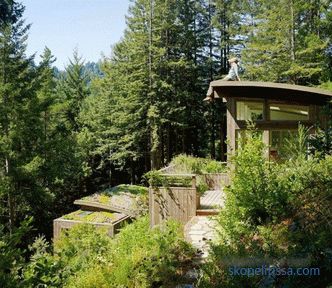 A great place to relax and work
There was a decorative lawn on the roof of the lower building - as the roof of the lower house is fully visible from the top one, the client and the design team wanted the building to merge with the hillside. In addition, the green roof is an additional place for outdoor activities of the client who is keen on gardening.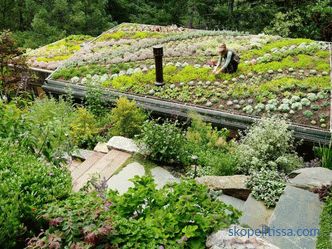 You can always decorate the green roof to your liking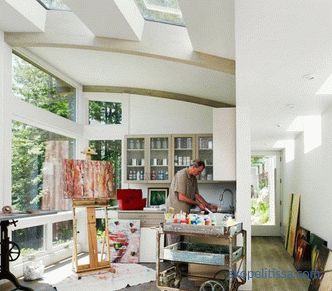 Spacious, the bright and well-lighted workshop of the artist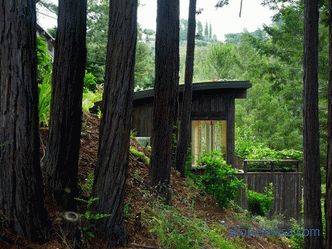 From a distance you can simply miss the houses among the trees
on our site you can read with the most popular projects of houses from construction companies, presented at the exhibition of houses "Low-rise Country".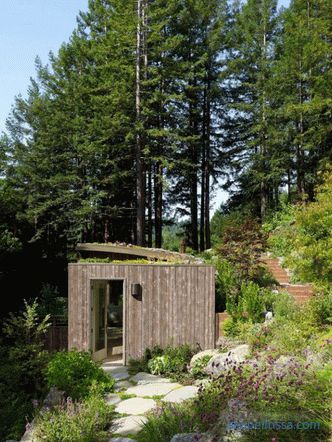 Gym, in combination is a guest house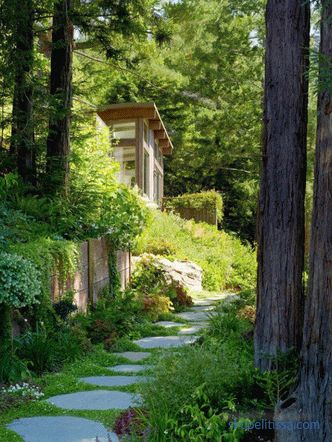 Workshop at any time of day is well lit by sunlight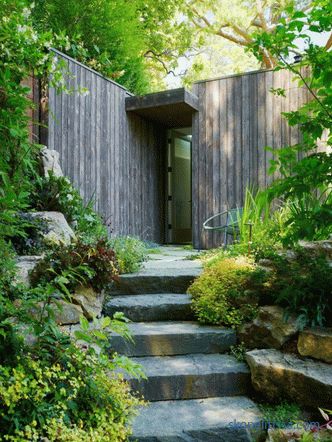 The harmony of colors of artificially aged wood and plating for steps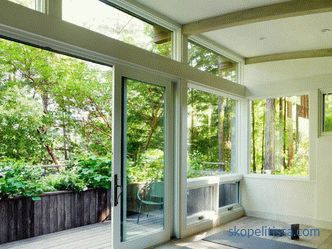 Panoramic windows in the gym are good lighting and a wonderful view at any time of the year.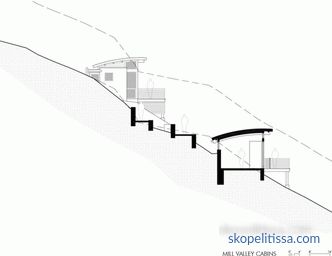 Before construction, the slope was additionally reinforced with piles, what is clearly seen on the projection "in profile"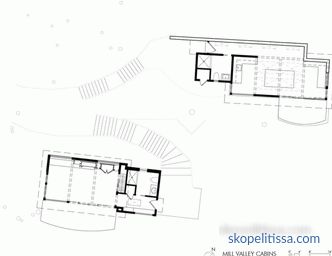 The layout of the houses relative to each other: on the left upper master I, on the right - the lower gym
It may be interesting to In the article at the following link, read about the cottage over the city!.