In the presence of a small area it does not make sense to fence mansions. A small country house with a lounge and a kitchen is also suitable. What projects exist, and what materials will be required for its construction and design, you will learn from this material.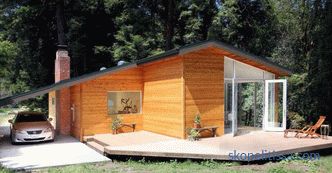 How to choose a place in the area
According to SNiP, even a small building should be in compliance with such requirements:
On a plot of 6 acres, the structures should not exceed 30% of the entire territory.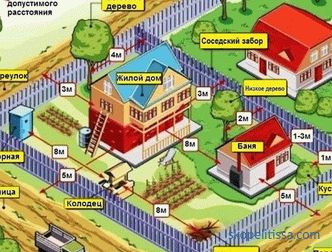 The fence can be lattice or mesh, the construction of a deaf fence is permissible only by decision of the general meeting or all neighbors.
If the country house is not planned to be used for living both in summer and in winter, then no approvals are needed. Otherwise, for a capital structure with a subsequent registration it needs permits from the fire inspection and the executive authority; need a construction passport; in the future - registration of ownership.
Location on the terrain
In order to decide on a specific construction site, it is better to draw a plot of the site at a scale indicating north-south, existing structures, trees, bushes, compost, fence, power lines. Then with a dotted line mark the boundaries of unauthorized areas for construction and shade them. From what remains, you can choose a place for the house. In this case, you must immediately take into account the possibility of an extension, the presence of a garage, summer kitchen, pantry, patio or pool.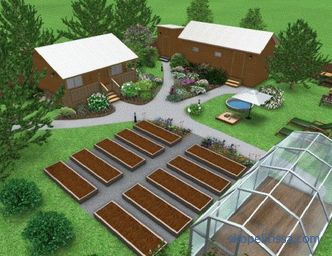 You also need to focus on the following factors:
small country house optimally located near the passage of communications and access roads;

windows and doors is best done from the leeward side, but do not forget the view from windows;

in order to avoid flooding, construction is carried out to an elevation , otherwise reliable waterproofing of the base and a drainage system will be required.
It is good to add to the small building a spacious terrace or veranda that can serve as a kitchen and dining room. The approximate cost of a wooden veranda of 24 square meters. see below.
| | | | | |
| --- | --- | --- | --- | --- |
| Material | Unit. measurements | Quantity | Price, rub. | Amount, rub. |
| Batten 40x90x6000 mm | square. m. | 40 | 475 | 19000 |
| Bar 100x150x6000 mm | cube. m. | 3 | 6000 | 18000 |
| Eurolining 12.5x96x2700 mm | pack of 10 pcs. | 56 | 451 | 25256 |
| Edged board 50x150x6000 mm | pcs. | 5 | 288 | 1440 |
| Terraced frame 1 + 2x1.8 | pcs. | 3 | 2200 | 6600 |
| Door unit | pcs. | 1 | 2000 | 2000 |
| Window hinges | pcs. | 12 | 10 | 120 |
| Door hinges | pcs. | 2 ​​ | 35 | 70 |
| Door lock | pcs. | 1 | 450 | 450 |
| Concrete block | pcs. | 80 | 80 | 6400 |
| Cement | bag, 50 kg | 2 ​​ | 250 | 500 |
| Nails are different | | | | 1500 |
| Delivery | | | | 3000 |
Cost of materials: 84336 rub.
Cost of work: 35000 rub.
Estimates and materials
Before construction, the cost of the final result should be calculated, for which you need to decide on such questions:
sizes buildings in length, width, height;

thickness walls and materials for them;

type and height bases ;

materials for roof and its construction;

materials for floor ;

with parameters rooms;

with option heating system (if necessary);

finishing ;

with communications .
The estimate also lays another 15-25% of the resulting cost, so to speak, "for stock", since it will require funds for fasteners, some unforeseen expenses, and an increase in the scene for building materials.
Foundation
The base can be pile-and-screw, tape and solid. The first two are used for small structures.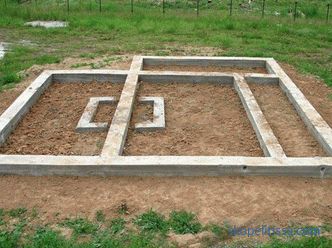 Tape foundations are reinforced and erected on a pillow (20-30 cm.) Of gravel and sand. It is especially needed on heaving (changing its volume during freezing) soils.
Together with the base, plumbing and sewer pipes are laid at a depth below freezing. If this is not possible, they should be insulated. Laying lead with a slope of 5-6 degrees to ensure free flow.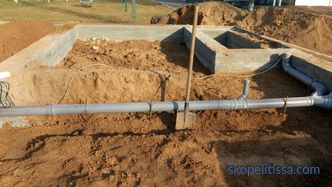 Walls
Materials for country construction are chosen in accordance with the project, region, period of operation (all year round or only in summer), allocated funds and personal preferences.
The skeleton-shield budget country house is quickly built, but it has the following disadvantages:
low resistance to wind ;

flammability ;

high thermal conductivity , because after the insulation shrinks, it will be problematic to heat the building.
Siding, a block house, or thermal panels are used as the exterior finish.
Below is the consumption of materials for the house 5 x 5 m with a living area of ​​15 square meters. m. and a terrace of 10 square meters. m.
| | |
| --- | --- |
| Type | Frame-shield |
| Dimensions | 5x5 m, including terrace 2x5 m |
| Framework | Lumber 50x50 mm |
| Lags | Floor and ceiling logs - edged board 50x100 mm |
| Outer covering | Lining 12.5 mm |
| Internal lining | Lining 12.5 mm |
| Insulation | Basalt mineral wool 50 mm (floor, ceiling, walls) |
| Roof | Galvanized sheet with locks |
| Floor | Edged board 25x100 mm |
| Ceiling | 2.1 m |
| Door input | Frame / type-setting |
| Windows | Wooden with single 850х1100 mm glazing - 2 pieces |
| Base | Support-columnar, 9 pieces - 4000 rub. |
The price of such a building without delivery and foundation is 100 thousand rubles. The service life is 35-40 years.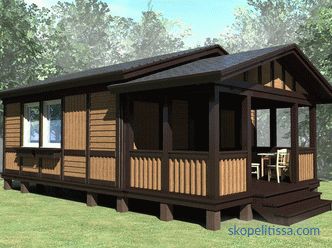 Foam or aerated concrete - light and inexpensive material, well sawed and drilled, has high sound and heat insulation . Due to the overall construction is moving fast. Outside the house is plastered, followed by painting. The service life of 60-70 years.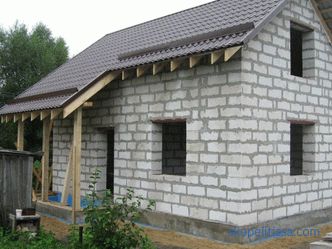 A modern country house can be built with their sandwich panels. They are delivered to the construction site ready, you just need to collect.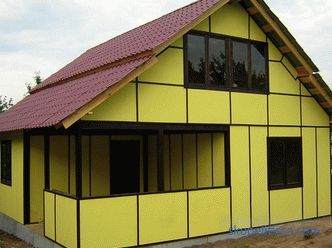 Durable and environmentally friendly material with high heat saving capacity - wood.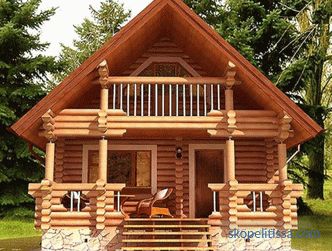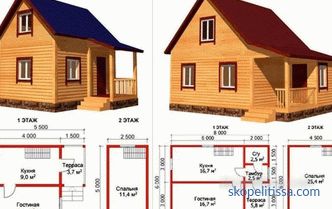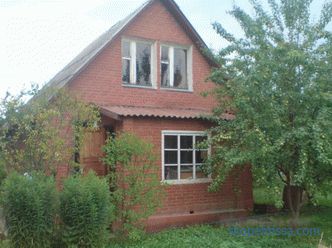 Warming with mineral wool, foam or expanded polystyrene is better to do outside.
On our website you can familiarize yourself with the most popular sites in the Moscow Region for the construction of a country house . In filters you can set the desired direction, the presence of gas, water, electricity and other communications.
Roof
Professional sheet or metal tile will be the best solution for a small house. But additional sound insulation will be required, because in the rain you will hear drops falling.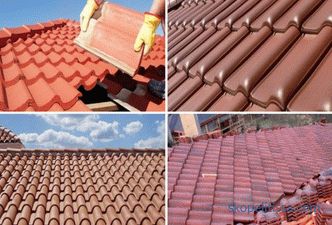 How to build a country house from a bar presented in the video:
Houses for small plots and their interiors - photo gallery
Typical country house
For giving, many are not interested in typical options, I want something unusual, unique. Summer house, a project which we consider below - one of these options.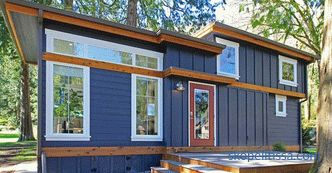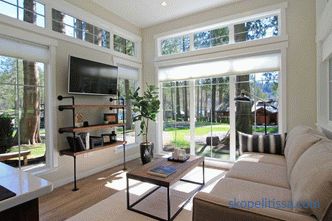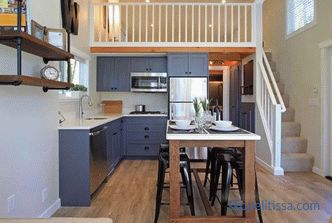 A staircase leads to the attic, under it there is a small storage room . Behind the kitchen-dining room there is a bedroom and a bathroom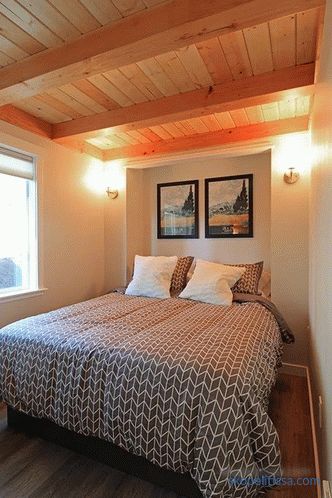 It can be interesting! In the article on the following link read about a country house from SIP panels - comfort and coziness at an affordable price .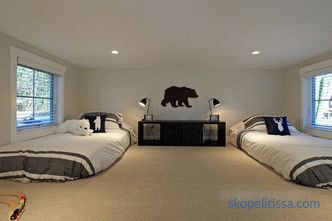 Modern bungalow with a terrace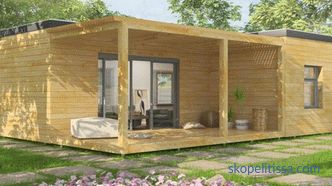 House-hut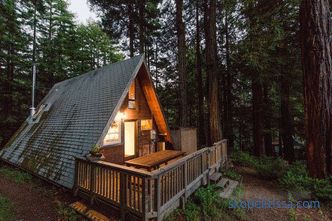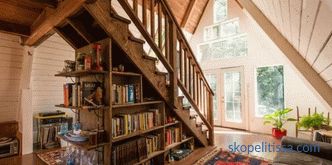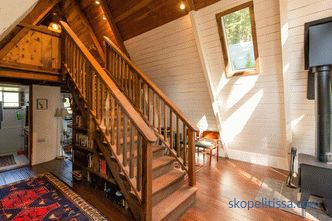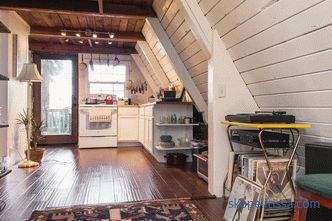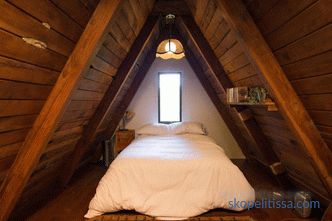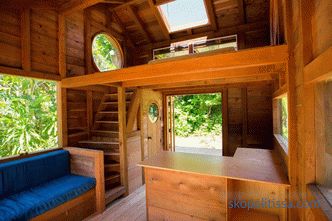 House with garage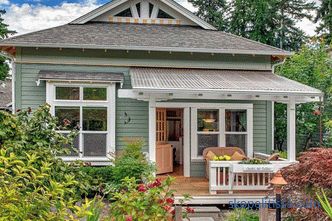 It might be interesting! In the article on the following link, read about a country house from a turnkey bar - price, quality and comfort in one bottle.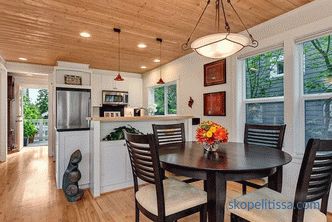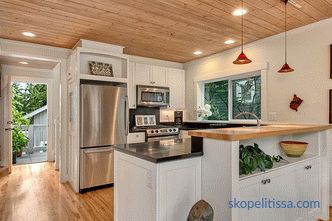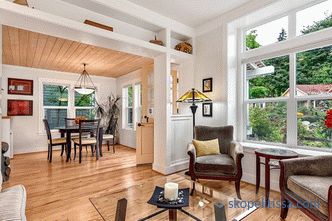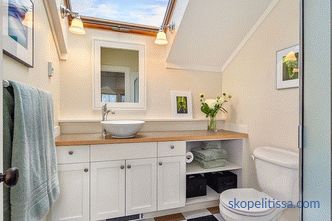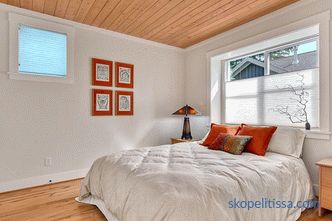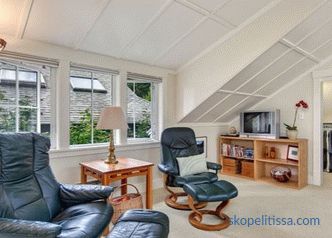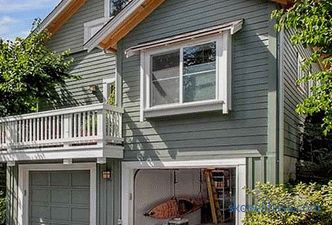 A classic log house
If You nevertheless decided to build a traditional house, it is better to build it from a glued timber with an area of ​​6 x 4 m. With a living room, a kitchen and an outdoor terrace, equipped with barbecue, which will heat the house.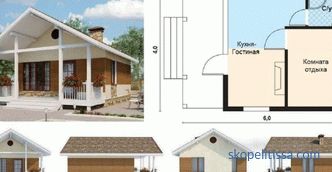 The foundation is tape-shaped under the house and the columnar is under the terrace. The bar is treated with antiseptic and stain. The roof is gable, the roof is metal or ondulin.
It may be interesting! In the article on the following link read about the project of a house with a wavy roof .
Conclusion
Despite the small amount of living space, a small country house, with a lounge and kitchen, is quite suitable for seasonal living. If you correctly distribute the space, then there is enough space even for a family of 3-4 people. The main thing is to choose a suitable project, taking into account your wishes for arrangement. To do this, it is better to turn to professionals - a good construction company always has ready-made solutions for sites of various sizes and shapes.