House DAS HAUS project KUB
The serially produced concern DAS HAUS was used, implemented its the next individual project of a one-apartment two-story residential building for year-round living. This project may have other various planning solutions.
Total area of ​​the house: 68 m2 in the version with the second light
Completion construction - December 2017
The KUB project may also have a layout with 3 additional rooms instead of a second light. In this case, the area of ​​the house is 100 m2 without increasing the overall dimensions.
Size of the building site: 8. 4 x 7. 2 m without porch and terraces
House project KUB in numbers
Production of this house set prefabrication, occurred at the plant DAS HAUS (Russia).

The production time at the plant was 50 days
The price of the house set was 2,500,000 rubles. (budget option)
Terms for assembling a house on the plot: 10 days (excluding interior decoration)
Deadlines for interior decoration: 60 days
Description of home decoration
Facade finish: combined.
First floor: clinker tiles made in Germany.
Second floor: ventfasad: beveled larch plank with color at the plant, on a wooden frame of dry planed timber with wind protection Divorol, Germany and with additional insulation of stone wool 50 mm.
Bay window: ventilation façade using Bildex composite panels manufactured in Russia.
Inlays: triplex brushed dark gray.
Visor and awnings over the windows: triplex, aluminum anodized profile with fittings made of stainless steel, made in Italy.
Roof: multi-layer construction according to German factory-made DAS HAUS technology. Snow removal during operation is not required. It can be used as a patio (flooring is required - an additional option).
Project description of the house KUB
The house belongs to the class of energy-efficient houses and has ultra-low power consumption.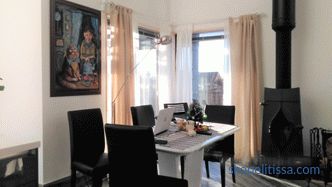 The main heating system is electrically operated. The maximum energy consumption at home in the winter at night in the cold of -30 degrees. C does not exceed 4 kWh. This is 6-10 times lower than a house of 100 m2 of bricks and wood.
As a backup (in case of a power supply network failure), as well as to save electricity, a cast iron stove Invicta, France with a chimney Schiedel, Germany.
The house has a dispatching and control system for DCEE engineering equipment (option, price in the basic version 99. 000-), which allows you to receive detailed monitoring anywhere in the world (where there is a cellular connection or Internet ) on the tablet, change heating modes, manage watering programs and much more. The system maintains a permanent control in case of accidents: when leakage, smoke, etc., the pumps and the power grid are automatically turned off, notifying the owner by phone or on a tablet.
More about the company DAS HAUS