Pallets (or pallets) are an excellent material for building all kinds of necessary, useful and simply original elements of landscape design on a plot of a country house. In this article we will talk about what kind of pallets are, as well as how to make a path, garden furniture or a flower garden from pallets.
The advantages of the pallets
Pallets are rectangular stands of planks. In warehouses and large stores, they are used for transporting goods using special equipment, as well as for the proper placement and storage of packages with products. There are several standards for industrial pallets. They vary in size and design. The front (top) side of the pallet can consist of 5 or 7 slats. Bottom is usually nailed only 3 strips.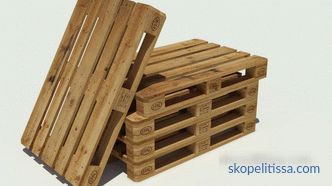 The main advantage of pallets in their design. They can be interconnected as parts of the designer. With good spatial imagination or detailed step-by-step instructions, almost any piece of furniture can be collected from pallets. In the design of the plots, these coasters from boards are used for the manufacture of benches, paths, flower beds, terraces, fences.
Another important plus of pallets is cost effectiveness. They can be purchased second-hand at the lowest cost, get for free or do it yourself. In any case, the cost of the product from the pallet will be negligible.
In addition, pallets reveal wide opportunities for creative self-realization of homeowners. By arranging and decorating the site with the help of pallets you can show your own taste and sense of style, as well as designate your lifestyle. For example, a large number of flower beds and shelves for flower pots will characterize the owners as people who value home comfort. A spacious seating area with lots of benches, sofas and armchairs is a sign that the house is loved to receive guests.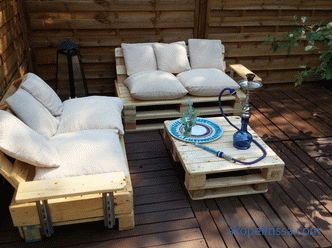 With the help of pallets you can decorate the landscape design of the plot in a single style. It is very difficult to find other material from which it would be possible to build a garden path, a bench, and a fence. And from the pallet you can do all this and more. Even if you paint the different elements of the landscape of the pallets in different colors, you still get a very harmonious design.
A flower bed from a pallet
A flower bed is a fairly broad concept. It can be of any size and any shape. The most spectacular flower beds are stepped structures that allow to plant ornamental plants in tiers. Flowerbed from the pallet can be very original. It can be made vertical or inclined. to create flower beds, both solid pallets and individual boards from them are used.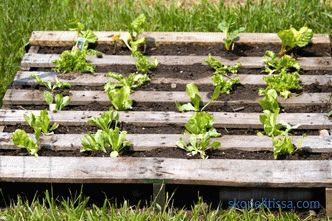 Vertical flowerbed from the pallet
Vertical flowerbeds look very impressive, they don't take much places on the site, and made quite simple. Therefore, they are very popular with homeowners.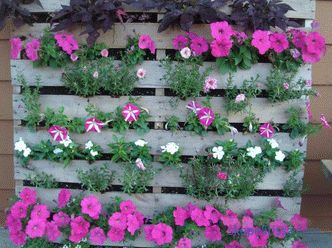 To make a vertical flower bed you need to prepare:
one pallet;

landscape textile;

furniture stapler;

paint or varnish;

soil for planting.
First, you need to process the pallet with sandpaper. Then it should be painted or varnished. If this is not done, the flower bed will last for a very short time. In the next step, you need to sheathe the pallet with textiles. To do this, he put his face down. With the help of a stapler, the side walls and the bottom of the future flower bed are sewn up with a cloth. In addition, the textile is attached to the central strap of the back side of the pallet.
Next, you need to put the pallet vertically, as it will be installed as a flowerbed. In it you need to fill the ground. So that the soil is distributed more evenly, and that its consumption is less, you can make a pocket of textiles for each bed of the flower bed. A bed is a row along a gap between two adjacent pallet boards.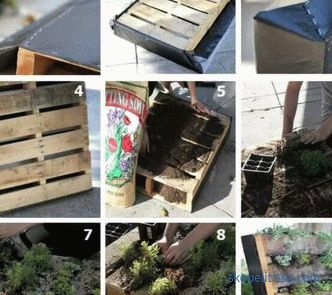 Plants are planted from the bottom row. They need to be placed in a tight chain so that the ground does not spill out. After that, plants are planted in the other beds. Planted flower bed should be watered well. It should lie horizontally for about two weeks so that the seedlings are well fixed in the ground. After that, the flower bed can be raised to a vertical position and mounted on a wall or fence.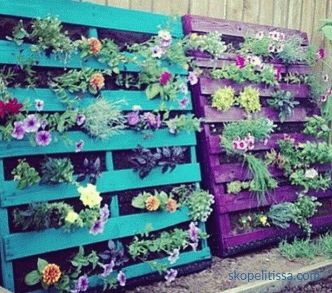 Only one-year-old low-growing flowers can be planted in vertical flowerbeds. You need to water them often, as the soil in such a flower garden will quickly dry out.Some gardeners use vertical flowerbeds from pallets to grow strawberries or strawberries.
A flower bed from pallets and lining boards
This is also a variant of a vertical flower bed, but it involves planting plants in boxes from the lining boards. This product will require:
The first step is to clear and paint over the pallets. After that, put the pallets vertically on long sides at a distance of about 50 cm from each other and rest one pallet on the other. At the next stage, they are fixed among themselves with the help of beams.
Crates of lining are hung on the resulting structure and plants are planted in them. This design can be used not only for the boxes of wooden boards. On it you can fix the usual flower pots or special plastic containers for plants.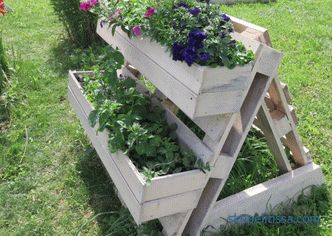 On our site you can find contacts of construction companies that offer services for landscape works . Directly to communicate with representatives, you can visit the exhibition of houses "Low-rise Country".
Other options
It is possible to adapt pallets under the flower bed on the site using various other methods. For example, the pallet can simply be laid on a compacted soil and plant the plants in the gaps between the slats. Or, the pallet can be used simply as a rack for flower pots.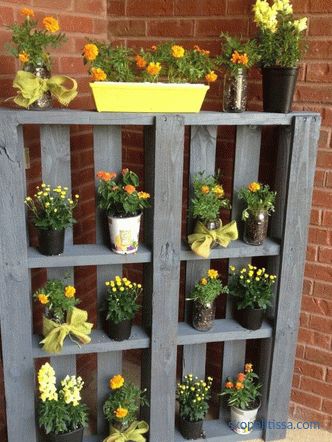 Another option is to set the tray vertically in a square tub. In this case, plants can be grown in the tub itself and in improvised pots between the pallet boards. To adapt such a flower bed, it is necessary not only to fix the pallet, but also to add boards to it, which will serve as the bottom for pots.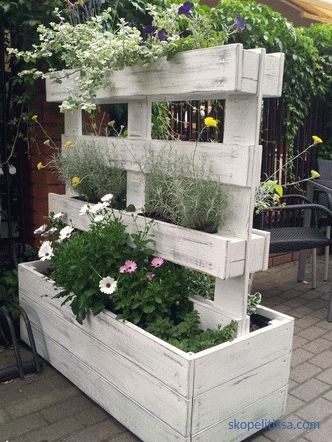 It is possible to turn the fence from pallets into a bed as in the photo below. Such a multifunctional fence perfectly decorate any area. With its help, you can separate the garden or recreation area.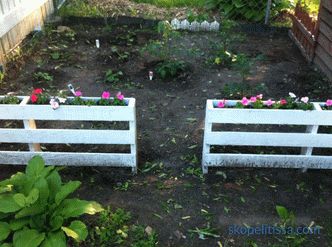 Some homeowners do it differently - they just take the pallets apart and make beds of them, who are considered the most suitable for their site. For example, you can make an elementary box of the desired height.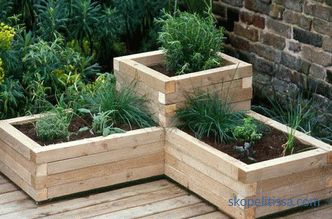 Tracks from pallets
Tracks in the area can be made from a variety of materials. For this purpose, in addition to the usual paving type coatings, stones, bricks, crushed stone and wooden boards are used. For the arrangement of the track, you can use wooden pallets.
The path of whole pallets
Before laying the track, you need to cover the pallets with a protective compound and paint it with waterproof paint. If this is not done, the wood will quickly become saturated with moisture and begin to rot. With proper preparatory and preventive processing, the track from pallets will last for many years.
The width of the pallet is quite suitable for the width of a comfortable garden path. Therefore, they should be laid in the form in which they are. Along the entire length of the future track, it is necessary to level the soil so that it turns out to be as horizontal as possible. The line of the track can be winding or straight - it tastes like the owners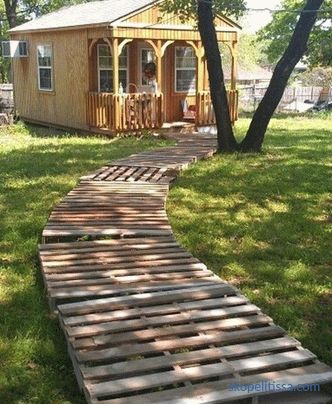 a depth of about 15 cm. At the bottom of the trench, you need to lay geotextiles. It will protect the pallets from moisture and prevent grass germination.
A layer of sand should be poured over the geotectil and tamped well. On the resulting sand pillow need to pour a layer of rubble. Pallets can be laid on top. To the border of the trench is not washed away with water, you can lay out of the usual boards on its edge curb.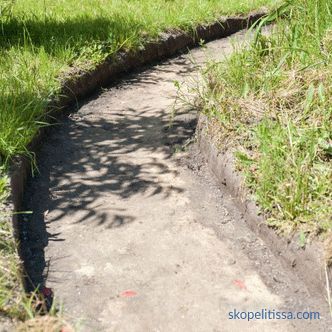 After laying the curb, you can begin to lay out pallets. It should be remembered that they can shift to the side if they are not fastened together. Some homeowners are not difficult to periodically return the pallets to their seats. But to create a reliable track that does not require special care, it is necessary to think of a fastening system. The easiest option is to lay wooden logs along the entire length of the path along the curb or the edge of the trenches and attach pallets to them with self-tapping screws. Thus, you get durable and strong tracks from the pallet in the country.
On our website you can find contacts of construction companies that offer services for construction of small architectural forms .Directly to communicate with representatives, you can visit the exhibition of houses "Low-rise Country".
Track from pallets from pallets
To lay out a track from boards, you need to disassemble pallets. The result will be two sets of boards - narrow and wide. The track itself is best done only from wide boards. Thin can be useful in the manufacture of log.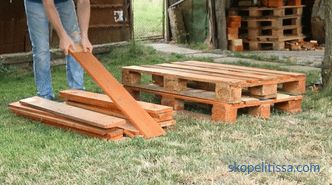 You can use a wooden block or some other suitable material as logs, for example, some homeowners use for this metal pipes with a small diameter. The longer the path for homeowners should last, the more reliable and durable lags should be.
Lags are stacked just like whole pallets - you can simply lay on the leveled and compacted soil, but it is better to make a trench, cover it with film, cover it with sand and rubble, and only after that lay the beams.
After laying the lag, you need to install the transverse bars at a distance of 50-60 cm from each other. On the transverse bars, you must first make a gash, so that they fit perfectly on the log bars. The base under the track must be treated with a protective composition. For this you can use bitumen mastic. Before installing boards, their underside should also be treated with mastic. The upper visible part of the boards can be immediately coated with paint or varnish for outdoor work. But it will be easier to paint over the finished track.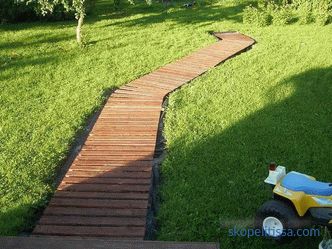 Boards are nailed at a short distance from each other — about 2 cm. The gaps between them are needed so that the water from the precipitation does not stagnate on the boards, but quickly flows through the path to the ground.
Path made of plastic pallets
The tree looks great in landscape design. However, it requires careful maintenance during operation and pre-treatment before use. To avoid this, you can build a path of plastic pallets.
Plastic pallets are a more durable and practical alternative to wooden pallets. They are mainly used by enterprises operating under strict sanitary standards. Plastic products do not absorb moisture and odors, and they can be easily disinfected. Therefore, drinks and food are more often transported and stored using plastic pallets.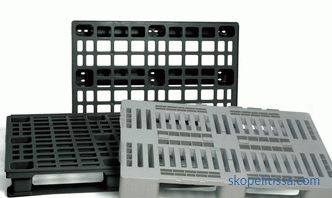 Tracks from plastic pallets are not so aesthetic, but their installation requires a minimum of effort. They can also be installed on top of the ground or in a trench. But there is no need for protective treatment. So that the pallets do not crawl under them, it is better to make a sand and rubble pillow. Another option is to fill the pallets with sand. You do not need to worry about the track not in contact with the base and not in contact with moisture in the ground.
A plastic track may last longer than a wooden one. But plastic pallets have one significant disadvantage - they cannot be restored. If the wooden pallet breaks, it can be repaired. In addition, a wooden pallet can be disassembled into parts and use the resulting boards for construction work. With plastic pallets it is impossible. For the same reason, getting used plastic pallets suitable for use in the design of the site is more difficult than wooden ones.
It is worth noting that ordinary plastic pallets do not look very aesthetically pleasing in landscape design. To create a more attractive plastic track externally, you can use the so-called solid pallets. Or cover the plastic track with a decorative roll coating. For example - artificial grass.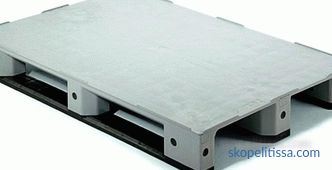 That might be interesting! In the article next read the link about the fence of the dacha .
Variants of paths from pallets
Despite the ease of use of pallets in creating garden paths, you can make a real masterpiece in the field of landscape design if you wish. So, in the presented video you can see an example of how in capable hands pallet boards can turn into a beautiful and original garden path.
A track from disassembled pallets
The photo below shows the simplest way of laying a track from disassembled pallets. Here you can see that the design is laid directly on the ground. There is no trench, geotextile, or sand pillow under it. Lags are assembled from those boards from pallets that have a gash. The whole construction is covered with protective varnish.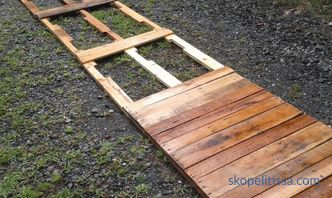 You can make a small walkway from wooden euro pallets arranged in a row. They can stand for some time without additional treatment with a protective coating. For reliability, it is better to fix them in some places among themselves.This design is ideal for temporary use. She can serve a couple of years until homeowners come up with the option of a more durable track. For example, after a while it can be replaced with a track made of plastic pallets.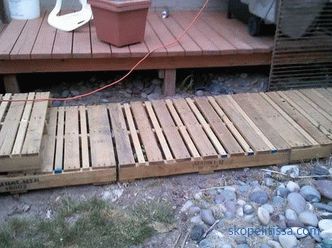 Some homeowners make not only paths from pallets, but entire terraces. The principle of laying terraces is just as simple. Especially easy to build a podium terraces when using not disassembled, but whole pallets.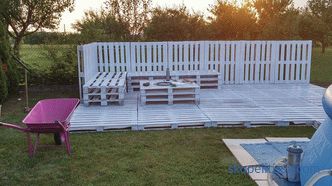 It might be interesting! In the article on the following link read about arrangement of the dacha .
Garden furniture from pallets
From the wooden pallets make the most diverse garden furniture. If you have a set of pallets, carpentry tools and free time, you can fully equip the site, make it stylish and comfortable, and all this with minimal material costs.
Garden furniture from pallets
Wooden pallets are an ideal material for creating garden benches. Pallets laid out in two rows provide an excellent base under the seat. The back can be done in different ways. The easiest of them - just put the pan to the seat and fix it in an upright position.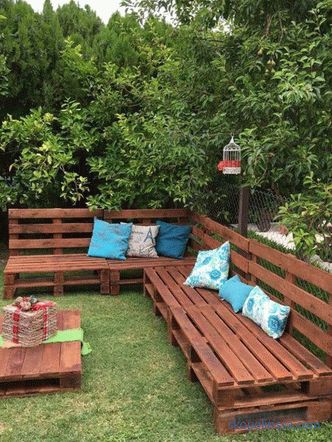 The height of the bench can be made larger or smaller. Below is a variant of a small shop of three pallets stacked on top of each other. The main thing is to secure them among themselves. To make such a design more comfortable, you should supplement it with pillows or soft bedspreads.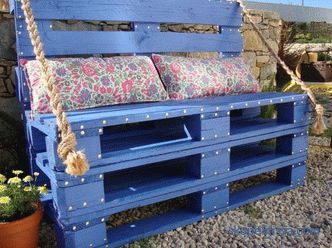 Entire furniture sets are made from wooden pallets. As an option - a table and benches for arranging a summer dining area. To make narrow benches as in the photo below, you need to cut the pallets. One wide pallet divided into three parts, which are held together in a U-shaped construction - this is one bench. The table is assembled from whole pallets (table top) and sawn in half (legs).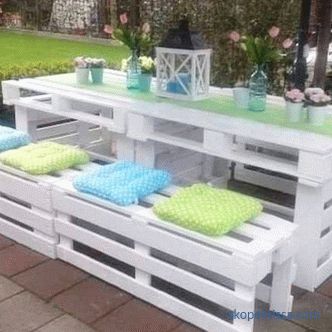 It is easy to make a pallet and a summer cot. Some craftsmen even build chaise lounges with adjustable headboard height. One such product requires 3 or 4 pallets. It is much easier to make an ordinary lounger as shown in the video.
Making a lounger for giving
The following video shows how it is possible to build not just garden furniture or a walkway with pallets, but a whole gazebo. Such a construction, of course, must be carefully thought out and erected before being erected in order to make it sufficiently reliable. But in the presence of elementary building skills, it is quite realistic to build a stylish and economical summerhouse for a summer holiday in just a couple of days.
Construction of pavilions from pallets
This can be interesting! In the article on the following link read about furniture from sand .
Conclusion
This article describes by no means all the options for using pallets in the design of a section of a country house. If you wish, you can still do a lot. The main thing is not to forget that all products from pallets must be carefully treated with protective compounds. And all fasteners and connections must be made correctly and carefully.