Decorating the walls inside the house is an event that everyone takes very seriously. After all, this is the final interior, which will have to live long. In this article we will talk about the various materials that are used today for decorating walls. We denote some of their technical characteristics, as well as positive and negative sides.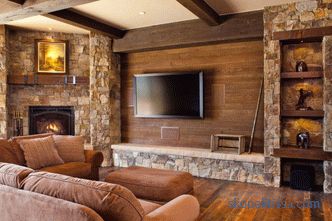 Materials for decorating walls
Still quite recently walls in private houses were simply covered with plaster, which was painted with water-based paints or glued to them with wallpaper. Even earlier, the walls were simply whitened with lime. Today the variety of materials used for wall decoration is so huge that it becomes more and more difficult to choose every year. Therefore, most consumers go for advice to professional designers who have information about all the finishing materials. They are like fish in water in this category of building materials.
So, let's understand what kind of finishing materials exist.
Wallpaper
This material is still very popular today. Moreover, a rather large variety of it appeared on the market:
The assortment is wide, the choice is huge both in terms of color design and in texture and structure. Manufacturers even offer wallpaper for painting. They have an original white color that can be repainted up to 15 times, choosing any paint.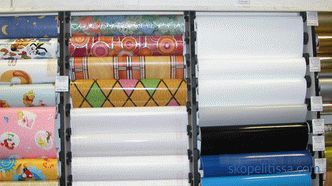 In fact, wallpapers are still popular and their demand is not decreasing. The reason - an incredibly huge number of species and subspecies. At the same time, the market offers wallpapers that mimic other building materials. For example, brick, stone, sand, leather, wood, and so on. That is, it is possible to make a unique interior with small funds in your house, making it in any style.
The only requirement for the wallpaper sticker process is the flat surface of the wall. Therefore, wall surfaces are carefully plastered, plastered and polished. If the house is wooden, then its walls are covered with plywood or plasterboard, today they were replaced by OSB boards. It is the alignment of the surface of the walls that increases the cost of the finishing materials. By themselves, the same wallpaper - the material is inexpensive, of course, in comparison with other materials.
As for the choice of wallpaper, some criteria should be noted:
paper wallpapers are short-lived , are afraid of moisture and temperature drops;

vinyl wallpapers are the thickest , they easily cover small defects in walls and plane drops;

under non-woven are required leveling layer is light-colored, because the wallpaper of this type is translucent and all dark spots appear through them;

if you choose photo wallpaper , they will fit perfectly into the room;

today you can use the service " photo wallpaper to order ", where the owner of the house is a drawing, pattern or photo.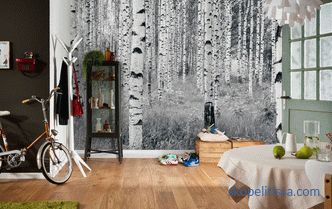 Paints
Let's start with the finish walls in a private house paints at the peak of popularity. Their variety in the market is not as big as that of wallpaper, but they are represented by a good line. It is necessary to make a reservation right away that under the painting of the wall it is mandatory to align to the maximum. Often the master put several layers of finishing putty to achieve the perfect result.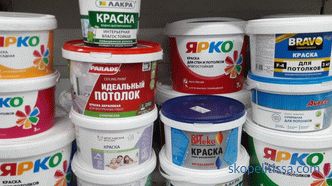 What paint manufacturers offer:
Acrylic paints . After drying, this material on the walls forms a durable film that can even be washed with water. Colors in acrylic paints are bright, saturated. But this material is classified as "non-breathing."

Silicone . This is a breathable material, which is superimposed on the surface of walls with a sufficiently thick layer, therefore, it closes well small defects and flaws. Forms a strong film. The downside is the price is high.

Silicate . They are based on liquid glass, hence the excellent strength characteristics. But for the same reason it is impossible to apply another material to the wall covered with silicate paint. If you need to carry out repairs, then this paint coating will have to get rid of. In this case, the paint itself falls only on mineral surfaces: plaster or putty. It is better not to use metal, polymers, wood for silicate paint - peel off.
From the video you can learn how to choose the right paint:
Water Soluble . This is a large group of paints for interior walls of the house. From the name it becomes clear that the composition is diluted with water, which evaporates after being applied to the wall. Masters believe that this is an ideal option for interior decoration of residential premises.

Latex . Here it is clear - the basis of latex. Such paints are classified as "washable". The powerful film that remains on the surface of the wall protects the painted surface from almost all types of loads. The best option for wet rooms. Experts recommend wallpaper for painting to paint it with a latex variety.

Alkyd . They consist of flaxseed or soybean oil, organic and acidic substances. These are bright paints, rather strong and the increased wear resistance. For residential premises is ideal.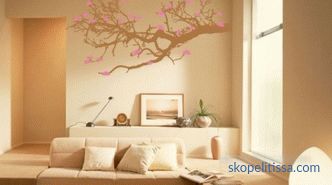 Which paint should be preferred. Even a specialist will not answer this question. Just take into account that in the bedrooms it is better to use water-soluble, in the hallways acrylic or latex. In wet areas it is better to use alkyd, latex and acrylic.
Decorative plasters
Another popular category of materials for interior decoration of the house. These are plastering mortars, with the help of which they not only level the walls of a private house, but also form the decorative filling of the rooms. What today offers a modern market.
On our site you can familiarize yourself with the most popular sites in the Moscow Region for the construction of a country house . In filters you can set the desired direction, the presence of gas, water, electricity and other communications.
Textured plaster
This is a highly viscous and coarse dispersion solution, the fillers of which are various types of fiber, stone powder, mica, pebbles, glass, and so on. It can be applied on brick, concrete, wood and plastered walls.
Manufacturers offer a wide range of textured plasters that create a different structure on the walls. Most popular: bark beetle, lamb, fur coat. Usually such plasters are made on the basis of cement. The peculiarity of this material - the texture appears immediately after applying the plaster layer.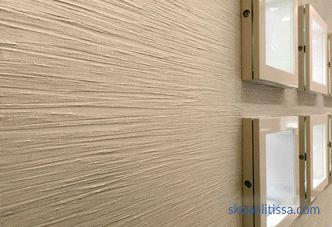 Structural
This finishing material has a thin layer structure in which acrylic or silicate, and fillers quartz or marble crumb. Therefore, its appearance is a non-uniform granular surface. Today, manufacturers offer a fine-grained structure that is very similar to a smooth and smooth plaster.
Structural material is easy to lay down even on drywall, chipboard, plywood and OSB. Not to mention the brick or concrete surface. It is not recommended to use this type of finish in wet rooms.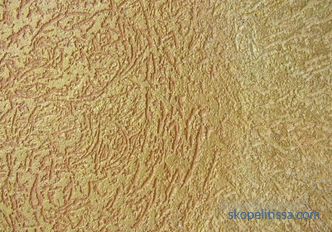 Venetian plaster
Of all plaster mixes, this is the most expensive. The process of applying this type of plaster is complicated. Apply it in several thin layers - up to 6 layers, each of which is well dried before applying the next.
The end result is an imitation of marble or onyx. Today, manufacturers offer a variety with imitation of noble metals.
Specific types of plaster
We will not paint all plaster mixtures present in the modern building materials market, we simply list them:
colored ;

roller ;

latex-plastic ;

wet silk ;

sea breeze .
The video describes the types of decorative plasters and how they are applied to the surface of the walls:
Tiled materials
Do not forget that tile materials have always been in demand. And if in wet rooms ceramic tiles are used, in residential areas there is a stone (artificial or natural). At the same time, stone walls were clad with whole walls that fit perfectly into the interior of private houses.
True, stone material is not a cheap pleasure. Therefore, manufacturers offer a cheap alternative - plaster elements, stylized as a stone. Look at the photo below, where the walls, decorated with plaster material, are shown. Add that plaster for interior wall decoration - ideal. He breathes, does not fonit, does not emit harmful substances, the material is light, just to be mounted.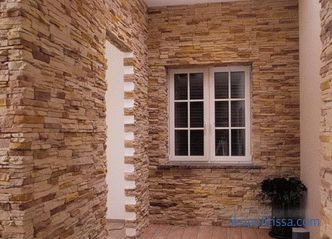 It can be interesting! In the article on the following link read about materials for finishing walls inside the house .
Wood paneling
Wooden materials for wall paneling inside the house are presented on the market with several panels:
wall paneling ;

blockhouse ;

MDF panels;

cork panels .
Let's start with MDF panels, because this is a relatively moisture-resistant material that can be used for wall cladding in the toilet or in the kitchen. There is no need to risk in the bathroom, here the perfect cover is ceramic tile. In this case, MDF is cheaper than tile. Install the panels in a dry way. This material has a decent variety of decorative filling, it is convenient to take care of it.
Now about the wall paneling. Everyone knows that it is represented in the market in several varieties. But not many people know that manufacturers today offer several brands of this wooden material. They differ from each other in the shape of the front side.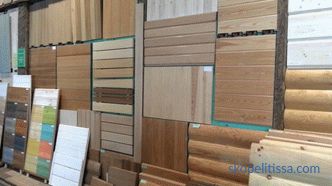 Here are the main types of boards for interior decoration of the house:
Traditional , it's " peasant ". This is a board with a chamfer near the tenon. Therefore, after covering the wall with clapboard of this type, the seams are clearly marked on the surface.

Softline . The corners on the front plane are rounded.

Calm . This species does not have a chamfer at the spike. Therefore, joints and seams are practically invisible on the wall. There is a feeling that the house is assembled from a bar and did not get off with anything.

Landhouse . This type of lining is one of the most expensive, because its front side is polished. Some manufacturers create reliefs in the form of patterns and drawings on it. Woodcarving is formed by pressing, not cutting.

American . This material has a flat front surface, but is angled. It seems that the walls are lined with siding, although this is wooden material.
It should be noted that the popular block house also belongs to the lining category. He just has a rounded front part that mimics a rounded log on the walls. Inside the house, this material is rarely used.
As for the raw material from which the wall paneling is made, there is a considerable variety here. If it is decided to veneer with clapboard, it is recommended to use wood from coniferous or hardwood. If wet, it is better to deciduous, especially for baths and saunas.
The video shows what you need to pay attention to when choosing lining:
Today, manufacturers offer PVC lining. This type of interior cladding is best not to use. Immediately striking his artificial appearance.
It can be interesting! In the article on the following link read about wall cladding in a wooden house .
Decorative panels
In Soviet times, wooden panels were popular. They sheathed the offices of high chiefs. Today this material is freely available, and the variety offered is huge. We will not paint as it is good and beautiful. It is worth looking at the photos, for example, at the bottom, and it becomes clear that this type of skinning wins over others in many respects.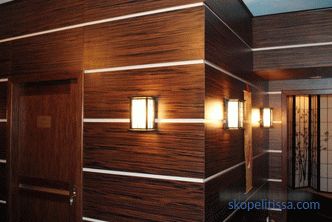 Recently, panels made of crushed wood have become popular. Pieces are simply glued to each other or to the base, arranged in different variations. The naturalness and beauty of wood here stands out very brightly.
MDF or particleboard panels are the basis of these materials, covered with wooden veneer. This is an expensive option. There is a cheap - painted chipboard and MDF with imitation wood.
Panels made of fiberboard, the front side of which is covered with a polymer film. The latter is a variety of design. For example, the photo below shows a wall lined with MDF panels imitating brickwork.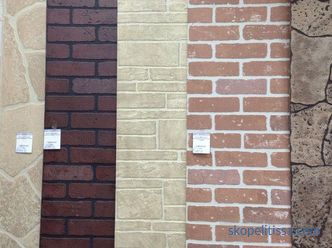 Gypsum panels
This material is of particular popularity due to unknown reasons not to have. For example, manufacturers offer today gypsum panels pasted over with a vinyl plate. Excellent facing with high strength and decorative qualities. It is one hundred percent moisture resistant material.
Probably, consumers are repelled by complex installation, which increases the total price of work. Assemble the cladding on the frame of aluminum profiles, which comes bundled with gypsum vinyl panels.
Cork
And the last finishing material in our review is cork panels. It is necessary to immediately indicate that this is the most expensive among panel materials.But the cork has many advantages:
increased thermal and sound insulation characteristics;

one hundred percent environmental friendliness ;

excellent external data ;

high moisture resistance ;

this material does not burn , but only smolders, the beginning of the process at a temperature of + 350 ° C;

does not absorb odors ;

easy installation - it is simply glued to the wall.
The video footage covers cork panels and the method of wall stickers:
This could be interesting! In the article on the following link read about a modern cottage with a cedar finish .
Conclusion on the topic
As you can see, the variety of house interior cladding is a huge range of different finishing materials. Choose from this list of proposals is difficult. Therefore, the advice - use the services of professional designers. They will not only help with the selection, but also create a room design that is beneficial for you.