If the city is located in a valley or on a mountainside, then, over time, the most visited places are the hills, which offer views of the city blocks. Often in such places establish observation platforms, where you can take pictures against the background of evening lights.
Architects from Cañas Arquitectos studio were assigned to develop this idea and design a country cottage with a view of the city of San Jose in Costa Rica.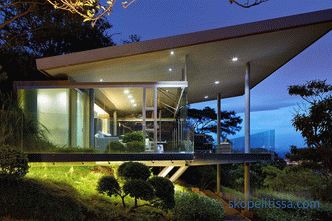 Country houses can be built not only near water bodies - urban landscapes are no less attractive and worthy of attention
The cottage was built on an inclined hill , near its summit. Despite the modern style, the house organically blends into the surrounding landscape, and the views of the city from it do not leave anyone indifferent to the guests.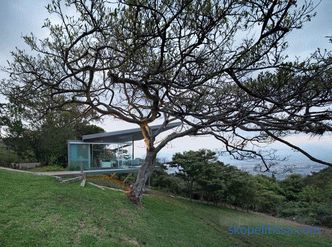 Informally, this place is called "house near the ficus" - if during the day the cottage just looks beautiful against a tree, then at night the area lights up and everything is perceived as a solid composition.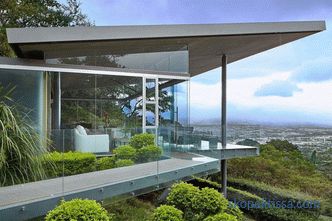 Steel and glass look harmoniously against the background of the surrounding cottage greens of shrubs and trees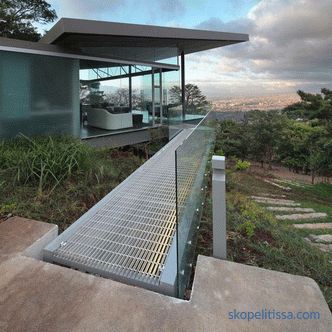 The house can be reached only by a steel bridge, on which transparent tempered glass handrails are installed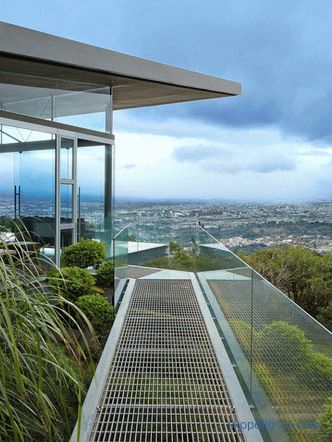 Even at the entrance you can already see how a beautiful view of the city opens from here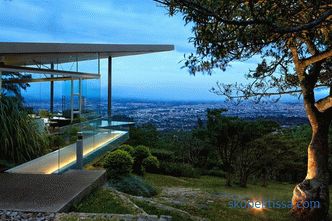 In the evening, the backlights turn on, while still faintly visible in the fading sunlight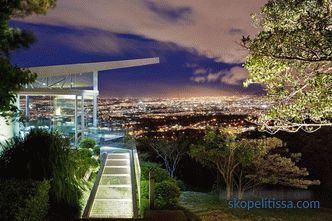 When the sun hides behind the horizon, all the accents of the landscape stand out clearly the background of the gathering twilight, and the city becomes a continuous play of colors and glare of thousands of lamps
On our site you can get acquainted with the most popular projects of houses from construction companies presented at the exhibition "Low-Rise Country".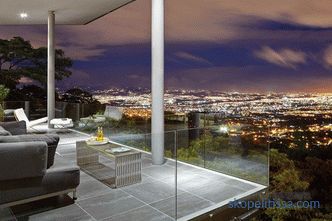 The central part of the cottage is a terrace with chairs and sofas - from here the whole city is clearly visible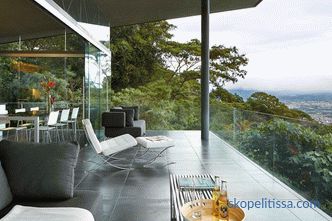 If the night is a play of light that turns into darkness, then by day this place has its charm with the greenery surrounding the house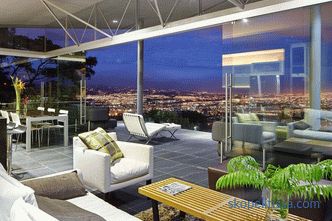 The house has a modern open-plan design of rooms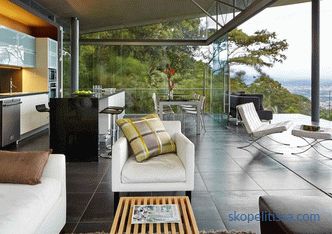 Most of the walls can be easily overlooked, since they are made of transparent but durable tempered glass plates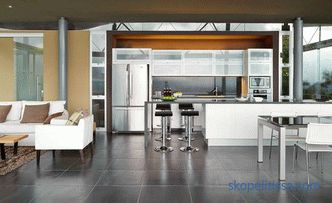 The living room smoothly goes into the dining room, combined with the kitchen, and into the deep A bedroom and a small bathroom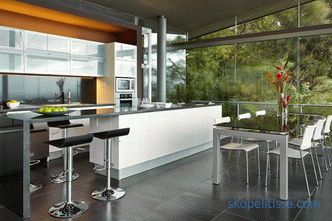 are located in the bin of the house. The kitchen is zoned from the dining room by a large island countertop, which can be used as a bar counter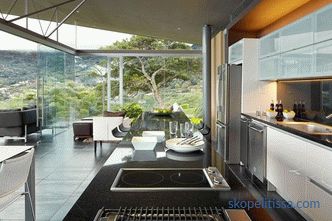 Even the most exacting cook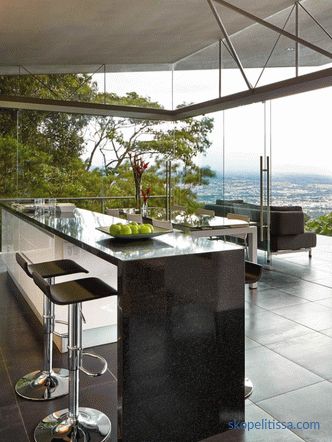 And of course not can complain about the design and equipment of the kitchen however, every point of the house gets enough sunlight and from here an excellent view of the city
It can be interesting! In the article on the following link read about two mini-cottages on the slope in Mill Valley.