The architects of the studio Lund + Slaatto Architects have developed a project of a modern cottage that perfectly fits the landscape of a rock formation on the waterfront in the Norwegian province of Østfold.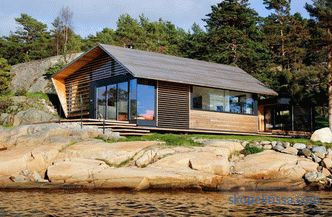 The architects had to solve a difficult task - the house must be in harmony with the rocky shore and trees
The house looks very modern and in addition its exterior finish made of cedar wood. In addition to the walls and facade, decor elements are also placed on some windows, however, this does not prevent sunlight from getting inside the house.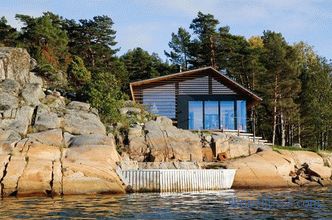 Finishing, although partially covering the panoramic windows, it gives the house a very modern look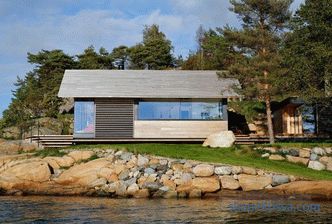 Beauty in simplicity - clean, smooth lines look harmoniously next to the rounded stones on the shore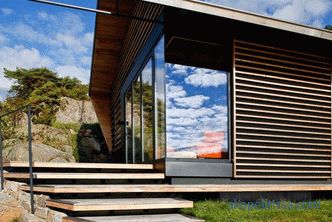 Even for the steps, we tried to choose natural materials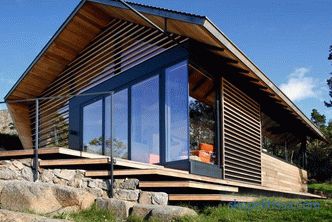 Panoramic windows on the front of the house look very nice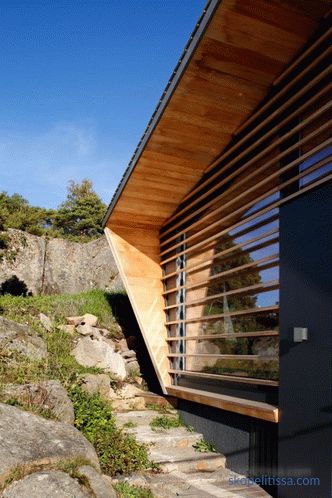 Even near the crate the windows look very impressive
On our site you can familiarize yourself with the most popular projects of houses from construction companies, are presented s on the houses the exhibition "Low-rise country."
The architects were inspired by the local rocky coastal surroundings and tried to develop a multi-level interior of the house so that the feeling of the endless space would not leave a person when he walks into the house from the street.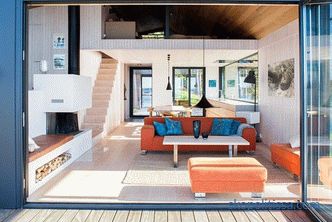 Even large internal space should be used with maximum practicality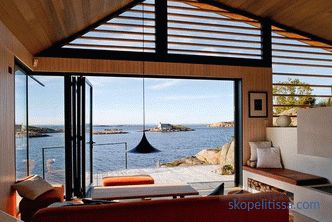 View from home on the bay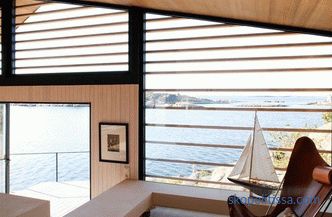 The interior of the house is not inferior in quality and beauty to the outside
The modern layout of the cottage provides on the first floor a living room combined with a kitchen, but still located just below. The recreation area, on the contrary, is located behind the fireplace and a little higher than the floor level in the kitchen - thus, unobtrusive but precise zoning of the rooms in the house is observed.
One of the hallmarks of a modern kitchen is a large panoramic window that floods the entire room with natural light. The dining table is located in the center of the kitchen.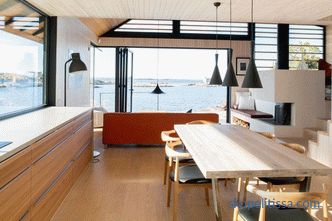 The light, bright design of the kitchen is complemented by plenty of sunlight.
The kitchen doors open onto a second terrace that connects the cottage with an additional mini house, which houses a separate bedroom. The terraces, like the decoration of the cottage, are also made of cedar wood.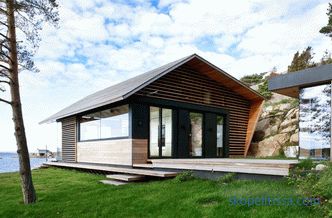 A terrace of cedar planks and a separate one-bedroom house
It might be interesting! In the article next read the link about the modern brick house from Studio B.