For those who are keen on innovations in construction, we offer the technology of building a frame house based on CIP panels . SIP (SIP) is an English abbreviation, which stands for Structural Insulated Panel, which literally translates into Russian as "structural insulation panel."
The second name of such building blocks is a sandwich panel. Only the role of bread in such a peculiar sandwich is played by OSB plates, and instead of sausage - a layer of polyurethane foam.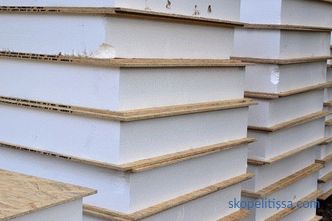 SIP-panels are the basis of two OSB boards and polyurethane foam insulation between them
What does the SIP-panel
consist of
Polyurethane foam is one of the types of plastic, it has a cellular foam structure. In its composition from 85 to 90% is a gaseous substance. The gas is filled with numerous tiny cells isolated from each other. Everything else is the thin walls of these cells.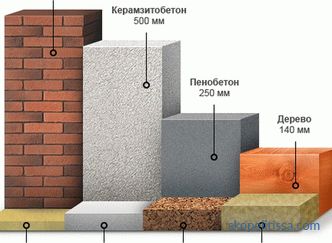 Thickness of building materials with the same thermal conductivity
Oriented strand board (OSB) is a multi-layer sheet consisting of wood chips, glued various pitches. In 2013, for the first time, KSP production in Russia began at Karevala.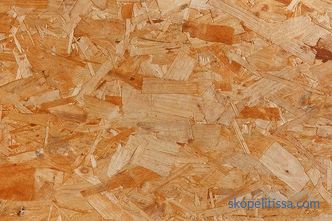 OSB board is a durable and environmentally friendly material
CIP houses are an economical and at the same time green building, vividly demonstrating how successful with proper implementation can be an innovative building technology.
Today, SIP accounts for about 30% of all constructed facilities among wooden houses in Russia. About 5.5 million m 2 of buildings and structures of CIP panels are erected annually. Such data was cited by Sergey Tsygamenko, President of the Association of CIP-based house-building technology in Russia. According to him, high prices for ordinary housing in brick, exorbitant tariffs for heating and maintenance of houses built using traditional technologies, long construction periods - all this led to the need for the Russian house building market to develop new technologies.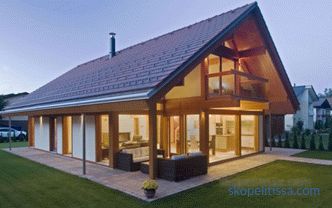 Houses from CIP panels are one, two or three-story buildings with a modern layout
The material is unique and innovative
First of all, SIP panels are notable for their strength. Not excessive, as in the case of stone, but more than sufficient. One single sandwich panel (dimensions 2.80 x 1.25 x 0.174) without any additional reinforcement in the form of a connecting bar can withstand a vertical load of up to 28.5 tons. If you make the roof of a house SIP flat, then you can even have parties on it.

CIP is reliability. The houses built on this technology at its inception stage have stood for more than 70 years.

CIP is energy efficiency. The walls and floors of 80-90% consist of insulation. And its characteristics are such that not only surpass most of the walls erected by other technologies in heating technology, but also make it possible to actually save further on heating the house. These houses, according to the apt expression of market participants, the most real thermoses - reliably store heat in the house.

CIP is the freedom in architecture and application of finishing materials. Moreover, the design features of the panels allow for most of the finishing work with less labor and materials than in the case of other construction technologies.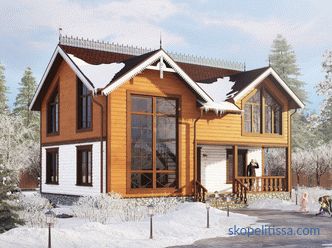 Houses from SIP panels do not limit the imagination of architects and designers: second light, terrace, complex roof - this technology allows you to realize any ideas
CIP is accessibility. The price of the materials themselves can be comparable with the same bar. But in all other respects - from components, construction, installation and finishing works to the further maintenance of the house - CIP technology wins in a fight with almost any other.
You can see the process of building a house from SIP panels in the video:
How to find out more
One of the houses built using CIP technology at our exhibition is the Toronto project - a two-story house that can be built as soon as possible thanks to unique modular technologies.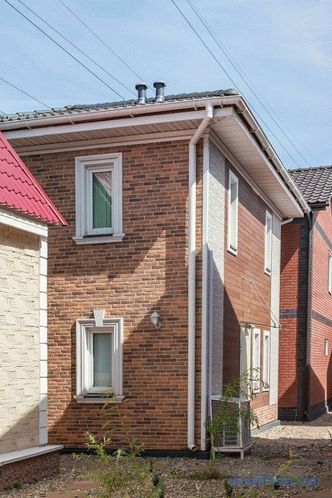 The "Toronto" project is a two-storeyed house of SIP panels, with brick exterior