Building a house is a serious and significant stage in life. After all, a house is not only a wall and a roof - for many it is an old dream, realized in reality. But here, the construction is completed, the communications have been let down, the most pleasant thing remains: the interior decoration.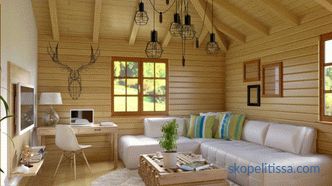 Finishing option for a wooden house
The abundance of finishing materials allows you to realize the wildest fantasies, but the basic, most sought-after and simple way of finishing remains coloring. The paint will not only make the house bright, it will protect the surfaces from dampness, fungus, harmful effects, giving the home a unique and durable. The abundance of colors, types and manufacturers of paints, often greatly complicates the choice. Let's find out why interior painting of a wooden house is necessary, how to ensure that the finish is of high quality, and the rooms are beautiful and cozy for many years.
Why do we need painting the house inside and what paints are used
People have been building wooden houses for centuries. Warm in winter and cool in summer, such a house became a real family nest. However, wood is a soft, natural material - wooden surfaces are defenseless against dampness, they can crack, are affected by fungi and mold. Painting wooden walls inside the house solves all these possible problems.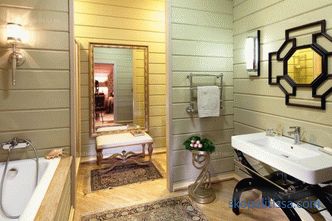 For example, in a bathroom, properly painted walls will be protected from moisture on the tree and the formation of fungus
. To avoid problems, you need to know which wood treatment compounds exist and what they are for:
different types of primer penetrating into the wood create a protective layer, increase the adhesion of paint to the surface, paint the primed surface becomes much easier;

antiseptic compounds protect wooden surfaces from mold and mildew;

wood stains special compositions giving wood different shades and protecting it from adverse external factors;

paints create a durable surface layer, the difference in shades and structures makes it possible to use paint in premises of different purposes;

lacquer-colorless or with a slight tint durable coating that gives wood shine and protection, significantly improves the appearance, increasing the durability of wood products.
Compounds can be combined to create a durable and beautiful finish. For example, painting walls is carried out after pre-priming surfaces, and varnish is often applied over the stain.
What kind of paint to choose
Paints, depending on the composition, have different properties, the interior painting of the room should be made with qualitative compositions that are safe for health, especially if children live in the house.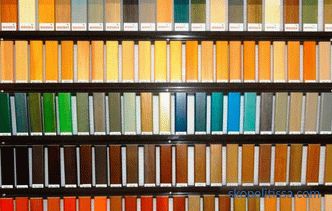 It's not difficult to choose how to paint a wooden house inside and decide on a specific paint color for any interior, the main thing is to pay attention to its safe properties
On our website you can find contacts of construction companies that offer the service of warming and finishing houses. Directly to communicate with representatives, you can visit the exhibition of houses "Low-rise Country".
If there is a need to paint windows, doors or radiators, note that the paint should not change color due to heat and sunlight, and these surfaces must be washed frequently. Paint for interior decoration of a wooden house should be resistant to abrasion and should not be washed off with water,
Oil paints give a shiny glossy surface, they wash well, but do not let moisture through, they dry for a long time and have an unpleasant odor that disappears for several days.

Acrylic paints fit perfectly, have almost no odor, retain their brightness for a long time, and can be washed.

Alkyd paints and enamels form a stable glossy finish, water resistant, durable and cheap enough. When painting it is necessary to use a respirator, since this type of paint has an unpleasant odor.

Water dispersion paints are safe, do not have an unpleasant smell, durable, do not fade. The disadvantage may be that it is rather difficult to wash the surface coated with water-based paint with detergents.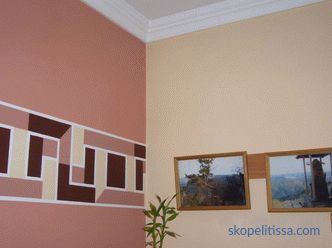 Water-dispersion paints are chosen for rooms where there is no heavy pollution
Silicone paints are suitable for all rooms, do not fade, do not crack, have excellent vapor permeability, and are easy to clean. The only downside to this type of paint is the high price.
The choice of color depends entirely on your preferences. Dark colors visually reduce the room, light increase. The desired shade, which is not commercially available, can be obtained using a color scheme.It is necessary to tint the entire volume of paint at once, otherwise it may turn out to be different shades.
What the label will tell
When choosing a paint, pay attention to the information on the can. The manufacturer must indicate:
For which works, internal or external, the product is intended.

In which rooms you can use. For example, paint for children's rooms, absolutely not suitable in the bathroom.

Coverage. The higher this figure, the lower the paint consumption per m².

At what temperature do they use this paint?

Flowability. The paint should not be too thick, after applying the painted surface remains smooth, without grooves and drops.

The bank indicates which surface area can be painted.

Approximate paint consumption per 1 m²
After carefully reading this information and consulting the seller, you must pick the best option for your home.
Tools required for painting
In addition to paint, workers will need tools like:
rubber gloves, possibly respirators and hats;

brushes, rollers, paint baths;

masking tape so as not to stain surfaces that will not be painted;

spray, with it staining is carried out much faster;

wet cloth and a bucket of water to immediately remove the drops;
Brushes can be several, if oil paint or alkyd enamel is used, will store Camping solvent to remove water droplets from these paints will not work.
Surface preparation for painting
Painting the walls in the house, the steps that precede it and, most importantly, painting, should be done qualitatively.
Before painting, the surface is cleaned of old paint, dust, greasy dirt. The washed surface is left to dry. The gaps are sealed with an acrylic sealant. This will protect against temperature changes and retain heat.
Alignment
To obtain a smooth matte surface, wood is treated with sandpaper or a grinder. Grinding can smooth out bumps, get rid of knots, make small cracks inconspicuous.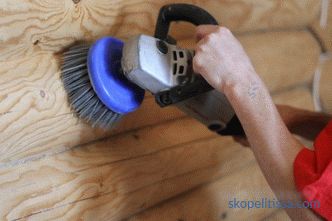 On even, smooth walls, the coloring material will lie more evenly
It might be interesting! In the article on The following link read about how to paint a brick house outside.
Painting technology
Before painting the surface is treated with a primer. This will facilitate the dyeing process and save paint. Applying a single coat of paint is usually not enough. The second and subsequent layers are applied after complete drying of the first. Stir the paint thoroughly before applying. First, paint the joints, corners with a brush, where it is impossible to reach with a roller. Then, paint over the main area with a roller. High-quality staining produced in 2-3 layers.
Clearly about painting the house on video:
Processing unpainted wooden surfaces
Often wooden surfaces they do not paint, because the natural structure of the tree, the veins, the knots, this is an ornament that gives the house a unique flavor. The following materials are used for processing:
Antiseptics. Used to protect the wood from mold and mildew. Such structures are processed and the structure of the timber, so as not to be damaged and served longer. Perfectly proved the PAF-LST, "Ultra". Connoisseurs are talking about the possibility to prepare an antiseptic with their own hands, using machine oil and copper sulfate.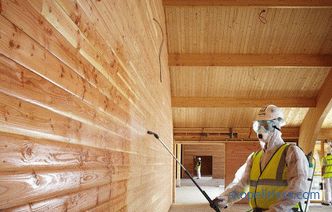 Wood is a moisture-loving material, therefore it is necessary to protect it with antiseptics
Bleachers. They give the wood a beautiful look that it loses during storage and, just as antiseptics, protect the tree from rot and fungus. Bleaches are of 2 types: chlorine-containing and bleaches based on hydrogen peroxide.
Important! Any of these substances is dangerous. To carry out any work without proper training and experience is unacceptable.
Watch how materials from which your house is built are stored. Wood piles should be well ventilated.
Bar waxes. They have gained high popularity recently as an eco-friendly way to protect wood. Differ in natural composition. It is based on beeswax, which forms a protective film on the surface of the wood.
Varnishes for wood. Lacquer is an opportunity to preserve the beauty of a tree for many years. Varnish for interior decoration of a wooden house, usually used on a water basis.
Yacht varnish has excellent protective properties.
Any varnish applied on a clean, dry surface. First, the corners and the joints are coated with varnish, and then after the rest of the surface.All work with varnish must be done in protective gloves and respirator.
What gives the cleaning of walls without painting - clearly on the video:
Useful tips
Several useful advice to those who begin repairs in the house:
you should not save too much on paint or varnish, because poor-quality interior decoration is immediately noticeable;

for interior decoration, it is more convenient to use colors, you can get the most inconceivable colors and shades;
do not forget that the next layer is applied only after the previous one is completely dry;

Do not forget about protective equipment, gloves and respirator, as well e open windows or regular airing will relieve many problems;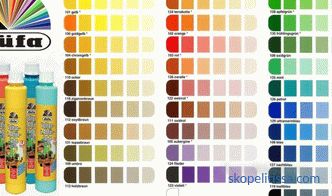 With the help of color schemes, the question of how to paint wooden walls inside the house will already be depend only on your imagination
It can be interesting! In the article on the following link read about painting a house from a log outside.
Conclusion
Of course, building and repairing is a difficult task that takes a lot of time and effort, but how nice it is to get into a beautiful new home with your household. This also applies to painting walls in a wooden house inside according to a design project or according to your own idea. But when own housing is fully ready to accept its owners, then it is time to set new goals, the achievement of which will certainly be even more exciting.