A new exhibitor allows visitors to evaluate the quality of stoves for baths and saunas, as well as boilers and burners operating on modern biofuels. The Topim Banya company presents product samples from the Troika plant from Tver and the Ekaterinburg heat equipment manufacturer Pelletron.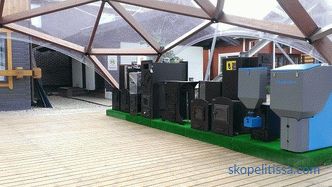 The ovens presented are durable, reliable and fully control the microclimate of the double room, that is, they are able to give pleasure and health to their owners for many years.
Pellet boilers and burners can be successfully used for heating a variety of rooms in a country house. Their use allows owners of summer cottages to replace firewood and coal with more convenient modern fuel. Pellets are granules obtained from peat, wood and agricultural waste. The advantage is that these burners are inexpensive and available to almost every family.