On any land plot with a dacha or capital house a fence is needed. It marks the boundaries of the territory and protects against uninvited guests. In ancient times, people built fences from wild animals and robbers, and over time the fences became decorative, repeating elements of the facade of the house. Even the high and impregnable modern fence looks beautiful, and a huge selection of materials allows you to build a fence with an unusual design. For example, modern house fences can be the same as in the following photo: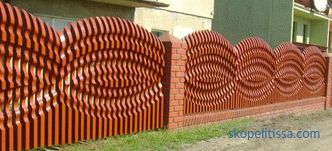 What are fences
Fencing performs various functions on which its design depends. The main types of fences for private houses are as follows:
Delimiting territory (light and low hedge)

Protective (massive, high fence from prying eyes, animals and malefactors)

Decorative (transparent design)

Basis for a hedge (metal grid or grid, through which greens curl)

Sound-absorbing (from noise and dust, made of polycarbonate or special glass)
Beautiful fences for private houses with photo examples:
Having defined the functions fence, it's time to think about the materials.
Materials for the fence
Options, from which to build a fence on the site, it is enough and it is difficult to choose the best. Attention should be paid to the cost, design, method of installation and durability.
Wood
A beautiful and eco-friendly material that blends with the woodwork of the house. You can install on any soil. However, the surface requires annual painting and antiseptic treatment.
Variants of wood fences:
Flexible twig

Alpine braided

Palisade (stakes are close to each other)

Horizontal laying of logs or boards

Fence (vertical strips, distance between which 1-2 cm)

Panels (ready blocks from several planks)
Example of a beautiful wooden fence for a private house in the photo: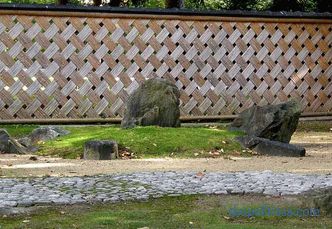 Metal
Metal fences are famous for their strength and beauty . They are easy to install and maintain - you only need to tint every 10 years. True, if this is forgotten, then rust appears on the surface.
Types of metal fences for a private house:
Forged (with openwork patterns)

Welded (from steel rods)

Sectional (pre-fabricated galvanized wire gratings)

Decking (sheets are screwed to the iron frame)
The first three options are transparent, therefore only suitable for areas that are in perfect condition. There should be no gardens with beds. To protect against wind and dust, polycarbonate is mounted on the inside of the fence. If the owners are uncomfortable to live in an open area, then it is better to use profiled sheeting.
On our website you can find contacts of construction companies that offer services for the production and installation of fences and fences for country houses. Directly to communicate with representatives, you can visit the exhibition of houses "Low-rise Country".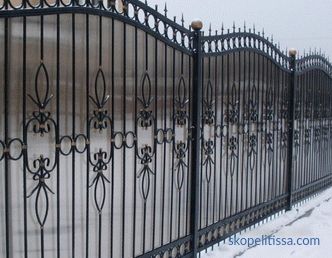 Brick
Brick fence became fashionable in the nineties twentieth century. Durable, aesthetic material allows you to create unusual patterns, as well as it can be freely combined with metal, plastic or wood. The disadvantages include the high cost and the complicated styling process. Be sure to need a foundation and pillars.
Types of brick fences:
Solid

Parapet (the upper part of the fence is decorated with a forged insert)

Basement (brickwork is up to 1.5 m high, and then other material)

Pillar (bricks, gaps filled with metal, wood, etc. .)
Masonry is solid or figured. Another option is to putty and paint the fence. This design is suitable for home in a classic style.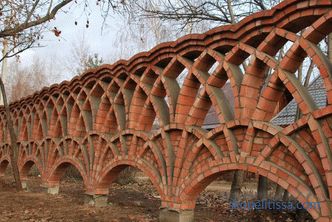 Stone
Stone is the most durable and unpretentious material for fencing. It will reliably protect the site from wind, dust, noise and penetration of unauthorized persons. But it requires professional styling and high costs.
Types of modern stone fences:
A solid wall of stone looks hostile. Therefore, it is desirable to dilute it with other elements or ornament.The drawing of a wild breed is unique, but it is difficult to work with it. And a non-professional handler can also build a fence from sawn blocks. Such a fence is suitable for a house whose facade is decorated with stone elements. The whitewashed fence perfectly matches the classic or German exterior style.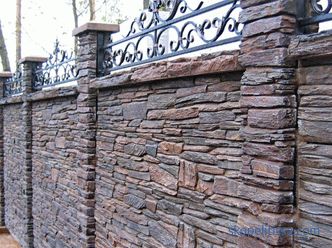 Concrete
Concrete fences look no worse than brick, but they stand cheaper. And efforts for installation require less. Only the construction is heavy, therefore the foundation is obligatory. Concrete is cut into small blocks for easy laying. The texture and color can imitate metal, wood or stone. Therefore, the concrete fence is suitable for any home, especially since its service life is measured in decades.
Beautiful fence - budget option - in the following photo: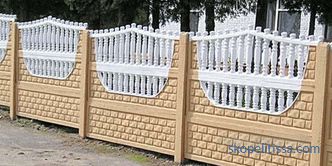 Types of fencing made of concrete:
Decorative (with elements of other materials)

Precast (mounted using tongue and groove panels)

Monolithic (solid reinforced concrete slabs)

Block (assembled from small blocks)

Self-contained (temporary fence from plates, installed without foundation)

Two-sided (pattern on both sides)
It might be interesting! B article on the following link e about concrete fences - both aesthetics and protection of a private house.
Plastic and polycarbonate
Plastic is the most unpretentious material that is not afraid of moisture, sun and mold. It takes any shape, texture and color, is inexpensive. The main drawback - easily bends and breaks from the wind or blow. Therefore suitable as a temporary design.
Types of plastic fences:
Solid (without gaps)

Fence

Plait

Combined (solid bottom, perforated top)

Grid (analogue of the "chain-link")
At the cottage, you can install a polycarbonate fence framed by a metal frame with crossbars. The result is a translucent fence that protects from wind, dust and animals. The material is well combined with forged sections. The ideal polycarbonate thickness is 20 mm. The color palette allows you to choose a shade close to the facade of the house. Bars can be steel or brick.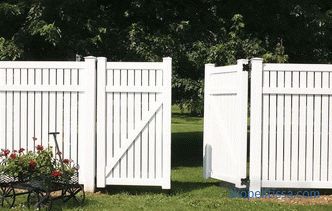 Glass
Fences are even glass, they are perfect for home in high-tech or minimalism style. Such a fence is used inside the territory. For example, to isolate the pool or terrace. Used tempered armored glass with a thickness of 8-10 mm and a protective coating. Characteristics of the material make it a good choice if you need to create a beautiful and reliable fence. The surface does not require special care, except for washing. At cost, such a fence is close to wood and concrete. It is combined with any material.
Types of glass fences:
Frame (glass is inserted inside the frame)

Frameless (the canvas is installed in small metal grooves)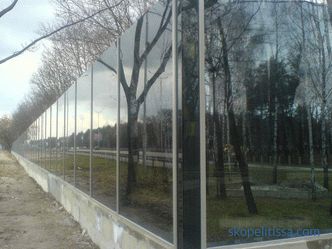 Housing fence
And one more option of a protection of the territory is a hedge. It attracts the eyes of passers-by, protects the yard from wind and dust. The density of the structure depends on the type of plant (weed or shrub). But to grow a green fence is troublesome. It is necessary to pick up varieties so that they are well acclimatized on a particular plot. And then take care of the whole season.
Loaches of the type of ornamental grapes need a support - the main fence of any material. Shrubs themselves create a fence, but they will have to give shape so that the branches do not stick out randomly. For a snowy winter to plant better evergreen shrubs (juniper, fir, asthenia, etc.)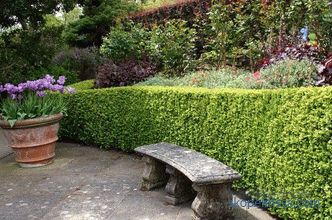 Types of hedge :
Single deck

Multilevel

Seasonal

Evergreen
Such a fence is ideal for designing public parks, garden plots without beds. And also as an addition to the capital fence.
Examples of modern design of the fence
A fence for a country house becomes not only a defense, but also its hallmark - before entering the site, guests can make a first impression about the owner. Therefore, it is important to think over the design of the fence, especially since modern building materials give plenty of imagination. Beautiful fences for a private house in the photo, see below.
Beautiful fences
For those who cannot dwell on the same material, the solution will be a combined fence made of wood, metal and greenery. It looks unusual, absorbs noise well, fits to different styles of the exterior of the cottage.Safe for health and the environment. To prevent the wood from losing its appearance, it is necessary to treat it with an antiseptic and varnish it every 3-4 years.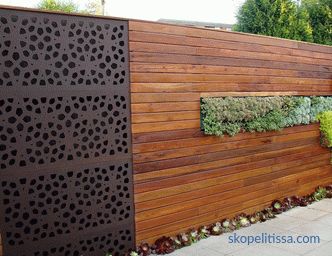 A powerful brick wall with stone relief in the shape of a cat and wrought iron elements. Climb over such a fence is difficult, so the owners can be calm for their safety. A three-storey cottage of brick or stone will look harmoniously against its background. And curly greens will become a bright accent of the fence, add comfort and warmth of the whole composition.
Leaving no need, the construction will last at least 100 years. The main thing is to pour a solid foundation and not save on materials.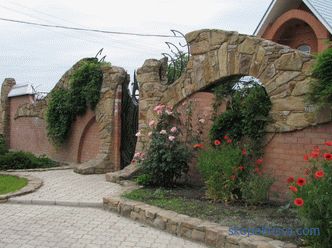 Wrought fences have incredible beauty, however, and their price is no less surprising. For 1 m² openwork masters take an average of 10 thousand rubles. The more complex the drawing, the more expensive.
Such transparent fences look great in front of the house as a front garden or a terrace. The columns deepen to 0.5 m and pour concrete. It is necessary to tint a fence every 5-7 years with a sprayer. If you highlight some elements in contrasting color, the fence will become even more attractive.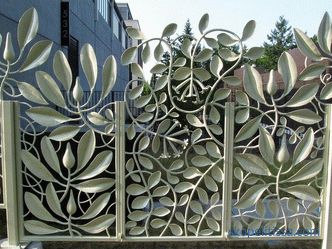 Budget options
Beautiful fences for a house are cheap. For owners with a limited budget, there are also beautiful models of fences. If you need a temporary fence for the period of construction, it is inexpensive to tighten the "chain-link" mesh of metal or plastic. Or to hammer old sheets of a professional flooring, slate, plywood.
It can be interesting! In the article on the following link read about the types of beautiful fences - different versions.
Comparison of fences from the netting of the chain-link and the professional sheet on the video:
Capital barrier of an affordable price can be mounted from durable aluminum-reinforced plastic . Appearance resembles a wooden fence, just do not need to care for him. Install a light fence under the power of a person without special construction skills. White color retains its brightness for a long time, fits most design styles of the facade of the house.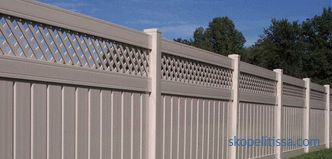 A log machine - and the fence is ready. We need only the frame of wooden beams. And inside neatly stacked cuts or firewood. True, it is necessary to take care of protection from precipitation so that the wood does not soften. The filler can be used to kindle a fireplace or stove in the bath. Perhaps this is the most environmentally friendly and practical way to isolate your site.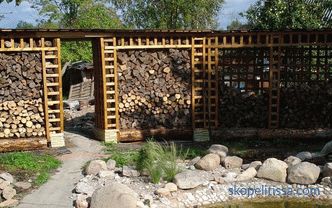 Even an ordinary netting net can be turned into a work of art. Any available materials will be useful: empty bottles, disposable dishes, satin ribbons, threads, etc.
The original ornament of painted plastic cups turned out on the grid. They hold without additional fastenings. The pattern can be anyone that is capable of fantasy. You must first draw it on paper, lining the sheet under the "rabitsu". And, following the drawing, insert cups or other objects into the holes. Damaged items are easily replaced with new ones. The process is long, but the result will please the hosts and passersby.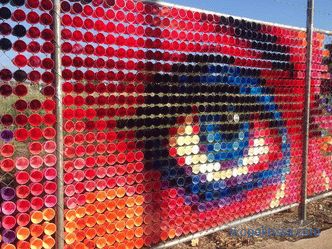 Useful tips
In building a fence it is important:
Decide on the purpose of the fence and observe it

Set the structure strictly according to the technical plan of the site

Choose the optimum height depending on the purpose (low, medium, high)

Select the material in accordance with the budget, purpose, design and climate

Think about the appropriateness maintenance costs of materials

Calculate the required number of support pillars

Pour the strip foundation for a heavy wall of stone, concrete or brick

Find experienced builders
The tree is not suitable for a humid climate zone. House by the sea is better to fence plastic, metal or brick with a hedge. And for the Siberian cottage is good wood, stone or concrete.
In the video, a selection of fence design ideas:
There are many types of fence in a private house. The main rule - a combination with the overall design of the house and the site. It is better not to save on materials, then it will not be necessary to repair and change the structure soon.