The article will talk about what art deco style is, when it was born, how it differs from other areas formed at the turn of the nineteenth and twentieth century. Lists the main principles of creating an interior, published photos and videos of finished projects.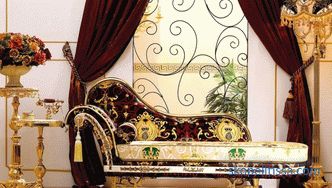 History of creation
For over 130 years, art deco continues to inspire designers, interior design masters are still "polishing" the concept, perfecting every element of it. It originated at the junction of two centuries. It flourished in 1900. Artists of that time began to mix different styles, to look for new points of contact with the art of ancient civilizations (China, Egypt, Japan).
At the beginning of the twentieth century, grand industrial exhibitions began to take place. Organized in the capital of France in 1925, one of them displayed furniture and crockery, textiles and small architecture elements, made in an unusual style with the use of new synthetic materials. Designers proposed a new principle of creating different elements, whose form was created according to the principle "from inside to outside". It was so fresh, so interesting that new ideas were quickly picked up and implemented in different areas of human life.
A description of the Paris exhibition was published and put up for sale in the form of twelve encyclopedia volumes. They were published photos of the most original masterpieces and posted their descriptions. It was in these texts that the name of the new style was first mentioned and its main features were identified.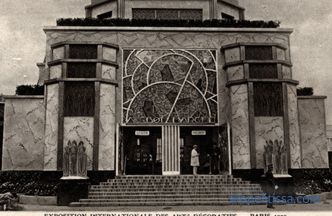 Art deco was specifically designed for the middle class. Unlike the avant-garde, he did not offer to create something new, extravagant. The style called for enjoying life here and now and for this purpose use the best that has already been invented and invented. Americans like this idea very much. They did not see the horrors of the First World War; therefore, their sense of the joy of life flourished until the United States entered World War II. Then the Great Depression began, which calmed down the ardor and forced everyone to cuddle and give up luxury.
Definition of distinctive features
During its short period, Art Deco design was able to develop its own well-known character. Many compared it with art nouveau: both directions were cultivated and exalted sophistication, both opposed to pragmatism. But each style for this used its own methods.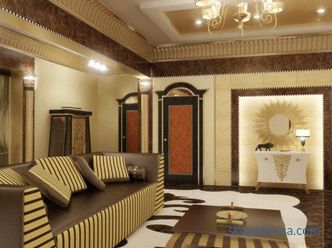 Art Nouveau created a new art, Art Deco took everything that was already Invented and strongly liked by artists (historical themes, ancient motifs, oriental exotic). All this is reproduced using the latest materials. This was the main principle of the implementation of the described concept. At the beginning of the twentieth century, the tomb of Tutankhamen was opened, the number of finds of ancient cities in the forests of Mexico increased, and the secrets of the Aztec and Mayan civilizations were deciphered. New characters have become actively used to decorate interiors. At the forefront was put the external effect. Selected items could be a little functional, but if they helped to emphasize the style, their use was justified.
All directions that originated at the junction of two centuries (19 and 20) had their own, well-recognized "handwriting". Art Nouveau was easy to read on the curvaceous curved lines, on the use of plant patterns and ornaments. Art Nouveau preferred very restrained colors (all shades of gray, violet, cream). The interior of Art Deco and then today loves intense colors, bright blotches. There are many broken lines, strange outlines, silhouettes of animals, elements of the latest technology (cars and airplanes).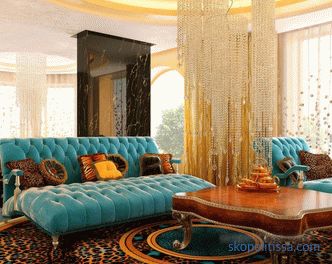 In the Art Nouveau ceramics dominated, in modernity everything was built on a combination of dark metal and light wood. In Art Deco dominated by the surface of shiny steel. It can be replaced by brass, but there must be a dark tree nearby. The contrast of the glittering surfaces of polished metal and rare rocks of stones and wood is another distinctive feature of this style.
By the end of the twentieth century, Art Deco was again out of oblivion. Designers rethought what has already been created and formulated, took into account new trends, the needs of modern man and presented the world with a new concept for creating luxury interiors. It is based on the following fundamental principles:
The use of a geometric pattern is considered mandatory. For ceiling decoration, circles are often chosen. If they are present there, oval must necessarily be directly proportional to be repeated on the floor. This technique can be the basis for making other elements of decor.The texture of furniture and textiles may include zigzag or straight lines in the form of thin or thick stripes.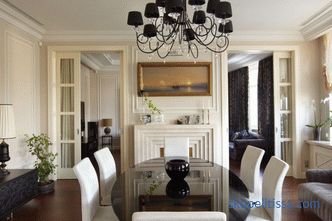 The focus is on expensive, rare materials . In the living room a furniture set can be made, made of valuable tree species, with accessories from ivory , upholstered furniture, for which crocodile leather is used. Instead of a carpet, zebra skin or leopard are often spread on the floor.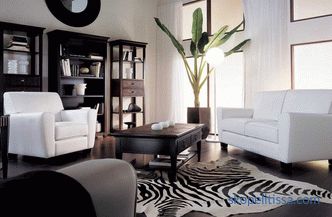 On our site you can find contacts of construction companies, which offer internal redevelopment and construction of turnkey country houses . Directly to communicate with representatives, you can visit the exhibition of houses "Low-rise Country".
It is not customary to save on the purchase of furniture filling and on the organization of lighting. Asceticism inherent in minimalism is not about art interior. The design should be very expensive , exquisite , he is obliged to emphasize the high status of the owner, therefore luxury and wealth .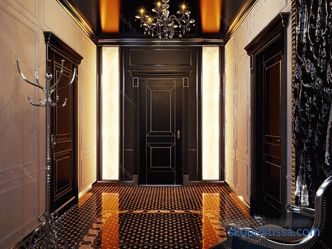 Interiors in the described style should surprise and cause admiration . To create a similar effect, designers prefer to use glossy , varnished surfaces, presented in the form of natural marble , stretch ceiling paintings, mirrors and lacquered wood . Genuine leather leather , chrome-plated or gold-plated metal , polished tusks , crystals , valuable tree species are in high esteem.
Exclusive items are often used for interior filling, but mass-produced items are allowed for decoration, the price of which is available to everyone without exception.
The video shows an original selection of art deco living room designs with the inclusion of new trends:
Combination of colors
Colors are matched exceptionally contrasting. For finishing shades are used the most juicy and bright from a dark and light palette. The traditional combination is white and black, gold and red. Sometimes brown or purple is taken as a base.
Luxury bedrooms are often decorated in a range of beige and gold. It helps to create a refined atmosphere, if the interior is actively used the brilliance of crystal and mirrors. The main load of the decor in such a situation takes on a geometric pattern. He dominates.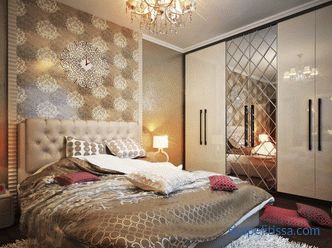 Dark shades are used to decorate the living room and office. Often there is a combination of brown and gold. The walls of the rooms are decorated with wooden lacquered panels. On their background leather furniture looks very good. The interior is surely complemented by golden lamps with long legs. Dark mauve or silver-gray appear as bright inclusions.
In Art Deco, you can easily combine colors of a different spectrum. Only here can red and green look organic. To create harmony between them, you need to use a neutral background (white, black or gray).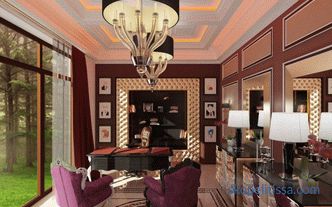 On our site you can familiarize yourself with the most popular house projects from the best construction companies with an impeccable reputation On the market. You can choose a house without finishing, from any modern building material, technology, with a warm contour, rough finish or turnkey. Directly to communicate with representatives, you can visit the exhibition of houses "Low-rise Country".
Furniture
The interior should be simple and comfortable, so the furniture, despite its luxurious design, must be functional. To fill the bedroom, experts recommend choosing a large bed, equipped with chrome legs, with a headboard, decorated with inlay.
A massive, leather-trimmed group is capable of decorating the living room. It is arranged traditionally, around a coffee table with a marble or glass top.
The video advertises furniture from Italy made in the style of art deco:
The kitchen is equipped with the latest generation of appliances, a set with a comfortable and large working area. Richly decorated dinner group. In such an interior must be illuminated niches, exclusive wine cabinets.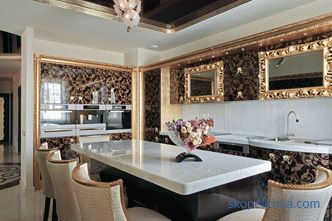 Textile Design
Today there are three art deco trends, there is a classic interpretation, historical and modern. The implementation of textile design is made taking into account the chosen concept.If this is a classic, the windows should be covered with multi-layer curtains with lambrequins, if this is a modern interior, you should prefer light drop-down curtains draped in a deep fold.
A blanket with a long fringe, a canopy, may appear on the bed in the bedroom, there should be a large number of soft silk pillows in the living room. When selecting textiles should not give preference to fabrics with floral patterns. This is best suited, as already mentioned above, a geometric pattern.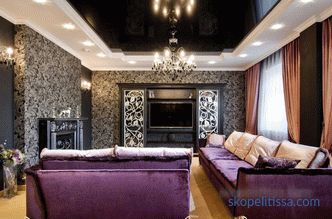 It could be interesting! In The article on the following link read about the French Provence style in the interior of a country house: ideas and solutions.
Finishing options
When you already have an idea about the main features of an art deco, its character and mood, you can easily select finishing materials for the walls, floor and ceiling.
Ideal for flooring to help create a glossy shiny surface. If the budget allows, it is better to use marble for the indicated purposes, if there is a need to save a little, preference should be given to the self-leveling floor. When, following the concept, it is necessary to use a tree, experts advise covering the floor with parquet and collecting it with a complex geometric pattern.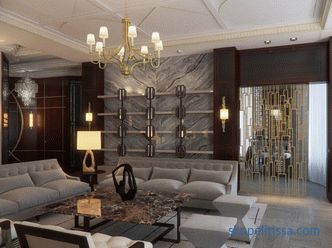 Art deco walls are just the background. On it, as in the window, exhibited bright exclusive elements of decor. Textured plaster, liquid wallpaper looks good as such a base. The walls can be simply painted with a water-based paint or matt paint. If there is a need to focus attention on sheer surfaces, it is necessary to use furniture panels imitating expensive wood for finishing.
See a video clip showing a house decorated in a luxurious art deco style:
This could be interesting! In the article on the following link, read the reasoning on whether a basement is needed in a country house — the features, pros and cons.
Ceilings are usually decorated with a large central chandelier. It is suspended from a circular outlet. Complicated decor with the use of multi-level structures and stucco is also welcomed. Such decorations are selected when the room has very high ceilings. With a small height on the shelves are often mounted mirror panels. To finish the bedroom, experts recommend choosing glossy stretch ceilings, be sure to make them an internal hidden lighting on the sides of the perimeter, and in the center to place an elegant chandelier of crystal.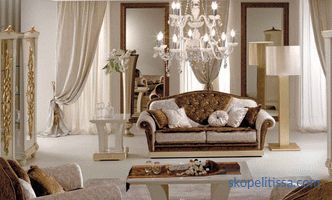 Optional accessories
There is no place for money and buying anything. Only works of art (paintings, statues, painted vases) can emphasize the luxury of the interior. They are allowed to use wrought-iron candlesticks, small sculptures made of bronze or porcelain. Look good in the interiors huge mirrors in a gilded frame. A touch of homely warmth and comfort can add exotic live plants.
Lighting
Light, along with furniture, is also a major player that forms or emphasizes an atmosphere of luxury and wealth. With the help of it not only the central part of the room is illuminated, but also mirrors are illuminated, rare paintings, the gloss of the floor is enhanced. Crystal sconces, lamps and floor lamps of exclusive design are used for this.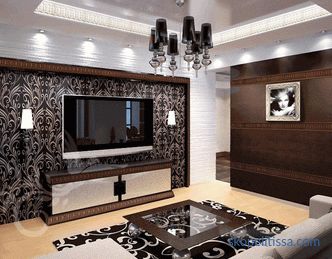 It could be interesting! In the article on the following link read about the house "four seasons" - the combination of high-tech style and elegant landscape design.
Summary of the topic
Art Deco interiors are an expression of exquisite beauty. They often give the impression that the content is formed from randomly selected items. But all of them, when examined in detail, are very harmoniously combined with each other; common points of contact are easily found in their shape and color. Photos and videos published in the article, once again clearly demonstrate this.