The plot near the house seeks to ennoble everyone. Even the one who considers landscape design to be a very complicated and expensive task, equips paths, flowerbeds and garden benches, and these are already elements of a well-groomed landscape.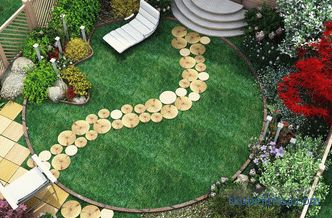 A neat beautiful plot is also an excellent recreation area
Style varieties of design
The whole variety of design creativity is divided into several flagship areas:
We offer you a number of ideas, both independently or with the help of a landscape designer, to combine and harmonize all four elements in your area.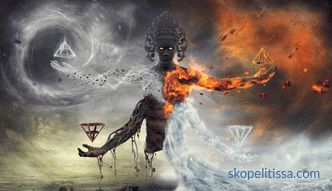 The harmony of the four elements is the beauty and practicality of the section
Water
The theme of water in the organization of the local area is inexhaustible - a small artificial pond, fountain, outdoor pool or conceptual geometric shape filled with water.
Think about which of the ideas for the realization of this element is closer to you - static and calm, like in a pool or an artificial pond, or alive, noisy and dynamic, like in a waterfall, stream or spring. If there are children in the family, they will be delighted with the second type of artificial reservoirs.
For each individual style in landscape design is characterized by its traditional techniques. For example, in a geometric style slowly flowing waterfalls, originating in small architectural forms - round stone bowls, strict vases or rectangular tanks look organically.
A small pond or even a real well with a log masonry will perfectly fit into the country style. English style is hard to imagine without a slightly neglected large reservoir of natural form, with wooden bridges. Choosing the design direction for the site, you also choose the reservoir.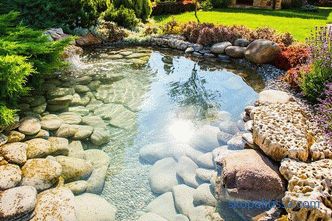 The artificial reservoir in the suburban area
How to make the water source creative:
Use antiques as a base for a waterfall or a tank for a mini-pond. A wooden barrel, a table, a vintage kettle or even an old piano are perfect.

Do not forget about the sculptural compositions. Maskarons (sculptures in the shape of a man's or animal's head) in springs, artistic or abstract figures in a pond add atmosphere.

Illumination of water is a classic way to make the landscape picturesque not only during the day but also at night. Use for this halogen lamps with high IP - protection index of current-carrying parts.
The Earth
The vast expanse of imagination and creativity opens up at first glance an inconvenient relief of the site or a complex composition of soils on which ordinary flowerbeds do not take root. Pay attention to the creation of multi-level terraces connected by ladders or through cobbled paths. If the size of the territory allows, such levels make elevations and depressions more functional. Especially helps the organization of multi-storey flower gardens, as well as stone compositions.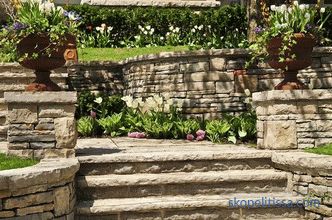 Staircase at a country house
An important element of landscape design is aesthetically decorated walkways. Use natural materials such as stone, wood cuts, gravel. The style of their design must be combined with the general style of the site. A great idea is to use multi-colored pebbles for paving, but not bulk, but laid as a mosaic. Also, to isolate garden paths, mulch is used, which is poured into pre-prepared "channels".
Good ideas for the landscape:
Alpine slide or rockeries - plants that can be friends with stones: the most unpretentious, but very aesthetic .

Vertical flower beds are a spectacular device for a flowering garden on the plot, especially if you can make them quite tall.

Lighting - mandatory for tracks. Built-in spots, garden lamps on photocells or spotlights help to achieve not only a functional, but also a decorative effect.

Dry creek is an original idea for those who do not want to bother with water and drainage on the site. You can simply create a bed of stones and pebbles and seat ornamental plants.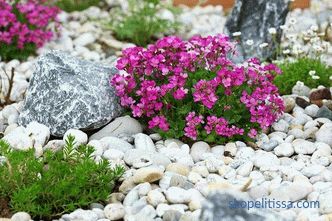 Paving a path with multicolored pebbles
Air
Consider making it light and cozy arbors as an alternative to the closed room of the main house. An even more open option is the placement of outdoor garden furniture. To do this, you need to plan a separate recreation area on the site. Hedge, pergola (stand for climbing plants) or ornamental shrubs do a good job with this task.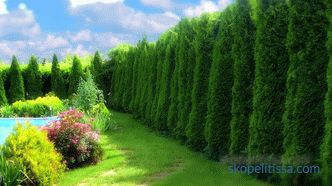 The hedge near the pool
Depending on the area of ​​the site, select the height and dimensions of the ornamental plants, involved in gardening. In most cases, there is a place for trees, which serve as natural sound insulation and wind barrier. So that at any time of the year the area near the house looked great, pick up trees and shrubs with different color of leaves and fruits and, if possible, evergreen species.
Fire
Add fire and heat to your country house:
Comfortable spending time outside the city is hard to imagine without kebabs and grills. You can choose a stationary grill or an outdoor stove to use them year-round. This is a practical idea for the leisure of the whole family, and an excellent decorative element.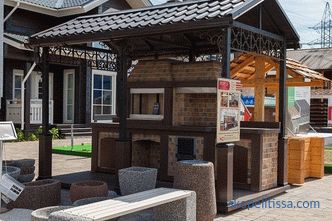 Brazier from Studio Ferus
In addition to the grill, it adds a special warmth an organized campfire site for which stone or metal bowls are used. Frameworks for climbing plants around and cozy chairs will complement the uniqueness of fire in landscape design.

A bath can be not only practical, but also an aesthetic construction. Especially if it is a mobile bath or a barrel bath.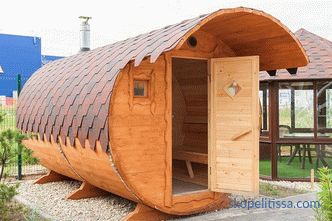 Kedr bathhouse
And of course, in any style of landscape design there is a place for a swing, hammock or compact playground.
Ideas for site design: video
A few more simple but original design ideas for decorating the landscape of the site in this video:
It is not necessary to make a lot of effort to transform the landscape of the local area on their own. Give this task to the designer.
You will find more ideas for country life at our exhibition!