In order for any work with the car to be convenient and comfortable, a garage with a carport will be the best solution. The article will tell you how to choose a canopy project, how such a structure is being built, and also you will learn what advantages this solution has and which materials are best to use for the construction of the building. After getting acquainted with all the subtleties, you will be able to design and create in your yard such a convenient and practical design.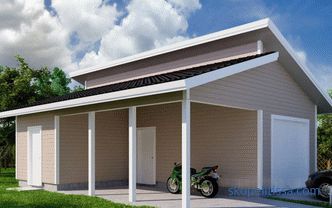 Choosing a garage project with a canopy
Thanks to a canopy, you can always choose a place for parking and caring for your vehicle, because in the summer in the garage itself will be too stuffy, and on fresh air is much nicer. In winter, you can always find shelter from the cold in the room.
There are many ways to joint a garage and a carport. But from all the abundance of such structures, it is better to choose the most frequently used and proven options:
Combined a garage with a canopy provide for the presence of common supporting structures and one roofing This provides maximum protection from moisture, and this method is quite simple to implement, so its construction requires less money.
There is an option build a gazebo in front of the garage. In this case, the canopy will already be a separate structure. The advantage is that this addition can be improved even for a long time exploited room. Most often during the construction of the arbor, its roof is given a double-slope form. For roofing, any roofing materials can be chosen, and the supporting structure is constructed of wooden beams or metal pipes. Such a frame canopy in front of the garage is the most popular and common.
system is often used from twin garage and carport . In this case, the gables of both structures are firmly tightened with some connecting elements. It is important to note that all fastenings must be made as rigidly as possible, and any backlash is also unacceptable.
Any choice requires further calculation. Before you make a project, you need to explore all the features of the place set aside for construction work. Even before starting work, an estimate should be made in order to have an idea of ​​the cost of the entire system.
If the garage is located in densely built areas, then a folding carport or tent can be used. This design of aluminum tubes and fabric will provide protection from precipitation and solar radiation. If necessary, you can always free up the territory, having assembled the structure, and it is easy to move such a carport in front of the garage to any other place.
What to consider when planning a garage with a carport
Before you begin construction work, you need to choose and calculate the entire structure. It should be borne in mind the terrain and climate, as well as the functions to be performed by the building. Also an important feature are the dimensions of the car, because it can be both a car and a truck. The size of the garage must exceed the size of the vehicle. This will give the opportunity to store parts or auto chemical goods in the same room. At the design stage , other nuances of should also be taken into account:
First, these are the size of the site in front of the garage and the area you plan to cover with a carport . You need to think about the location of the supports so that they do not interfere, while providing significant rigidity and stability of the structure.

Secondly, the canopy should be located so that it does not affect the distribution of air masses and rain flows in your yard. Also under it should not be formed drifts and mud flows.

Thirdly, great attention should be paid to the strength of the supports , because canopies always have increased windage. As a result, there are swaying, sometimes the wind tears off the roof covering. To avoid this, you should pay special attention to the joints and attachment points.
If in the project there is a pavilion or arbor type canopy, For such a structure, a foundation is required. As it can be used paving slabs on a sand cushion and concrete surface areas. Pavilion canopies can be successfully combined with garages of the basement type. This will not allow moisture to accumulate in the descent.
It is also possible to use a suspension frame.Its construction involves the use of a metal profile or a wooden beam. The roof is usually of dvukhskatny or hangar type. In the second case, cellular polycarbonate is often used as a topcoat.
On our website you can find contacts of construction companies that offer construction services for small architectural forms . Directly to communicate with representatives, you can visit the exhibition of houses "Low-rise Country".
The choice of materials for building a garage with a canopy
Now let's see what materials can be used in the construction of a canopy. It should be noted that in many respects the selection of components depends on the size of the structure, its type and purpose. Nevertheless, the frame is always cocked from a similar building material. So for the creation of supporting structures can be applied steel profile, timber or galvanized log. For the construction of the premises buy brick, aerated concrete and any other block materials.
A frame carport can easily replace the garage itself. If there is only one car in the yard, then a lean-to overhang with a small economic extension will suffice.
It is very cheap to build a car storage space using a collapsible structure made of aluminum tubes and a durable tent. He will be able to save the vehicle from the heat, the scorching sun, rain and hail. But the disadvantage of this option is that it is relevant only in the summer period.
A very good option is to use polycarbonate in combination with metal bearing structures. These materials have a long service life and good technical characteristics, but you cannot walk on the surface of such a roof. An important advantage is that for roofing you will only need to hire two specialists.
It can be interesting! B article on the following link read about features of the construction of a two-story garage .
In those cases when a garage and a carport are built under the same roof, shingles are most often used as roofing.
The advantages and features of sharing a garage and carport
The simplest and cheapest project of a garage with a carport is to use a pavilion-type construction. This option is very convenient in execution and operation. Very often, he can instead carry out tasks for storing the car, but it is better to use both buildings.
Usually a canopy of a pavilion type is installed on the ground in front of the garage. This allows you to increase the usable area. Under the protection of this design, you can refill the car, wash it or check various systems and units. Simply put, it is possible in the open air to carry out all the procedures that are usually done in the garage.
If the roof consists of polycarbonate, its light-transmitting properties will affect the quick drying of the car, because its structure leads to the passage of rays of only a warm range. Therefore, after you have come under the rain or washed your vehicle, it will feel better under such a shed.
If you do not have enough space in the yard to store various property, then the same carport will help you to solve this problem. Also, such a covered area can act as a place for carrying out economic work, if protection against sun or rain is required.
In addition, even in bad weather conditions you can go under canopy to the gate to open them. Thus, the installation of a carport with a garage has a lot of advantages. Therefore, if you plan to build a room for a car, it is better to immediately think about how to complement it with such a design.
From the video you can find information about a reliable carport for a car:
It can be interesting! In the article on the following link read about underground garage in the style of James Bond .
Conclusion
The use of a carport in front of the garage gives a number of important advantages. If you have such a construction, then you will have a lot of useful space, you can store more cars in a place protected from environmental influences, and you will also have the opportunity to use the carport as a place to rest.But in order to create a reliable and sustainable design, you need to pay great attention to the design phase, and all construction work should be entrusted to experts from an authoritative organization. After reading this article, for sure, you can choose and order yourself a proper and reliable garage with a carport.