The optimal storage room for household equipment and many other necessary things is a country house shed. In addition, this utility room is often used as a home workshop. But, despite all the simplicity of the design, you will have to make a lot of effort - choosing the right material and construction technology so that the result will satisfy the wishes is not easy. If there is no experience or time, then instead of a quality hozblok get a hut on chicken legs. But nevertheless the question remains: what is cheaper to build a shed, and is it worth saving?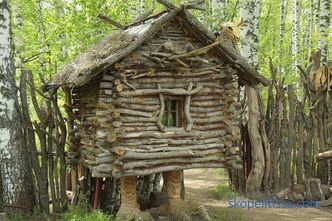 Types of modern sheds, depending on their purpose
Before you order the construction of a barn, you need to decide what it is for. Depending on the purpose of use, hozbloki can be divided into the following categories:
Building for storage of garden equipment. Most often, it is designed as one small room of 6-12 square meters. m.

Multifunctional barn, which includes storage for things, a gazebo, cellar.

Aviary, pigsty, rabbitry.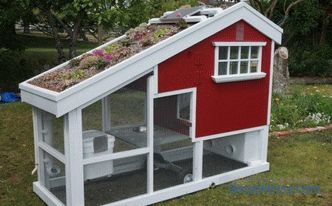 A shed-cellar, consisting of 2 parts: one for household preparations, the second for things.

Hozblok for household items, for example, for garden and home furniture, folding pool, etc.

Utility room, gazebo, which can glaze. In the summer it is used as a living-dining room, in a cold time - as a closet.

A barn with a terrace. Often such a project, by common sense, turns into a bathhouse with a room for guests.

Summer kitchen with pantry. Here you can place or attach the grill.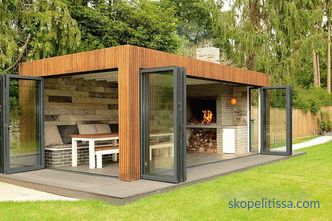 So that the building does not create disharmony and fit into the landscape, do not neglect the design. And it is pleasant to the eye, and in front of the guests it is not a shame, and most importantly - it is comfortable. Most often for hozblokov choose minimalist, country, high-tech styles.
Choosing the optimal location for the barn
The concept of "optimal location" is quite subjective, since every owner or hostess has his own opinion on this matter. However, when choosing a site for building a hozblok, the following points should be taken into account:
it is necessary to provide convenient access to the contents (for example, so as not to carry the tiller or lawnmower through the whole site);

it is advisable to place in a place that is less suitable for growing garden and garden crops;

think over where it will be possible to place the pool, bath, veranda and others buildings, if they are next to the barn.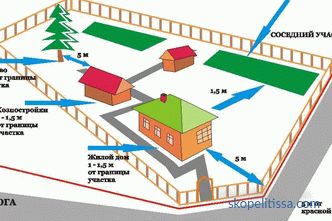 Materials for construction
It doesn't matter whether a small barn is planned to be built in the country or a spacious utility block, the choice of material and technology depends primarily on the intended use. From the list below you can understand from what to build a barn inexpensively:
Foam blocks
Advantages

Nuances

Quick construction times.
Foam concrete blocks have high thermal insulation characteristics, are distinguished by good vapor insulation (which prevents the formation of fungi and mold), environmental friendliness and incombustibility.
It is cheaper to build from a brick.

The appearance of the building of foam blocks does not have a great aesthetic, so they need additional finishing - at least plastering or painting.
Foundation required.
It is more expensive than a wooden shed.
Bricks
Benefits

Nuances

Reliability and durability.
Neither moisture nor temperature drops are terrible, therefore it does not require additional finishing.

High thermal conductivity. If the room will be actively used in the winter, insulation will be required.
Foundation required.
OSB Plates
Benefits

Nuances

An inexpensive option.
The material does not rot and warps from moisture.

Wall painting is required.

Wooden frame
Benefits

Nuances

The combination of efficiency and reliability.
The wooden shed for the dacha is built quickly.
It is not necessary to build a powerful foundation; it is possible to do with columnar concrete or brick.

If it is decided to build a hozblok of wood, it will have to be treated with anti-decay agents, insects and provide measures against rodents
Metal frame
Benefits

Nuances

Low price and easy installation.
No need for a strong foundation.
Compact and lightweight - can be transported.

Need a tool for metal work.
Container take-off unit
Benefits

Nuances

Reliability and affordability.
Manufactured in a short time.
Can be ordered with shower and toilet.
Suitable for use as a summer kitchen.
With the help of special equipment, you can move it to another place.

Small windows.
A rustic exterior can bring some dissonance to the surroundings.
For construction of frame type, corrugated board, polycarbonate and even straw can be used as walls.

On our website you can find contacts of construction companies that offer the service of building small forms. Directly to communicate with representatives, you can visit the exhibition of houses "Low-rise Country".
Selection of the optimal layout of the shed according to the drawings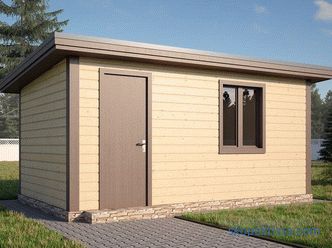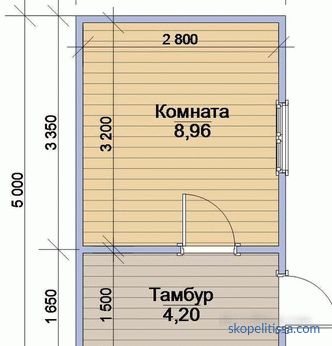 A single-bar shed of a bar is often used for showers and toilets, as well as for other purposes. First of all, because such a construction is cheaper compared to a gable roof and is easier to build. The advantage of a shed roof is effective ventilation.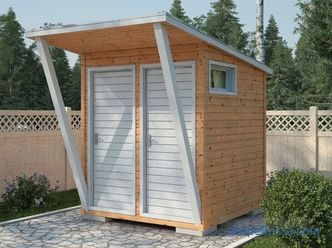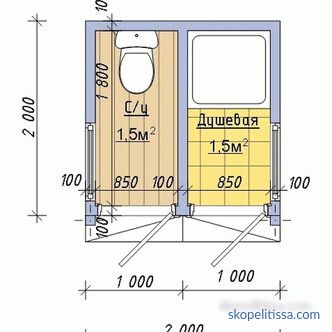 Garage of foam blocks for a small car (motorcycle, moped), a small utility room is provided. Reliable structure well protects not only from precipitation, but also from temperature, humidity and uninvited guests. A simple foam shed for storage of inventory and as a workshop is also possible.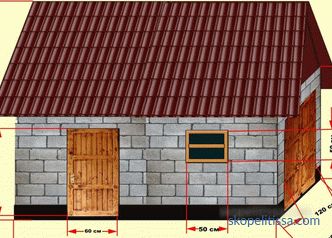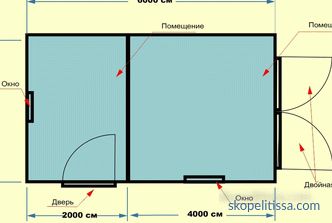 It may be interesting! In the article on the following link read about the price of the work of building a barn in the country.
A simple functional project that allows you to store tools, equipment, workpieces and other supplies, as well as maintain a small poultry house.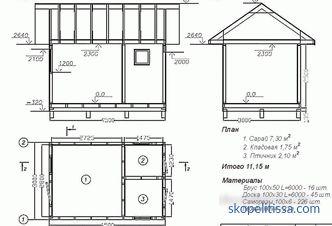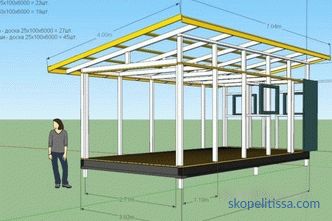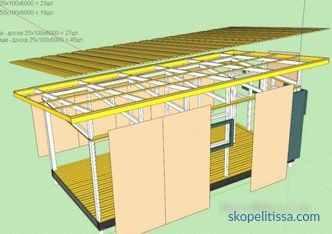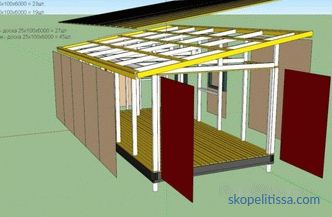 Comparing prices for various construction options, taking into account their quality
The cheapest segment of outbuildings, where prices range from 11,000 to 30,000 r, are represented by frame structures of a small area. So the economy class assumes, as a rule, a bare box with a size of 1 * 1 m (2 * 1.5 or 2 * 2 m). Lining is used as a plating, the roof is covered with ondulin or roofing felt.
Frame sheds worth between 30,000 and 70,000 are in the middle price category. They differ from inexpensive buildings in size (for example, 3 * 3 or 6 * 2 m) and covering material.
The price of expensive frame-type back rooms can reach 160,000 r. For example, a shed with a size of 5 * 4 m costs an average of about 85,000–95,000 p. 4 * 7 m - 133000 p. , with partitions - 155000r.
Prices for components, such as roof overhangs, insulation, steps, etc., will also be added to the cost of the box separately. Also, payment for the work.
For example, the price of a 3 * 4 m hozblok based on a metal frame in its basic configuration, including a framework, walls, a roof with waterproofing, a door, is 113,000 r. Cost with installation - about 156000 p. Here you need to add the cost of the window with the installation - 16700 p. , insulation - 16500 p. , interior trim profiled - 32400 p. , drain - 7800r.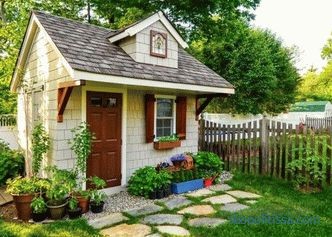 They also distinguish the "Suite" category to which design models for individual orders. Their cost can start from 600,000 p.
Container blocks are in the range of 40000 - 65000 p. , depending on the size and configuration. Typical dimensions: 2.4 * 2.4 * 2.4 m, as well as 2.4 * 2.4 * 4. 0 m and 2.4 * 2.4 * 5.8 m. Basic equipment includes interior trim with hardboard, chipboard floors, heat insulation and wooden windows.
Pricing for the construction of foam blocks start from about 100000 r (4 * 2 m), 150000 (3 * 4 m), 350,000 (6 * 4 m).
For the selection of materials and construction of the shed, look at the video:
Construction Stages
Frameworks are considered one of the most popular outbuildings . Their construction takes a minimum of time and is performed according to the standard scheme:
Building the base
After the ground is rammed to make the soil shrink, sand-crushed stone cushion is prepared, marked perimeter built.

Concrete blocks are installed at the corners and in the middle of the long sides.

A wooden frame or metal frame is assembled on the blocks.

Lags for the floor are collected, the heat-insulating layer and the floor covering, for example, linoleum, are laid.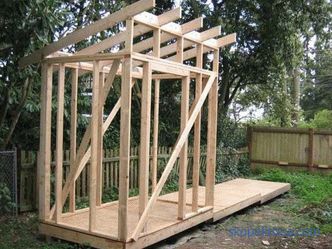 Wall construction
At the corners are set up supporting pillars, and along the perimeter of the rack.

Door and window frames are mounted.

External and internal lining are performed.
Construction of a lean-to roof
Frame racks are connected to the frame frame.

A waterproofing layer is laid, then the crate is fixed.

The crate is covered with roofing felt or soft roof.

Mount a gofrolist, as an option - metal roofing.
After all installation work has been completed, they proceed to the interior decoration of the room.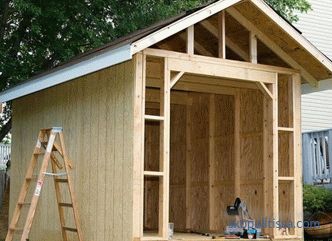 As a result, about the economic feasibility of building a turnkey shed
If there is no experience in construction work or there simply isn't enough time to build a barn, then the turnkey service is what you need. When signing the contract, your task will only be to choose the appropriate design, and the rest will be done by the masters of the construction company. This means that you do not have to wrestle with where to get the tool, how and when to acquire building materials, look for workers and make sure that they do their job correctly.
Specialists of a construction company will prepare a standard or personal project and build a country barn. In addition, they will be able to complete a full interior decoration and equip shelves and racks. As a result, within a few days you will get a good-quality building with conveniently organized space.
See examples of beautiful projects of household outlets:
It might be interesting! In the article on the following link read about foundation under the barn.
Conclusion
Having figured out how much it costs to build a barn, it can be concluded that the cost of a high-quality building for a suburban area can hardly be called a penny, but if the work is done professionally, the investment will be more than worth the cost. A convenient utility room will serve not only the owner himself, but also his grandchildren.