The idea to build a country house of reinforced concrete panels will seem attractive to not all people who want to get their own housing. The association with the boring buildings of the type of developed socialism is too strong. Bored panel structures have a reputation for, albeit reliable, faceless concrete boxes with minimal possibilities for an individual style.
Everything returns to normal, and today industrial suburban housing construction is undergoing a renaissance. Thanks to new varieties of panel material and new building techniques, reinforced concrete panel houses no longer look like twin brothers. Fantasy architect will turn your home into a highlight of the area, and the final budget will be very attractive.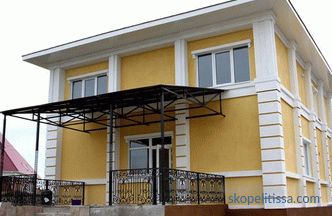 Evolution of technology
The idea of ​​reinforcing concrete with metal came to the inquisitive French gardener Joseph Monnier in the distant 19th century. Monnier grew exotic plants for the garden of Versailles, and sold the surplus to England. For the palm tree saplings, solid oak barrels were needed, which were made by hand and were too expensive. Because the tub cost almost as much as a palm tree, the gardener earned pennies.
Experimenting, the gardener once guessed to put one barrel into another, insert an iron wire frame into the gap and pour cement mortar over it. In 1867, Monnier patented durable material; later patents for metal-reinforced pipes, facade panels, beams, pools and bridges were added.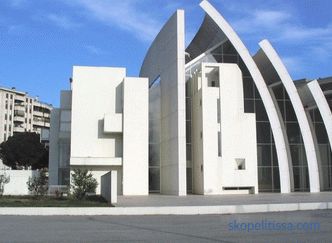 After 19 years, engineer from Kaiser Germany Gustave Weiss bought a patent and improved the material . Reinforced concrete spread throughout the world and became the basis of avant-garde styles of architecture - from utilitarian functionalism and laconic constructivism of the 20s to the catchy brutalism of the 70s and modern organic architecture. Today, not only the buildings of factories and multi-storey residential buildings are erected from reinforced concrete, but also other objects, including churches, museums and numerous country cottages.
Modern technology
The strength of reinforced concrete products is an ideal quality in the construction of industrial buildings and the nine-storey buildings that are so familiar to the eye, which have a high load on the floors. The walls of multi-storey buildings are formed from a single frame and panels of several types. Today, the construction of houses of reinforced concrete panels has been successfully implemented in private construction, and the technology of construction practically does not differ from the industrial method, providing the same strength.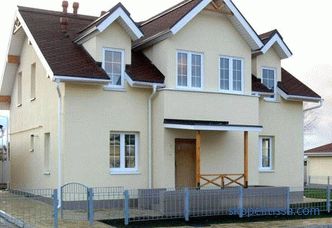 Materials: selection and classification
Offered on the market a variety of products with an internal frame of steel reinforcement, which increases the resistance of the material to loads. Robust elements are used in suburban construction during the construction of multi-storey modern projects. Before the development of the project it is necessary: ​​
Make sure that there is a specialized manufacturer near the construction site, otherwise the cost of delivery of concrete products may exceed their own price.

Make sure that the company produces w / w products of the required parameters and can provide the required amount.
When building houses, standard structural details are used: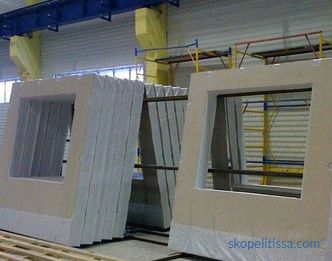 Internal panels (suitable for partitions that do not go outside). The walls can be carriers; then they rely on the overlap and have a single-layer structure, reinforced with reinforcement. If the wall is not bearing, it is permissible to make it from lightweight concrete or alternatives, for example, gypsum concrete.

Interfloor floors. Both hollow plates with a thickness of 220 mm and solid, with a smaller thickness (from 120 to 160 mm) are used.

Base panels . Reinforced concrete construction - impressive by weight construction, which needs a solid foundation. Foundation cushions and blocks, which are arranged according to the characteristics of the soil (groundwater level and freezing depth), perfectly cope with its role.

Ladder details (platforms and marches).

Ventilation units , jumpers for covering door and window openings.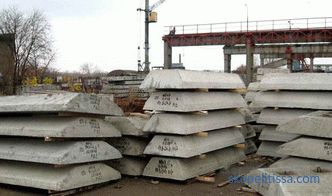 Panels can be divided into types in a different way - by structure:
Single-layer wall panels.They have a homogeneous composition and low thermal conductivity. The inner surface is treated with a special cement composition, which facilitates the finishing finish. For finishing use decorative facing materials and cement plaster.

Dual-layer panels. Bearing outer layer is formed from reinforced concrete. Foam concrete or foam glass, as well as slab mineral wool, are most often used for internal insulation. Over the insulating layer perform a cement screed.

Three-layer panels. Between the two reinforced concrete plates placed insulation; The construction is glued by cold or hot pressing. The material for insulation may be polyurethane foam, mineral wool, polystyrene foam. Such panels are durable and frost-resistant (for bearing and heat-insulating parameters, a wall with a thickness of 350 mm corresponds to brickwork with a thickness of 1.5 m).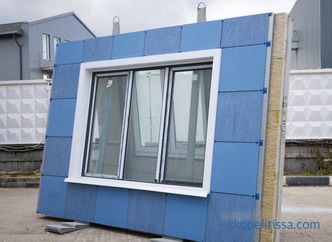 On our site you can find out more popular projects of houses from reinforced concrete panels from construction companies, presented at the exhibition of houses "Low-rise Country".
Features of the layout of a reinforced concrete house
Drawing up a plan can be done in two ways:
The design feature of w / w panels is related to the characteristics of w / w products - they cannot be processed or resized in any way. Attempting to change the dimensions is fraught with the appearance of defects (the formation of cracks and chips); Sooner or later it will lead to the destruction of the entire panel.
So that, due to negligence of calculations, the construction of a house would not be too expensive, the project is being developed taking into account minute details; Special attention is paid to:
Number and size of rooms.

Location and dimensions of window and door openings.

Placement of technological holes.

Exact dimensions of building panels.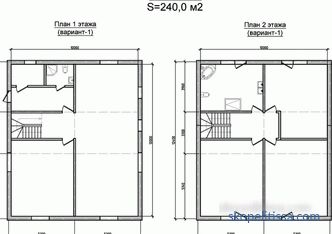 Innovations of technology
Trend recent years is the use of new technology of low-rise construction, when used w / w panels with insulating layer, built-in at the production stage. If the house has no more than 3 floors, lightweight concrete is used. When ordering panels with individual size:
There is a choice of insulation, the thickness of which is 150-170 mm.

It is possible to install a ventilated facade.

The plates can be supplied not with openings, but with windows and doors already inserted.

The inner surface of the products is prepared for finishing.
Thanks to an integrated approach, a turnkey house is being built of turnkey reinforced concrete panels. The choice of advanced methods allows you to celebrate housewarming in a comfortable and safe home 3-4 months after the signing of the construction contract.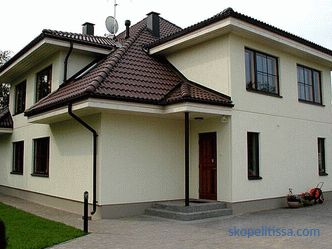 On our site you can find contacts of construction companies that offer the service construction of houses from reinforced concrete panels. Directly to communicate with representatives, you can visit the exhibition of houses "Low-rise Country".
Advantages and disadvantages of the technology
The advantages include:
The quality of w / b houses . Production of panels in industrial conditions is controlled at each stage of production, which minimizes the risk of marriage. Quality reinforced concrete panels determine the high performance and durability of the structure.

The use of multilayer panels allows to save on insulation , noise insulation and finishing.

High construction speed . Technological plus, reducing the associated costs and, consequently, the final cost of the project. Reinforced concrete panels - prefabricated walls that have exact dimensions and shape need only be installed and secured.

All-seasonality . The construction process does not depend on the time of year.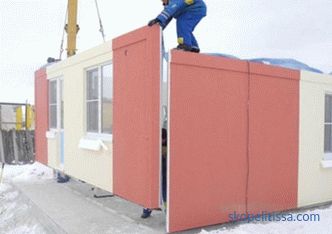 Profitability . The budget price of the material, mechanization of work and minimal use of manual labor make the building of reinforced concrete panels a very attractive option.

Fire resistance . Reinforced concrete does not burn.

Environmental friendliness and long-term operation.Reinforced concrete is neutral to the environment and resists well temperature fluctuations, rain and sun.
The minuses are:
Stitches . They serve as cold bridges through which the house loses heat. The only way to combat the leakage of heat and money - quality insulation of the joints of the structure.

Poor sound insulation requires either additional finishing or the use of hollow core products.

Typicality . The argument is relevant 15-20 years ago. Modern concrete products have a composite polymer base and allow you to implement a variety of architectural ideas.
It can be interesting! In the article on the following link read about a round log.
Varieties of technology and recommendations for their use
A house made of reinforced concrete panels and slabs (manufactured in the factory) is a quick and practical solution if housing is urgently needed. Such a structure, built from typical blocks, will have a clear and concise design. Although the house will be limited in layout and diversity of architectural elements, it will last for many years (the guaranteed period starts from 50 years). Other materials will not be able to offer this price-time-quality ratio.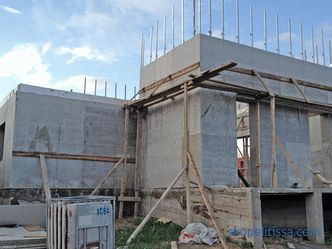 In low-rise suburban housing construction, other technology options are also used:
Houses with a reinforced concrete frame . A popular version in which the supporting frame is constructed of floors and columns (filled with removable formwork), and any material is used for the walls. In a traditional w / w building, the load is distributed between the external and internal walls. In this technology, the load is transferred to the reinforced concrete frame; in different versions, the carriers can be columns, longitudinal or transverse walls. The main limitation when choosing a variant with internal bearing walls of monolithic reinforced concrete - the possibility of global redevelopment in the future is lost.
About the construction of a concrete house using Finnish technology in the following video:
Monolithic reinforced concrete houses . An all-erected structure, for which on the foundation formwork with a metal frame is erected, into which concrete is poured. With the observance of technology, the shrinkage goes evenly and the output is a box with incredibly smooth walls.
Monolithic projects have advanced features:
Architectural freedom. The argument allows you to move away from the standard template and create a housing with several levels, arches, ceilings of any height.

Large overlap spans. Allow to design rooms of any size.

No restrictions on the width of window openings (the possibility of panoramic glazing).

Lack of seams increases energy efficiency.

Possibility of organizing cantilever outrigger, bay window, terrace or hanging floor.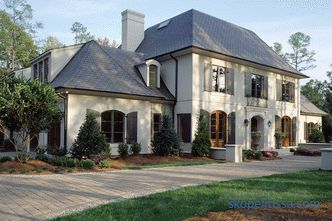 Increased strength. For low-rise buildings with typical architecture, it may seem redundant and irrational. Not at all superfluous, it will be for complex architectural projects or in seismically active areas.
It can be interesting! In the article on the following link read about CIP-house.
Subtleties of design
The main drawback of old w / w houses - the impersonal and ill-conceived layout, which eats up a lot of usable area, has long been irrelevant. A huge advantage of the new technology is the possibility of designing housing of any complexity and its refinement upon the customer's request. The fantasy of the architect allows you to create a design for every taste - from the horizontally oriented Prairie House in the style of Frank Wright, to a whimsical and fantastic structure based on the genius Antonio Gaudi (who selflessly used reinforced concrete for his immortal projects).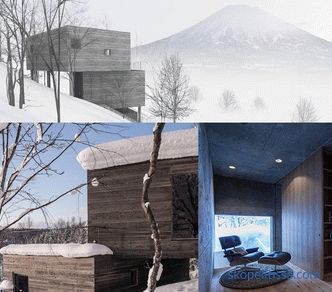 The choice of architectural style allows you to emphasize the design features and tastes of its owners. The most common houses of reinforced concrete, made in modern styles, namely:
Minimalism . The original design originated a century ago and still remains a relevant decision (especially valued in the Scandinavian countries and Japan). It is characterized by clear laconic forms and natural color palette of light shades. The house harmoniously fits into the landscape, panoramic windows and sliding doors do not prevent sunlight from entering the rooms.

High-tech .There is a severity of interior in the spirit of minimalism, and technicality and rationality is emphasized by the abundance of metal and glass. Favorite tricks are open spaces, lots of light, unexpectedly transparent staircases, aluminum parts and original shapes.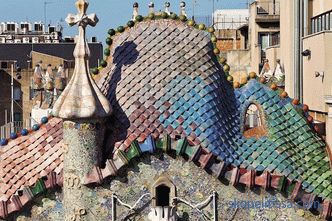 Modern . The basis of style is functionality and comfort. An experiment with materials is allowed, contrasting and unexpected combinations of colors and silhouettes are welcomed. The appearance of a country house in Art Nouveau style is recognized by floral ornaments and numerous borrowings from other styles; bay windows, original roofs, polygonal balconies, decorative towers and balustrades.
In general, reinforced concrete panels allow you to create complex structures using any kind of facing materials. To house served for a long time, you need to take care of serious waterproofing and insulation, as well as consider the ventilation system.
Projects and prices of houses made of reinforced concrete
The interest shown for buildings made of reinforced concrete in low-rise private construction is based on the possibility of acquiring housing in a very short time. If in the economy segment, houses made of reinforced concrete panels and on the basis of a reinforced concrete frame are popular, then in luxury housing construction there is an increasing interest in monolithic structures.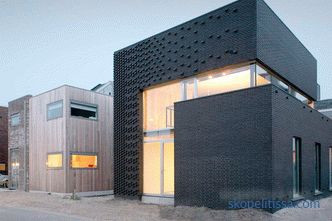 Construction of houses from turnkey reinforced concrete
Construction companies offer houses from turnkey reinforced concrete panels, the projects and prices of which vary in a wide range and correspond to the most exacting requests. In addition, you can order a monolithic reinforced concrete house or a house with a reinforced concrete frame, using both standard and individually designed project. The cost of the project depends on:
the chosen method of construction;

features of the project (architectural complexity, area and number of floors);

features of the site.
About errors during the construction of a reinforced concrete house in the following video:
The contract provides for:
consultation, departure of a specialist at the site, geological and geodetic works;

cost estimates;

zero cycle (site preparation) ;

construction of the foundation, walls and roof (for monolithic houses - installation of formwork and pouring of concrete);

wiring of engineering communications;

finishing;

cleaning and landscaping.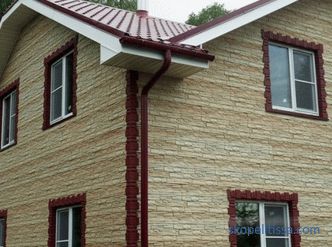 Projects and prices
On the market Suburban housing of reinforced concrete of various types and in a wide price range is presented. Monolithic houses of premium class approximately cost (in the Moscow region):
Project up to 200 m 2 : 4,100-4,500 thousand rubles.

Project with a garage for 2 cars up to 300 m 2 : 7,300-7,600 thousand rubles.

Project up to 400 m 2 : 9,200-10,600 thousand rubles.
When paying for 1 m 2 , the prices for the houses of the business segment will be as follows (the price includes work and material):
House with an attic, 1st floor: 39.1-40.3 thousand rubles.

A two-storey house with a second half-loft floor: 43.5-44 thousand rubles.

Two-storey house with an exploited roof (flat roof adapted to accommodate a recreation area, a sports ground or a solarium): 44.8-45.7 thousand rubles.

Two-storey house with a garret roof: 45-45.4 thousand rubles.
In an economy segment, a house made of reinforced concrete elements will cost (per 1 m 2 , depending on the type and thickness of the plates):
Without interior decoration: 12-20 thousand rubles.

With interior decoration: 23-30 thousand rubles.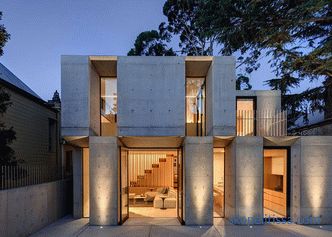 It might be interesting! In the article on The following link read about technology carriage.
Conclusion
Those who consider reinforced concrete housing as an impractical and under-prestigious option for the home of their dreams are convincing. Of course, the project is difficult to adapt to specific conditions, installation will require considerable costs (from delivery to installation) and there will be questions about frost resistance and sound insulation. But over the past 20 years, something has changed, and new technologies have made possible the construction of non-standard country cottages, reliable and comfortable. The changed approach to the construction of reinforced concrete houses may change your attitude towards them.