A modern country house does not always imply a plot. However, if it is, then design pay considerable attention.
As it is known, the theater begins with a hanger, and a country house - with a backyard territory. That landscape design site creates a first impression of the house and its owners. Gardeners have always made every effort to create amazing gardens. Of course, the area of ​​the suburban area can be very modest, but this does not make it less beloved and desirable.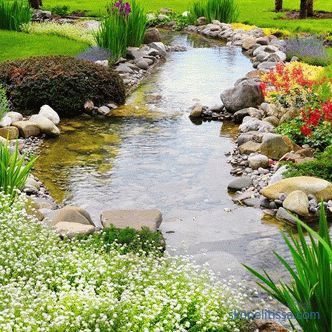 So, if you are not a fan of cucumber and strawberry beds and want to just relax outside the city and enjoy beautiful views, then we offer you a selection of of the five most fashionable landscape designs of country estates . According to designers working in the Moscow region market, at the moment among the most popular styles can be distinguished eco-garden, Japanese garden, vertical gardening, fruit garden and gravel design.
1. Ecosad
The fashion for environmental friendliness is now in everything: from clothes to buildings. And although at first glance, the ecosad seems somewhat absurd, you should not make hasty conclusions. A distinctive feature of this style is naturalness, that is, the impression should be created that the plants grew on their own without the participation of a specialist. Of course, ecostyle involves the use of only natural materials. The main ones are wood and stones. And no plastics!
Arbors, benches and other garden wooden furniture look harmoniously in this style and help to create private recreation areas. To solve this problem, you can purchase the products of such companies as: "Pavilions here", Bella Villas, "LesTorg", "Finnish arbor", "We plan. RU", "Karkas-M", "Plein" And the company "Lesstroyindikat" can make any garden furniture made of wood according to your sketches. In addition, if you have children, then pay attention to the children's houses and sandboxes of the companies VORHOUSE and DE-GO, which children will like and perfectly fit into a stylish landscape.
It is important that even a beginning gardener can create such a natural garden. The main thing is to be patient and not to interfere with nature. Everything must have a natural shape, cutting the bushes is required only in extreme cases, and even then unnoticed. Plants are planted taking into account the period of their flowering, picking up so that they bloom one after another. For example, plant peonies, petunias, sage, lycra, asters and gladioli.
2. Japanese garden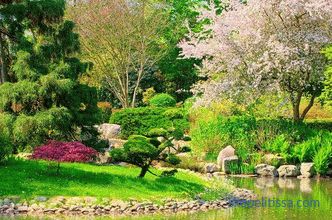 This style requires a lot of attention and regular care. Japanese-style gardens involve the use of moss, water, stones, stone lanterns of unusual shape, snags, as well as planting crooked trees with asymmetrical crowns and bamboo. In addition, the area must be water: a fountain, pond, stream, or just a bowl of water.
However, when creating a Japanese garden, remember that it must have a composition and take into account the peculiarities of the relief. This is not just a beautiful corner of nature, it is an incarnated philosophy of combining opposites: water and stones, light and shade, plants and architectural forms. Such a garden may be small, but it should be eternal. That is why the creation of such landscapes trust experts. If the site owner does not have the opportunity to organize regular care of the garden, it is better to create a mini version of it, planting bonsai trees and creating small reservoirs and stone compositions in a small area.
3. Vertical gardening
Vertical gardening has always been popular. Even the interior spaces of the premises are being greened in this way now. The easiest and most familiar to us all the way to gardening the site "up" - the creation of a hedge. It is used by both owners of a two-hundred-square front garden, and owners of premium-class cottages with a huge local area. Such a climbing plant is amazingly beautiful at any time of the year. For vertical gardening, decorative pergolas, vertical flower beds, hanging containers and flowerpots are often used. For the most daring modern designers offer roof gardening. For this, the plants are fixed in a special way on the roof of the houses, and the irrigation system is installed on the roof itself.
To create just such a landscape, pay attention to the collection of various wooden pots of TD Maksimomodul company.
4. Fruit Garden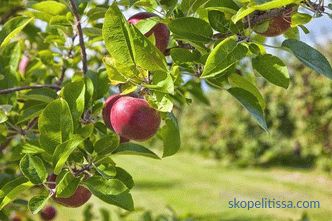 Landscape design can combine beautiful with useful. This is exactly what the owners of fruit trees do in their personal plots. It is a misconception that such gardens can be found only in old cottages. On the contrary, experts note that planting fruit trees in suburban settlements in the Moscow region has recently become a trend. Cherries and apple trees are especially popular, which in spring during flowering create a fabulous picture, and later delight the owners with a tasty harvest.Often, an apple or cherry orchard is broken up on a plot, supplementing it only with the green of a lawn.
5. Gravel Design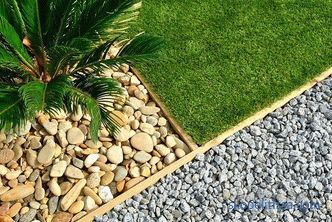 This style is simple and often used by itself or as an element of any other design. These are paths and flower beds of gravel, bark and marble chips. If you want to create a real masterpiece in this style, decorate a mosaic panel using pebbles. Despite the fact that its styling is a very time consuming process, the result anticipates all expectations! Various gravel paths should lead not only to flower beds, but also to places of rest, which at the same time can be decorated using any material. For example, an innovative garden furniture brand MAFFAM of volcanic basalt fiber and resin will look very successful and modern.
These are five trendy landscape designs for the suburban area. Of course, there are other styles that can attract your attention. For example, Chinese, monochrome or even prairie garden. In addition, styles can be mixed, aiming for a harmonious combination. Try new things and give yourself joy, because it is the landscape that creates a very special atmosphere of country comfort and coziness.
Photos from the deposit photos were used in the material. com