The article will talk about what landscape architecture is, what tools it has in its arsenal, what is the functional purpose of each of them. Photos and videos will vividly demonstrate how with the help of natural and building components you can form an artistic image corresponding to the chosen stylistic concept.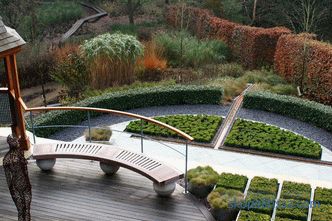 What is landscape architecture
Landscape architecture - This is a form of spatial art that is engaged in the transformation of space through the competent planning of the territory and its landscaping. The main goal of the region is to combine natural and building components into one single composition, which will have an artistic image.
When creating it, the requirements of convenience and functionality are always taken into account. Each project is developed taking into account the particular terrain. The task of the architect is to beat the existing species characteristics, take into account the peculiarities of the relief, find a visual solution that will highlight the advantages of the site and hide its disadvantages without violating the technical requirements and limitations.
Creating a project is impossible without analyzing the composition of the soil and its moisture content. One of the principles for the implementation of ready-made projects is the seasonality of flowering plants. From early spring to late autumn, any ennobled object should have a well-groomed appearance (elegant and fragrant).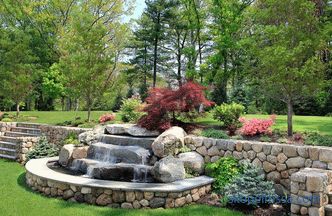 There are many tools in the arsenal of modern landscape architecture that allow you to do this. All of them can be divided into several groups. Experts identify:
Central buildings that are located in this particular area (this could be a palace, a mansion, or a country house).

Relief - flat planes , rolling hills , forest area , mountains , reservoirs , terraces .

Green areas (giant trees, bushes, flowers).

Parternye or decorative lawns .

Beds , flower beds , rockeries , sockets , mix-boards .

Architectural groups (fountains).

Sculpture .

Lighting .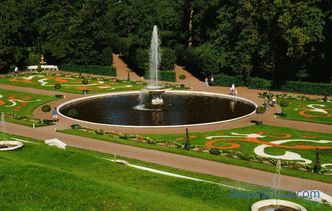 Designers who design the territory entrusted to them can use all groups of landscape architecture or use a combination of individual species. Each of them has its own purpose. For example, the architecture of the central structure determines the style of landscape gardening. If there is a palace in classical style in givenness, improvement of the territory around it can be carried out only taking into account the principles of a regular park. Everything that surrounds the central structure should be a natural continuation of its design. It is in this way that all architectural and artistic compositions are built.
Palace style can be implemented on even large areas, but if the terrain suggests the presence of large elevation differences, they are played up by creating cascades of water running from a fountain of classical execution. If necessary, the relief of the territory can change: the site can be leveled or vice versa, to create additional obstacles in the form of slides or embankments. Such steps are justified, if required by a single artistic composition.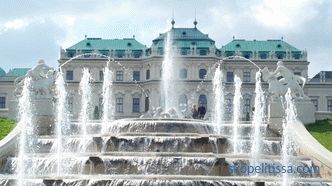 When landscaping, the choice of plants is based on the full compatibility of each with a friend and taking into account the natural soil composition. Compositions of living plants can be infinitely diverse, but their location, number, formation of groups is taken into account even at the design stage. The designer prepares the layout of the layout, creates three-dimensional volumetric layouts that allow you to visually assess the future appearance of landscape gardening. This is the only way to achieve ordering and absence of house.
Living plants are the element that helps create the texture of a garden. It can be created using longline landscaping, breakdown of picturesque flowerbeds. Plants help to cover unsightly places and advantageous to emphasize the advantages of the site. Therefore, this attribute of landscape architecture is used very widely and very willingly.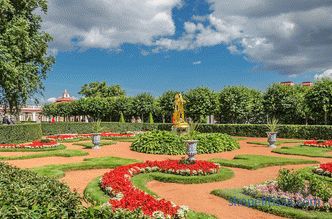 Green lawns
Lawns, today without them - nowhere. There are several varieties, each with its own decorative purpose.
Parquet lawn is a true work of art, a beautiful velvet-emerald background , which can emphasize the beauty of home and garden decorations.It makes its form softer, connects its separate zones with each other, helps to form a sense of integrity. On the ground floor lawn do not walk feet, they admire it from the side.

Decorative lawn is a more democratic option for gardening. It is created in the event that there is a desire to form a green lawn , on which you can arrange picnics . Its surface is resistant to trampling, decorative lawn is not whimsical, it is much easier to take care of it. The green carpet also looks very attractive , so it is actively used for landscaping large park areas .

Special lawn coverings - they are used for strictly defined purposes (for arranging shady courts, golf courses, for football) There are grass mixtures, the cultivation of which helps to curb the spread of soil from the hillsides. Such lawns have powerful root system .

Constantly blossoming elegant lawns . Moorish lawn looks like a wild flower meadow, but its formation is under strict control.
On our site you can familiarize yourself with the most popular 3184 house designs from the best construction companies with an impeccable reputation in the market. A wide choice, reasonable price from 51050 rubles, flexible conditions and quality guarantee allow you to choose the right option for any budget and realize all the wishes of the client. Directly to communicate with representatives, you can visit the exhibition of houses "Low-rise Country".
Reservoirs
Reservoirs play a major role in landscape architecture. They enliven the space around them, making the landscapes more diverse, complex and interesting. Such components can be formed using ponds and streams, waterfalls and pools with fountains, canals, cascades and grottoes. Adding moisture-loving plants or accessories, as well as lighting helps to emphasize the chosen thematic direction.
Architectural groups and sculptures
These include separately constructed compositions that are combined with other elements of landscape design. Pergolas, pergolas, arches, artificially created ruins, pedestals - any small groups should be attractive in appearance. Their equipment should be justified in terms of the chosen style.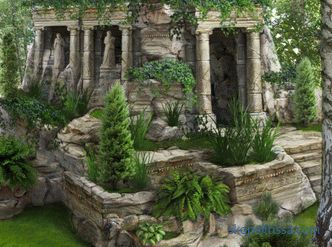 On our site you can find contacts of construction companies that provide construction loans and related services, among which carrying out landscape works: gardening of a site, landing of plants, the device of reservoirs, hills, mountaineering, rokariev, etc. Directly it is possible to communicate with representatives having visited an exhibition of houses "Low-rise Country".
Garden sculpture can be represented by funny figures of gnomes and animals, sundials made of stone, antique statues, small stylized houses and lanterns. Even in her most modest incarnation, she invariably becomes a crowning accent. With it, the style of the created landscape composition is clearly revealed, its depth and mood are formed. Thanks to the use of garden sculpture, meaningful fullness appears, the design becomes exclusive.
For ease of choice and to prevent the appearance of the most common mistakes, the whole garden architecture was divided into three categories:
The first one is antique. It includes everything related to the ancient Roman art (statues of goddesses and athletes, cupids, amphoras, stone bowls). Such elements are best suited for creating symmetrical gardens of regular style.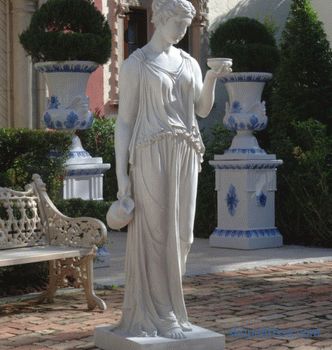 The second one - with a pronounced national character (Oriental, Mediterranean, Chinese, Japanese sculpture). Items are easily identified at a glance. Stone lions certainly suggest that before us a landscape English garden, miniature mills refer us to the design of Dutch gardens, Buddha statues and tea houses are an integral part of Asian styles.
Third - pastoral sculptures. They could not be better suited for the decoration of gardens with a touch of country, corners of a romantic, funny and touching garden. If admiring a sculpture makes you smile or feel sad, it can be safely attributed to the described species. She is the best optimistic accent capable of shaping the right mood.
A variety of materials can be used to make sculptures: concrete, plaster, wood, natural or artificial stone. The choice of something concrete is carried out taking into account the given architectural composition.
The video shows how diverse garden sculpture can be, how widely it is used in landscape architecture:
It can be interesting! In the article on the following link, read about what is characteristic of a regular style in landscape design.
Light
Another important component, without which in the modern world landscape architecture can not do. It helps to place accents on the most beautiful areas, on the most unusual elements, to visually increase the size of the architectural design of the site, to make it fabulously beautiful, mysterious, and sometimes indecently enchanting. To create such effects are used lights, LED lights, spotlights and individual fixtures.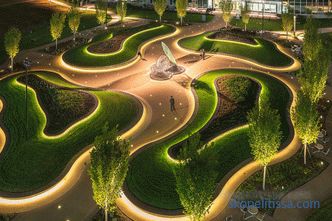 It could be interesting! In the article on the following link read about the general principles of landscape works in suburban areas.
Summary of the topic
The combination of all the listed components helps designers and architects to create unique landscape gardening objects, which later become the decoration and hallmark of a city. Using individual elements, you can decorate the gardens of private gardens and admire the beauty of artistic compositions.