The construction market is saturated with various materials; An extensive range creates a difficult problem of choice. If brick and timber is clear and familiar to everyone, then newer and more technological varieties (for example, aerated concrete) cause mistrust. Wood concrete is for many a new (although, in fact, well-forgotten old) product, whose advantages and disadvantages are lost to rumors. What is good at home from arbolita: projects and prices, especially the buildings in our article.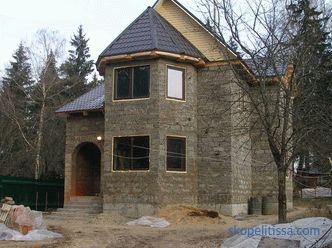 A bit of history
The idea of ​​combining the heat of wood and the hardness of the stone visited people not once and implemented in different ways. From time immemorial, adobe is known - a brick made from clay and herbal supplements, straw or reed. In a dry Central Asian climate, houses of this material have stood for centuries, withstanding the summer heat and winter frosts.
A successful version combining both materials was developed in Holland, in the 1930s. It quickly spread around the world under the brand name Durisol. In the Soviet Union, similar units were attempted to be produced as early as the years 30–40, but their quality was low due to technological deficiencies (low-grade cement, improperly formatted chips, and assorted equipment).
High-quality domestic material was developed, standardized and certified in the 60s; He received the name of arbolit (from Latin arbor - tree). Modern arbolitovy blocks of factory production, released with observance of technology, are effective material with a set of unique properties. The reputation of arbolita suffers, as a rule, because of the production of craftsmen.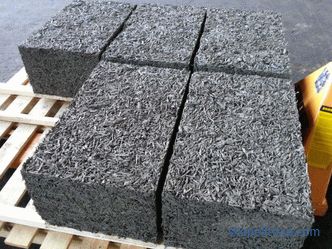 Composition and Technology
Wood concrete, houses of which were massively built 60 years ago , belongs to the family of lightweight concrete, to date, won a significant market share from the brick. This is a composite (complex in composition) material consisting of the following components:
wood chips (chopped softwood sawdust, crushed cotton stalks, flax stalks or hemp). The organic part is a filler and occupies 80-90% of the volume. Chips have a specific shape and size, which distinguishes arbolit from opilkobetona.

Cement . Mineral binder. To make the block durable, use Portland cement grades M400-500.

Mineral Additives . They are engaged in the neutralization of sugar present in the wood, and affect the strength of wood concrete (improve the setting of chips with cement). Calcium chloride, soluble glass, aluminum sulphate (the latter is a food additive E-520, which is actively used in the confectionery industry and fish canning plants) is used.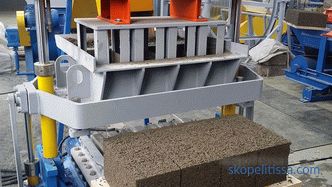 The production of blocks is carried out on automated lines and is divided into stages:
Preparations . Chips are crushed, soaked and processed by chemical composition. If the chips are pre-aged in fresh air for 4-6 months, no additives are needed, the sugar is destroyed on its own.

Moldings . The required, precisely adjusted amount of wood chips and cement mix and form into blocks.

Drying . On the vibropress the blocks are compacted, get the final density and the geometry corresponding to GOST.
Classification
Blocks, panels and slabs are made of wood concrete (another name for wood concrete). According to the state standard, products from arbolita do not need additional warming. Products differ in density (percentage of sawdust), they are classified by purpose:
Constructional . Used for the construction of external walls.

Thermal Insulating . For interior walls.
By size, the blocks are divided into: wide, medium, narrow and connecting. In addition, elements are labeled from 5 to 50 (strength indicator).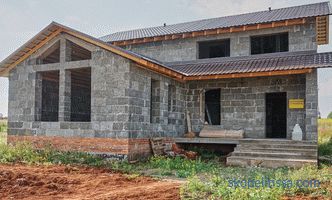 Technical characteristics
zones (buildings of wood concrete are not only in the middle lane, but also in Antarctica, at the Molodezhnaya polar station). Such a multi-purpose use was made possible due to the combination of the technical characteristics of the material:
Low weight . The density of the structural units is 500-850 kg / m 3 , heat insulating - up to 500 kg / m 3 .

Low thermal conductivity . The parameter (0.11 W / (m * K)) exceeds the tree. A wall with a thickness of 0.3 m in terms of its ability to retain heat corresponds to 0.6-0.7 m of brick.

Environmental friendliness and biostability Wood concrete is safe for human health; the material does not rot, the fungus and mice do not start there.

Fire Resistance . The material withstands an open flame with a temperature of 1000 ° C for up to one and a half hours, then begins to glow.

Sound insulation and vapor permeability The block structure absorbs sounds and maintains natural ventilation and humidity control, which ensures a comfortable microclimate in the house.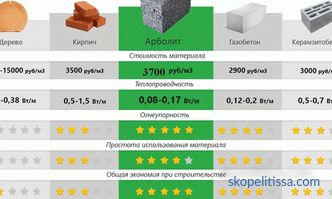 Handicraft Errors
Manufacturing Process Chain arbolita is described in one phrase: a mixture of concrete and wood chips is placed in molds, and dried without additional heating (firing). Outward simplicity is deceptive. The absence of obvious technological problems pushes domestic craftsmen to make arbolite blocks themselves. Deciding to save, the garage manufacturer is guided by such delusions:
Any chips (even sawdust from a power-saw bench) will do.

The brand of cement affects the strength of the product slightly.

The mixture is concrete; therefore, it can be mixed in an ordinary household mixer, and the mineralizer can be neglected.

You can do without the press or do it yourself.

The form is easy to build from plywood or foam concrete. Since the mixture is thick, the formwork can be removed immediately, and the blocks will dry out under a canopy or in a shed.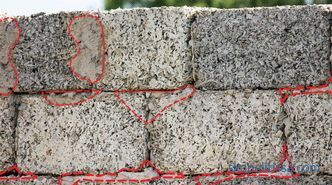 The output is a fragile product that crumbles along the edges and has broken proportions (not according to GOST). Handicraft production, throwing thousands of cubic meters of low-quality blocks into the market, discredits the industrially produced material. As long as the buyer does not see real, strong and smooth products, he will consider arbolit to be no good material.
On our website you can familiarize yourself with the most popular projects of arbolit houses from construction companies represented at the exhibition "Low-Rise Country".
Advantages and disadvantages of the technology
Due to the technical characteristics of the material, the construction of a house from wood concrete blocks is becoming more and more popular. Houses from arbolitovy blocks have a number of advantages:
Low cost . Wood concrete is cheaper than most building materials (at a cost comparable to foam concrete), which makes it possible to inexpensively build a house from wood concrete, the average price can be 2, 5 million rubles for housing for a family of 4-6 people.

Low weight . Accelerates the work, allows you to use a lightweight foundation.

Strength . Good impact and flexural strength (not prone to cracking, as opposed to cellular concrete).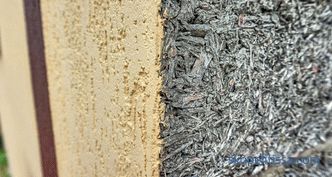 Simple machining . Blocks are easily sawn, drilled and hold fasteners.

High adhesion . High-quality adhesion of the wall surface with concrete and plaster (without additional reinforcement).

Frost-resistance . For facing blocks 50 freeze-thaw cycles are guaranteed.

Shrinkage . Minimum, 0.4% (up to 10% for wood).
The construction of a house of arbolita has such nuances:
You can use glue for cellular concrete, which saves the walls from cold bridges.

On a dense and uniform surface, the plaster is applied without a grid.

There is no need to equip forced ventilation.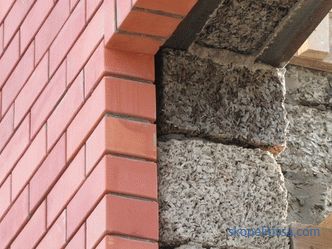 On our site you can find contacts of construction companies that offer the service of building houses from arbolitovyh blocks. Directly to communicate with representatives, you can visit the exhibition of houses "Low-rise Country".
When designing a house made of wood concrete it is necessary to remember the disadvantages:
Hygroscopicity . The trouble of many cellular concrete. But if the foam-concrete block, which has absorbed moisture, can crack, then the arbolitovy swells, remaining whole. The minus is removed by plastering.

Blowing . Eliminated by rough plaster.

Appearance . The facade looks unpresentable, which, however, easily recovers decorative exterior trim.
Features of the use of technology
A dwelling built from wood concrete blocks unites the strength of a brick and the coziness of a wooden construction; some minuses are also combined, which can be easily eliminated.
About the pros and cons of arbolita in the following video:
5. Rustic
The style is characterized by deliberately rough, minimal processing of stone and wood.The same materials are used for the interior decor, the interior is enlivened by natural fabrics, earthenware and animal skins, designed to highlight the natural beauty of nature. The advantages of wood concrete here are immediately visible:
Compared with the arbolite construction, a stone house is too heavy for problem soil, the wooden one is powerless before a fire.

In a climate characterized by prolonged wet periods (lingering autumn and spring rains), the owners of the house of wood concrete do not have to worry about the appearance of mold and rot.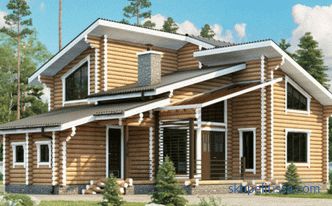 Projects and prices of arbolit houses
Many construction companies have their own production of wood concrete blocks, which allows them to offer houses at reasonable prices. The customer can choose a typical (ready) project and modify it, or order an individual project with a full development. The house from turnkey arbolitovy blocks is available in several complete sets:
Economy . The foundation is being built, walls and a roof are being erected. The option will cost from 11,500 rubles. / m 2 .

Standard . In addition to the box and the roof, the customer can count on the installation of windows and doors, as well as insulation of floors. From 12500 rub. / m 2 .

The optimal . In addition to the previous works, there is a facade (exterior) finish, the roof and attic are insulated. From 14,500 rub. / m 2 .

Premium . A full set of construction and finishing works, wiring communications and other events stipulated by the contract. From 17,000 rubles. / m 2 .
Consider some of the projects of houses from arbolitovyh blocks: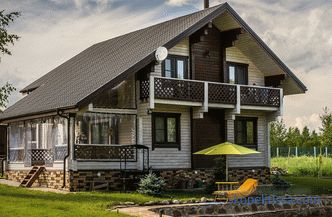 Homes from arbolitovyh blocks, the price of which allows you to keep the budget within reasonable limits, are also pleased with the construction time: a house with an area of ​​100 m 2 is completed in 2.5-3.5 months (depending on the complexity of the project) . Average prices for projects in the Moscow region:
Houses with an area of ​​ up to 100 m 2 : 1,470 - 1,860 thousand rubles.

From 100 to 200 m 2 : 2,350 - 3,470 thousand rubles.

More than 200 m 2 : 3,980 - 6,295 thousand rubles.
It can be interesting! In the article on the following link read the new technologies in wood processing.
Conclusion
In many ways, a country house made of concrete can be a profitable solution for someone who thinks about his own family nest. Due to the huge choice of modern finishing materials (plaster, basement panels, liquid wallpaper) the house of arbolita will not lose in appearance to its brick, wood and concrete counterparts. Multiple win will be his unrivaled ability to retain heat.