The bench is made of laminated veneer lumber. Specialists of the company painted it in bright colors and processed with products designed to protect wooden products. For the convenience of visitors to the exhibition, all used dyes and products on the stand are signed and labeled.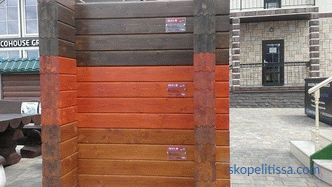 The company offers the owners of suburban real estate natural dyes from Germany, which are a mixture of vegetable oils, waxes and resins. Such paints are absolutely safe for humans and the natural environment. They can be used for exterior and interior work, as well as for painting children's furniture.
When applied to a wooden surface, BIOFA dyes impregnate the fibers deeply and do not form a polymer film on the surface of the product. This means that in the future on the wooden house will not occur cracking and peeling of the paint layer. In addition, the paint allows the tree to breathe and protects it from sunlight.
The color center of the company is ready to choose and combine any color combinations at the request of the client. In addition, BIOFA offers high-quality silicate paints for mineral surfaces, as well as the necessary painting and grinding tools.